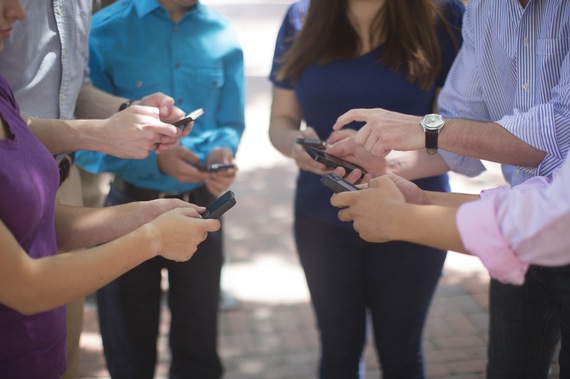 Millennials aren't lazy, spoiled, or entitled. Sure, we're known for taking selfies, instagramming food pics, and questioning norms, but when harnessed correctly, millennials can be a powerful force for growth in any organization.
Raised in the information age, we understand how to find answers to questions (Google it!), get things done efficiently (email don't call), and project messages to large audiences (#twitter).
In 2015, when the world changes by the minute, your organization needs workers who are equipped to keep up. That's why I'd suggest you hire a millennial as your team's next employee. As a millennial myself, I guess I'm biased, but hear me out:
1. We are deadline driven and can get a lot done in a short period of time
We grew up with a strong belief in right and wrong. Good triumphs over evil. The Harry Potters of the world always take down the Lord Voldemorts. We take doing the right thing and being "good" very seriously. That's why we love the structure deadlines provide and take meeting them very seriously.
Have a tight timeline on a project? Hand it over to your millennial colleague - they will appreciate the clear deadline and work hard to make sure it gets done on time.
2. We are highly educated and are constantly learning
According to an October 2014 White House Report, millennials are the most highly-educated generation. In 2013, 47% of 25- to 34-year-olds had received a post secondary degree (associates, bachelor's, or graduate degree).
Additionally, we've always had the ability to find the information we're looking for online. We never had to find and page through an encyclopedia to learn something new. The internet has always been there to instantly answer our questions and feed our curiosity.
As a result, we are constantly seeking new information and learning new things. If given a challenge we aren't sure how to complete, you can be sure we'll figure it out independently by searching the web and reading up.
3. We will be social advocates for your company
For us, social media is a way of life. Many of us have been on social media since before high school (MySpace anyone!?) - instead of writing letters or calling family and friends on the phone, we log on to Facebook, Twitter, and Instagram. We know how to take advantage of these networks and will be happy to share your company content with our own contacts.
As this infographic from the University of North Carolina's Kenan-Flagler Business School puts it, "Millennials can be a social media megaphone for your company. Friends of fans represent a set of consumers 34 times larger than fans themselves. Having employees who are active on Facebook can greatly increase your digital reach."
4. We are digital natives who will have little difficulty learning new tools
Most millennials learned to use their first software programs before starting kindergarten. Since then, we've operated so many different devices and programs that we're adept at learning new ones.
In the digital age, marketing is all about being able to learn and quickly put to use great software applications like marketing automation tools, CRMs, project management systems, ad platforms, and more.
Though hiring a millennial may mean less experience working with these tools, they won't have any trouble learning and maximizing your company's usage.
5. We are "the ultimate stalkers"
In their excellent post, "The Fallacy of the Lazy Millennial," CeCe Bazar and Dan Tyre explain why millennials are the "ultimate stalkers." They say, "give us a computer, some speedy wi-fi, and a little bit of background information and we will most likely know new things about your prospects, customers, and segments through digital self-education." In some cases, a millennial employee may even be able to help you avoid buying lead lists. With research and clever use of tech tools, you may be able to find more qualified leads without.
6. We are culturally competent and enjoy collaboration
Millennials are extremely focused on social issues and are highly-inclusive. According to writer and marketer, Joel Caperella, studies have shown that "millennial managers are more likely to build culturally competent teams" that take race, gender, sexual orientation, age, and physical abilities into consideration. He adds that "this diversity of perspectives can drive stronger decision-making and should be encouraged."
But millennials are so selfish and narcissistic, right? Wrong. Generational sociology experts, Neil Howe and William Strauss, who literally wrote the book on millennials, refute the claim that milliennials are self-absorbed. They write, "Millennials gravitate toward group activity...they believe in their own collective power."
Though it's true that our phones might house hundreds of pictures of our own faces, when it comes to work, we're interested in working together toward common goals.
Now, I don't claim that all millennials share the same set of tech-friendly, collaborative traits. As with any generation, personalities vary, but understanding the strengths of this age group can help you know which traits to look for when hiring.
Not sure how to manage your millennial workforce? Here are my thoughts on balancing the flexibility millennials want with the structure they need.
A modified version of this post originally appeared on the Denamico Blog.
Related
Popular in the Community