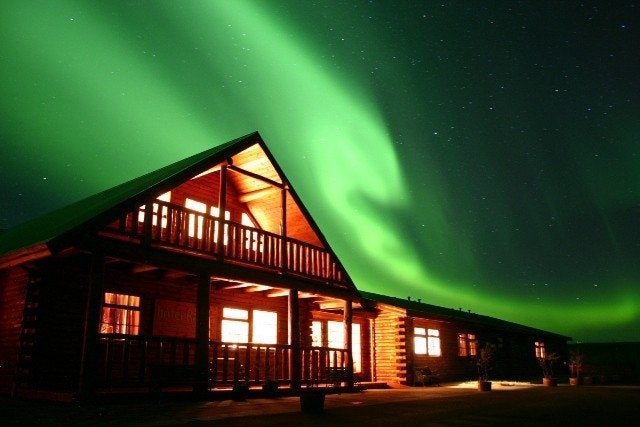 Memorable honeymoons don't always have to feature white-sand beaches or tropical lagoons. If you look in the right places, winter getaways can also provide the trip of a lifetime. So embrace the snow and start packing your scarves and ski jackets. These six honeymoon experiences will have you dreaming about winter romance on the heels of your recent nuptials.
Snuggle up together under the roof of a rustic cabin or chalet. Also a terrific mini-moon option, a cabin rental can serve as a perfect home base for your winter honeymoon, especially for outdoorsy couples. After spending your days out on the slopes, come back each night to a warm cottage, enjoy a romantic dinner, share a bottle of wine, and relax by a roaring fireplace. Now this is honeymoon bliss!
Whether you're seasoned skiers or beginners, consider hitting the slopes at one of the world's top ski resorts. Still working on your turns? Take a lesson together. Most mountain resorts offer private lessons for adults to help with your control, parallel turns, and overall confidence.
Tip: Whistler/Blackcomb in British Columbia, Canada offers a variety of lesson options, including multi-day adult camps, backcountry adventures, mogul clinics, and "Skiing With an Olympian."
A horse-drawn sleigh ride is arguably one of winter's most romantic activities. Just imagine getting cozy together under blankets as you embark on a memorable journey through a winter wonderland. Many sleigh ride tours even feature hot chocolate, multi-course dinners, and wildlife viewing.
Tip: In Steamboat Springs, Colorado, couples can choose from Scandinavian feasts, hot cocoa rides, and candlelit teepee dinners to go along with their gallop.
Looking to get your adrenaline going beyond skiing or ice-skating? The winter season offers plenty of thrilling activities such as ice climbing, luging, bobsledding, and skeleton.
Tip: For a steady dose of winter thrills, head to scenic Lake Placid, N.Y., site of the 1932 and 1980 Winter Olympics. Start your trip with the Lake Placid Bobsled Experience and rocket down the same course used by Olympians. Still up for more? Try your hand at skeleton and fly head first down an icy course.
Chill out in cathedrals of ice and snow by staying overnight at an ice hotel. Prominent in Canada and Europe, these modern works of art often feature dazzling décor, unbelievable amenities, and themed suites -- some even equipped with fireplaces and private spas.
Tip: Open from early January to late March, Hotel de Glace in Quebec is a popular winter destination for newlyweds. In addition to 44 rooms and suites, the property offers a spa, restaurant, and bar where guests can enjoy cocktails from their very own ice glass.
One of the world's seven natural wonders, the aurora borealis (or the northern lights) is quite a show. While honeymooners hoping to catch a glimpse of this colorful spectacle need to head far north to destinations like Alaska, Norway, and Iceland, a number of luxury accommodations exist to ensure a comfortable -- and unforgettable -- journey.
Tip: Drop your bags at Hotel Ranga, situated about 75 minutes from Reykjavik, Iceland. On top of premium views of the aurora borealis, the four-star property boasts a terrific on-site gourmet restaurant and comfy suites featuring Jacuzzis and country or continent themes.
Front page photo courtesy of Hotel Ranga
Follow Adam and Traveler's Joy on Facebook.
Related