Pretentious restaurants have undergone a near-total transformation within the last generation. In times past, they declared themselves with a "look at me, I'm fancy" candor that seems almost childish now. Today's pretentious restaurants sneak up on us stealthily, disguised (pretense being pretense) as other things: diners, for instance. Or school cafeterias. Dive bars.
And by the time the unsuspecting realize, fist-to-forehead, I'm in a pretentious restaurant, it's too late because they've already been forced to stir raw quail eggs into macaroni, pay $20 for three figs and a snout, and/or eat kale ice cream.
Here are six warning signs that you are in or near a pretentious restaurant.
1. Its name. For most of history, pretentious restaurants bore moustache-twirlingly pompous names such as The Admiral's Club, Palace of Prime Rib or Chez André. The names of current-day pretentious restaurants are faux-rustic, unpronounceable, and/or embarrassing to say.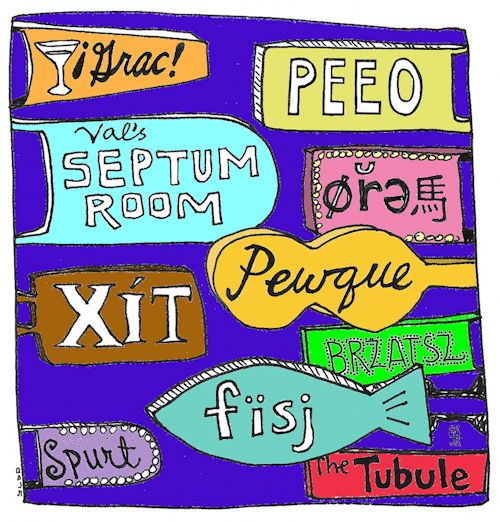 2. Its ambience. Pretentious restaurants were formerly elegant. Under sparkling chandeliers, snug-vested waiters addressed customers as "Sir" and "Madam." Today's pretentious restaurants are expensively designed to display ceiling pipes, concrete floors, thrift-shop lamps, randomly scattered barrels and conspicuously "lowbrow" elements.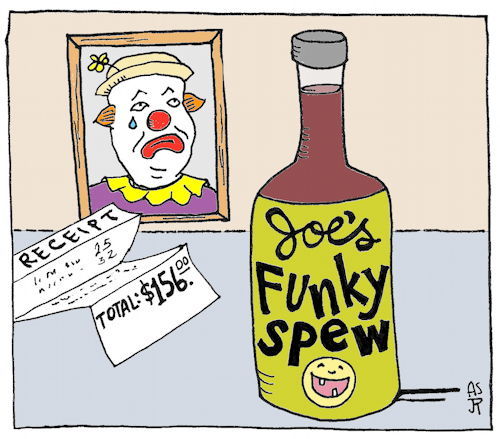 3. Its menu. Rather than oysters Rockefeller, lobster thermidor and petits fours, today's pretentious restaurants serve ears, paws, offal and dishes clearly crafted to scare: uni in caramel croissants, say. Pine bouillon. Pigeon roulade. Liver cognac. Liver mousse with toffee. Tongue burgers. Liver-sauced jowl. Ghost-pepper cocoa. Bone-gel bream. (Yes, these are real.) Somewhere in the world, at this instant, a pretentious restaurant might be serving "Eyes 'n' 'Ties."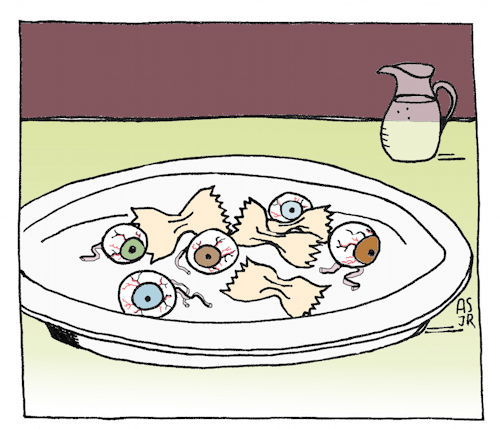 4. Its childishness. Pretentious restaurants formerly embodied "seriously grown up." Today, their names and menus evoke not just childhood but American middle-class childhood, circa 1978 to circa 2002. Think Pop Tart/Twinkie/Lucky Charms/Popsicle/Oreo everything. With sea salt.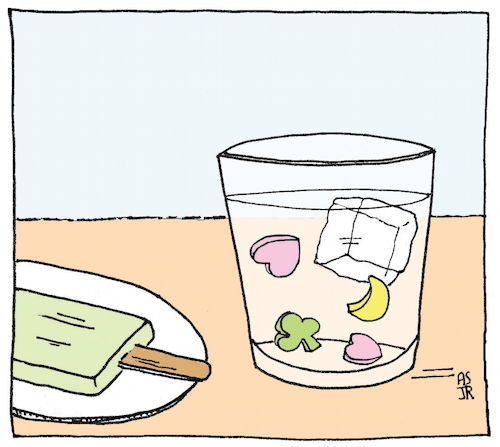 5. Its over-the-top obscurities. One vivid signal that you might have wandered into a pretentious restaurant is your difficulty in identifying key ingredients after your dish appears. For instance, the kraut in your Kraut Pot Pie might look like dust, because the chef house-fermented, then dehydrated, then pulverized that kraut, then sprinkled it over the crust. Because she could.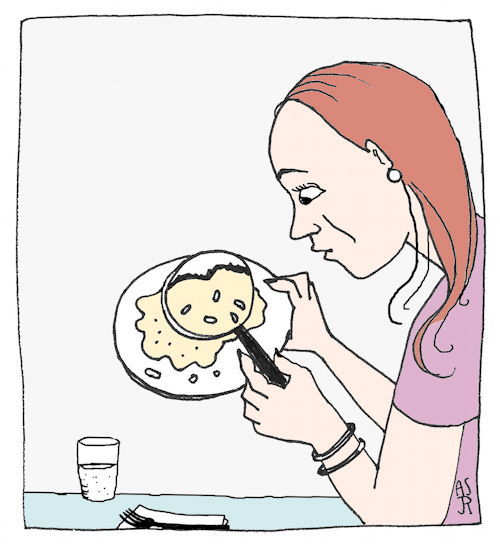 6. Its clientele. Still wondering whether you're in a pretentious restaurant? Glance up from the salvaged sheet music or spelling test that serves as your placemat and view your fellow diners. Is each one of them a version of the exact same hipster, give or take a few bowler hats? Case closed.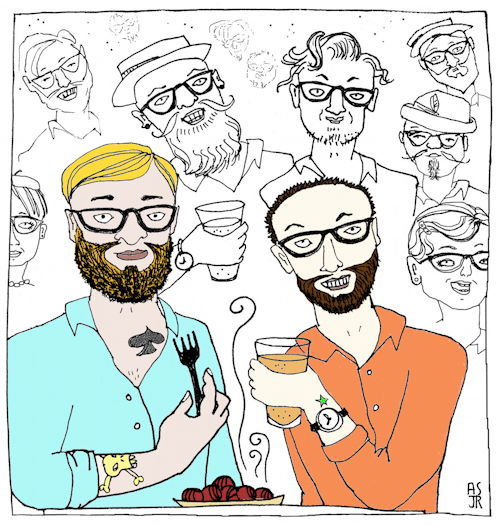 All illustrations by Anneli Rufus.