Illinois Gov. Bruce Rauner delivered his first budget address to the General Assembly Feb . 18, outlining his plans for getting the state's finances back on track. He decried the "sleight of hand budgeting" and "financial recklessness" that has besmirched the state's fiscal condition with its more than $6 billion budget deficit and $111 billion in unfunded pension liabilities. He made it clear that he wanted to diverge from the state's current spending practices and forge an "honest path forward" toward a more stable financial situation for the state.
One of the best ways to do that, said Rauner, is to cut spending where it is wasteful, unhelpful or redundant. He outlined several ways in which Illinois could its reduce its spending burden in the upcoming fiscal year, which begins July 1.
Here is a cultivated list of spending cut details Rauner is proposing for next year's budget, based state general funds from FY 2015 enacted appropriations and the governor's FY 2016 proposed appropriation. Here are some budget cut highlights: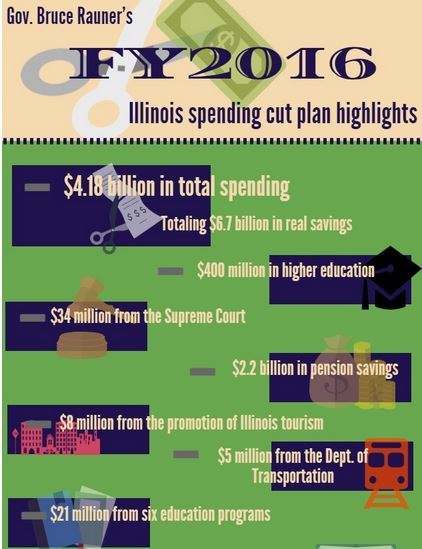 Find out what other cuts Rauner proposed at Reboot Illinois, including how much he wants to slash from spending at the Department of Military Affairs and the Department of Natural Resources.
Sign up for our daily email to stay up to date with Illinois politics.
RELATED ARTICLES:
Related
Popular in the Community