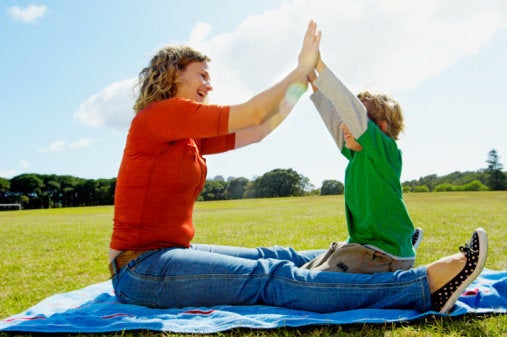 Media portrayals of families often mislead, either indicating that every family is problem-ridden and highly dysfunctional or that a healthy family is an idyllic myth. Neither portrayal is accurate, however. Through purposeful, committed investment, you and your family can enjoy rewarding, life-giving relationships with one another. In fact, a healthy family is not only possible, it is necessary for you, your spouse and your children to survive and to thrive in other areas of your lives.
Create an environment of safety within your family and your home. In a safe environment, individual family members are respected and honored and differences are valued. For example, you and your spouse may have very different ideas of what a vacation should entail. Instead of fighting for your ideal holiday, honor one another by looking for ways to meet both of your needs during your trip. Gary Smalley, in "The DNA of Relationships," explains that when you create a safe environment within a family, then relationships grow and flourish.
Find ways to share life experiences together, such as by having a game night once a week or going on a camping trip every spring. In "Keys to Loving Relationships," Smalley stresses that close families "share a commitment for spending quality time together," scheduling regular family-oriented activities and events.
Establish and respect healthy boundaries for your family as a whole and for each member of your family. Henry Cloud and John Townsend, in "Boundaries," explain that boundaries help people to understand what they are and are not responsible for in the various aspects and relationships of their lives. For example, allowing children to experience the natural consequences of their behaviors can help them to understand that, while they are not responsible for the actions of others, they are responsible for their own choices. Healthy boundaries will help families to enjoy greater closeness and security.
Seek to resolve conflict, such as disagreements over family nights or summer activities, in healthy ways and to find resolutions that take care of each member of your family. For example, if your family cannot agree on movie choices for family night, discuss possible creative ways to select movies that will work for everyone. This is a "no losers policy" where every family member has a voice in how to best resolve a conflict or how to best solve a problem faced by the family.
Share praise and affirmation with each member of your family on a regular basis. Seek to be as specific as possible about anything and everything that you appreciate about one another. Take turns to celebrate each person, and maybe even add a family time to the calendar each month specifically for sharing praise with one another.
Incorporate play into the family schedule as often as possible, embracing and even proactively seeking opportunities for the entire family to play and to have fun together. A midweek ball game, a Saturday morning hike, a visit to an area amusement park and a community service project all give families an opportunity to connect and to play together.
• "The DNA of Relationships"; Gary Smalley; 2004
• "Keys to Loving Relationships"; Gary Smalley; 2003
• "Boundaries"; Henry Cloud, John Townsend; 2001