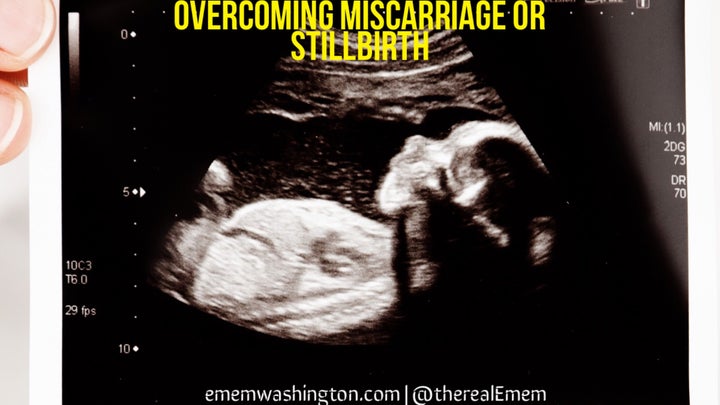 You get the good news. A baby on the way! You are ecstatic! When you feel the time is right, you share the news with loved ones. You begin to prepare for your new chapter, one in which you will now have a precious little human to care for, nurture and protect.
But then out of nowhere, a devastating blow. No! Please God, No! You lose your little one before you even have a chance to meet him or her. The pain seems unbearable. How do you go on? How do you overcome the void that such a loss has left, not only in the womb but also in the heart?
I am so sorry for your loss, whether you're the mom, dad, grandparent or other loved one of the baby that's now in heaven. I am here to let you know that you can overcome this tragic event. I experienced (and survived) two stillbirths and two miscarriages and am now mommy to two boys (get more of my miraculous story here).
I would like to share with you six things I did (and you can too) to help overcome miscarriage or stillbirth:
1. Keep A "Circle of Love." Try to surround yourself with people who love and care for you, including family and close friends. This especially includes those who understand that their silence is as appreciated as their presence. Keep in mind that some people will not know what to say and may end up saying the wrong thing unintentionally. Feel free to separate yourself from them during this season if you feel the need to.
2. Keep The Faith. God is still good, even in the storm. This is not the time to give up hope. Easier said than done, I know, but now more than ever is the time to push the doubt away. You'll have many questions, and that's okay. Just don't give up hope, even if this is not your first loss. It may be helpful to read or listen to other "stories of hope" from other parents who have experienced what you have experienced.
3. Talk To Your Doctor. Find out when it is safe to try again, if trying again is part of your plan. It doesn't hurt for both parties to get checked out. Don't be afraid to ask the doctor questions like when is the right time to start again and other questions you may have. Chances are there is not much you could have done differently and there's nothing wrong with you physically.
4. Grieve In Your Own Way. There is no rule book on how you "deal" with this. Don't let anyone tell you how to mourn/grieve, including those who have experienced the same thing. If you feel like taking time off, do it. If you feel like giving the baby a name, do so. If you want to go right back to work, do so. Do what works for you. Don't let anyone's way of grieving dictate how you grieve. If it is too painful to be around others who are expecting, then stay away. Gently let them know (or have someone close to you inform them) that, while you're happy for them, the pain is still fresh and you will need some space. If it's not too painful to be around them, then be around them. Cheer them on. Your day is coming.
5. Explore Your Options. If this is not your first or second loss, don't be afraid or ashamed to explore other options. This does not mean that you've given up hope. What it means is that you have a heart full of love that you're ready to pour out on a baby, and you're aware that your path may be different from someone else's. In my case, I looked into (and began saving money towards) adoption and in-vitro fertilization, even while praying and believing that I would get pregnant and carry the baby until my due date. However, miraculously (this is a testimony for another day) I ended up not having to go either route after all (I still hope to adopt one day). I did have to take additional precautionary measures for the duration of both pregnancies.
6. Minimize Stress. Stay away from stressful people (e.g., in-laws, for some) and stressful situations (e.g., work), as much as possible. Be kind to yourself; you've just experienced a life-changing event. If necessary, attend grief counseling sessions. Unfortunately, in some situations, the pain of the loss can put a burden on the relationship between you and your significant other. Talk things through as much as possible. Don't blame each other.
Right now, the pain may seem unbearable, but YOU WILL GET THROUGH THIS. Don't give up on your desire to become a parent. Your baby in heaven will always have a special place in your heart. And you will smile again.
Related