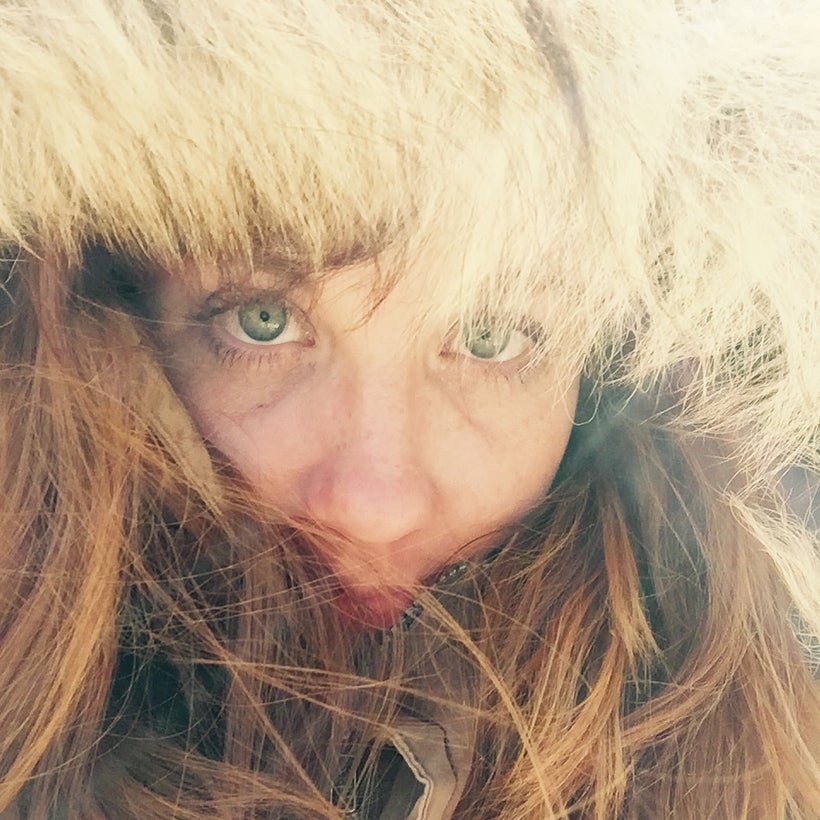 WARNING: I'm going to use the word "shit" a lot in this piece. I like this word because it gives you a clear image of the steamy pile of issues we're all dealing with on a daily basis. So, from now on when I say "shit", what I mean is, issues, past, wounds, hurt, pain, boundaries, belief systems, political perspectives, the sum of personal experiences and the unconscious of our "self" and others. I hope they change the definition for "shit" in the dictionary soon. You will also see me quote "self" a lot in this piece. The reason is because our "self" is all relative. Meaning, that our "self" and how we see it, is in constant flux, the way we identify it and with it is constantly different. So, I put "self" in quotes and separate from "your" and "our" so that you can separate a little from the concept and put "self" into a different perspective. You should read this aloud with your friends and turn it into a drinking game. Take a shot every time I write "self" and "shit". Oh, and make sure to air quote them in the aloud reading. You're welcome. Let's get to it!
We find our "self" (drink!), owning other people's "shit" often. If we feel that we've hurt someone's feelings or offended them in some way, we will own that. As children, we are taught to say "I'm sorry" if we have hurt someone's feelings. So, in that sense we have been programed to own others feelings. Should you be sorry if you hurt others feelings? Well, let's take a look at the definition of "sorry".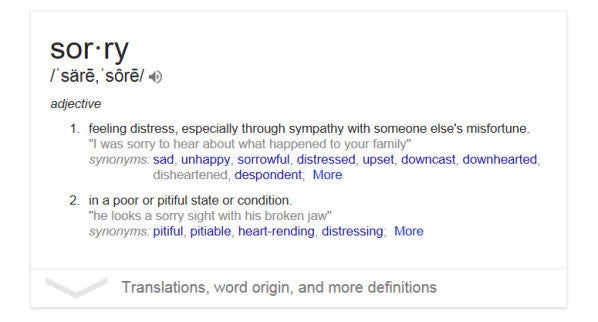 In a sense, "sorry" is used to convey how you are feeling about someone else's "shit". So, yes, I suppose it's OK to be sorry for them in that respect and feel for them that they are feeling a certain way. What we do not teach children is the difference between owning your actions and owning others feelings. For example, if Timmy hits Sara over the head with a book, he should be sorry for that action. If Sara is upset because Timmy didn't notice her new dress, he shouldn't necessarily be sorry. Those feelings are due to her own experiences, those are her feelings alone to own. Can Timmy be empathetic towards Sara? Sure, and if he ever wants to be successful with women, he should be! So, if Sara is crying because Timmy didn't notice her dress and expresses this to him between sobs, perhaps instead of saying "I'm sorry" he could say "I empathize with that".
There is a big difference between owning someone's "shit" and owning your actions, it's important to know the difference. It took me many years to realize this. So, I found myself struggling with friendships and relationships because I was simply taking on too much responsibility for their "shit". You have to allow others to have and own their own "shit" and you need to recognize your own coming up. Can you empathize with them? Yes! One of my favorite lines I love to say is "You don't know their story". If we took the time to understand other's stories, we could recognize when their "shit" comes up better. So, when you come into a situation where you've offended someone or hurt their "feelings", try to understand where they are coming from instead of being "sorry".
Stop Owning Other People's "Shit":
1.) Stop being a scientist: It's not your job to dissect someone's response towards you. Stop spinning your wheels wondering WHY they are acting the way they are. If you are sincerely feeling empathetic towards them, ASK them about their feelings. The answer you get may still be blaming, in that instance you can sympathize, but keep in mind that the root of their feelings truly has little to do with you and all to do with their "shit". Let it go!
2.) Recognize the difference between being sorry and being empathetic: You should most certainly make an effort to empathize with someone. To understand their story, to experience those feeling with them and NOT to experience guilt or sorry feelings BECAUSE of their feelings.
3.) Catch and release: When feelings of guilt or sorrow arise from someone's reaction or feelings around you, remind yourself that you cannot own other people's "shit". Ask yourself if you're simply taking on someone's "shit". Remember sometimes our own "shit" is in fact to take on someone else's "shit". Recognize when it's happening. Catch it quickly, allow it to run its course through your emotions, release it.
4.) Practice: Use uncomfortable situations to practice. Is this truly YOU causing someone to FEEL this way or is it their own "shit"?
5.) Take Breaks: Sometimes, we just need emotional breaks from life to reevaluate. Spend time in nature or with animals. Use this time to reflect on your own "shit". Better understanding our "self" helps us to better understand others. Spending time in situations where we do not have to navigate the reactions of others helps us to put our "self" back into perspective.
6.) Remember: Your reactions to people and situations are directly related to your own experiences and set of beliefs. That means, people you're interacting with are responding they way that they are based on these same concepts. The difference, you're now aware of that. So, play with it and discover more about yourself as a result.
Calling all HuffPost superfans!
Sign up for membership to become a founding member and help shape HuffPost's next chapter
This post was published on the now-closed HuffPost Contributor platform. Contributors control their own work and posted freely to our site. If you need to flag this entry as abusive,
send us an email
.