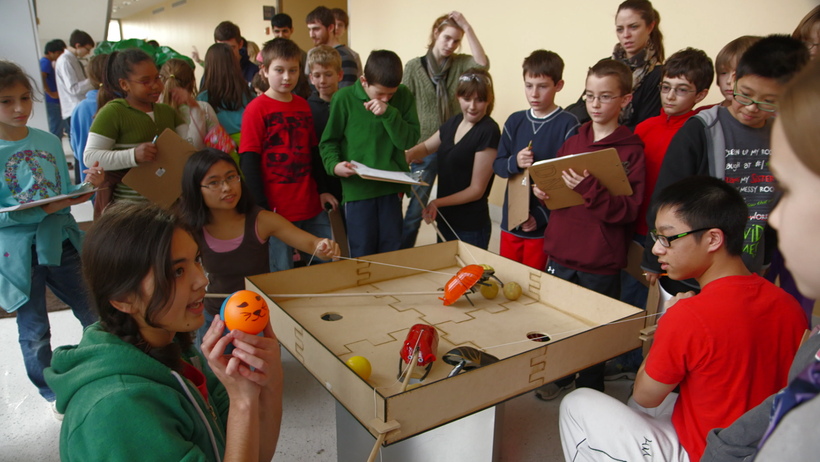 On November 30, after screening Beyond Measure in their own local communities, hundreds of parents, teachers, school administrators, and students from around the nation gathered virtually in a post-film conversation about the future of learning. Here, from our panelists, we're summarizing 6 key steps school communities can take to unleash the health, happiness, and brilliance of every student.
Rob Riordan (cofounder of High Tech High): "We have to ask the question, 'What's the learning environment like for the adults who are working with our students?' It starts with professionalizing the day for teachers, where they can engage in deep and serious conversations about learning.…Our teachers arrive at school one hour before the students arrive every day, and the first forty-five minutes of that hour, they're engaged in various conversations about curriculum, kids, issues the school is facing, and questions that they are pursuing in their practice."
Marianne Young (former principal of Monument Mountain Regional High School): "One of the ways we started at Monument is in individual classrooms, starting with students identifying projects that they would like to work on. [...] Individual classrooms build learning communities…[and then that community] becomes very attractive to other classrooms, to the group next door and the group down the hall. For principals to give teachers license and support to try these practices is essential."
Larry Rosenstock (cofounder of High Tech High): "Have fewer blocks of longer time to get more meaningful work done…There's no restriction that says you can only do science for this many minutes and you can only do math for that many minutes. The more small chunks you break [time] into, the more time is basically wasted.…When kids get in trouble, it's when they're passing all the time and not making good use for their time. [At High Tech High], there's just a few blocks, and it's very, very simple."
4. Value the student experience.
Rob: "I would posit that a lot of mental health problems that develop in a child's school experience are directly tied to the quality of the learning environment and to the things that kids are being asked to do and the things that are being imposed upon them. And so if we have an environment where students are engaged in authentic work, collaborating, pursuing their passions, that in my view is a healthy learning environment, and it mitigates the kinds of mental health problems that can…come out of the stresses of being together, of being subject to tests and all of this stuff."
5. Showcase student work to the community.
Larry: "Open up your school to the community in a school-wide exhibition…and [have] a purposeful reason for them to attend exhibitions of student work.…When the school is filled with people coming in to look at work, it has a profound effect on students."
(Visit shareyourlearning.org to see this in practice!)
Marianne: "Some of the best work I've done has happened because parents did not stop knocking on my door. They didn't give up on their own kids. They didn't walk away from the school and say never mind, this isn't going to work. They kept coming back, and we needed to hear them, and that's how a lot of the really good things that I've seen happen have happened, because I've had to sit there and say you're right, we can do better."
REAL LIFE. REAL NEWS. REAL VOICES.
Help us tell more of the stories that matter from voices that too often remain unheard.
This post was published on the now-closed HuffPost Contributor platform. Contributors control their own work and posted freely to our site. If you need to flag this entry as abusive,
send us an email
.