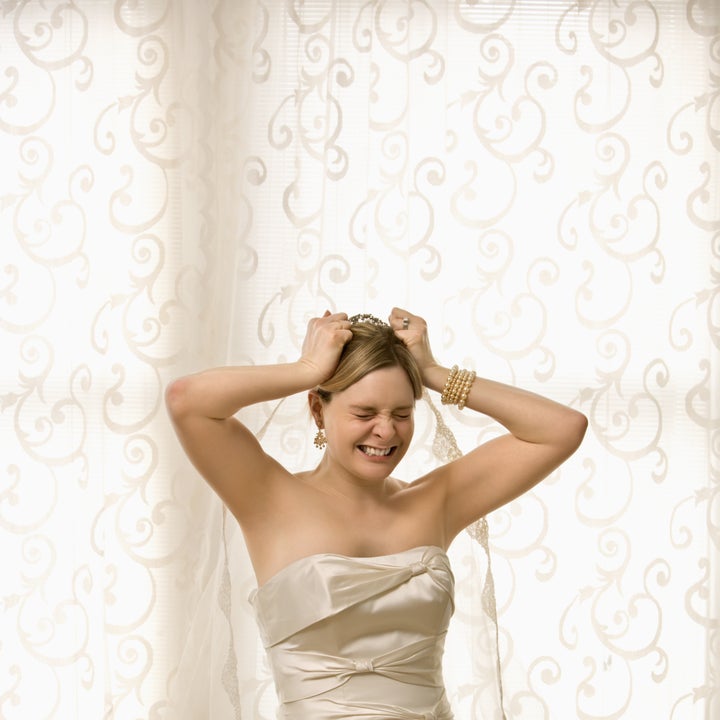 Wedding days can be stressful, everyone will tell you that. Here's what they don't tell you: sometimes that stress is self-inflicted.
Yes, it's true. Brides sometimes bring that stress upon themselves by making rash decisions, giving in to outside pressure, or cutting corners.
It doesn't have to be that way. You don't have to be a frazzled bride fretting about your ceremony starting late. You don't have to be unhappy with your DJ because your mom insisted on hiring him. You don't have to be pulling at your dress. You don't have to be stressed.
You can actually enjoy your wedding day by avoiding the most common stress-inducing things brides do that are totally avoidable. I can't guarantee that your day will be completely devoid of stress, but I know you'll greatly reduce the likelihood that you'll bring that stress upon yourself if you follow my advice.
Here's what I consider the best wedding advice -- tune people out. People have opinions: good opinions, bad opinions, opinions that make no sense. Those opinions are theirs and theirs alone. There are two opinions about your wedding that matter: yours and your fiancé's. It's that simple. When other people offer their two cents, thank them when you agree, smile and nod when you don't. Don't let them stress you, don't let them bully you; don't let them get you down.
Make your wedding the day you both want it to be. Not the day your mom wants. Not what your mother-in-law wants. Not even just what you want. This day is about the two of you. It should reflect that. Sure, you can take advice from friends or family but, ultimately, the decisions are yours to make as a couple.
If your parents are footing the bill, they might understandably feel like they should call the shots. While I believe they should absolutely set an overall budget and provide feedback, the majority of the other decisions should be left to the two of you. You should respect them by doing everything you can to stay within that budget and be willing to pay for anything that would put you over.
If you firmly disagree with what your mother or his mother suggests, talk to them. Explain what you had in mind instead. Stay calm. Pick your battles. You don't want to cause a family rift over the debate between a limo and a vintage car. But you also don't want to cave on everything and end up with an elaborate wedding that is your mother's vision and not your own. And if your fiancé can't stand up to his mother about floral arrangements, how do you think things will play out in the future when she offers her opinion about even larger decisions you make?
This might sound harsh, but if you don't feel like either or both of you can't stand up to your parents about these decisions, do some thinking. Marriage is a grown-up endeavor and should be entered into by two fully realized adults ready to make their own decisions and stand by them.
The best way to actually enjoy your wedding is to make it the day you want it to be. Don't get bullied into a ballroom wedding if you dream of eloping on the beach.
If you're lucky, you do this once. Do it right.
You're going to try on a ton of dresses and look at even more. A virtual sea of white gowns will cloud your brain. How do decide?
When you try on a gown, ask yourself: how do I feel? You should feel beautiful, of course, but you should also feel comfortable. You should be able to sit, walk and dance with ease.
Weddings are long days that go by fast. Take that into consideration before making a purchase. No matter how stunning or expensive the dress, you will be miserable if wearing it means you have to be a living statue.
And after you find that stunning, comfortable gown, hire a seamstress with impeccable reviews to ensure a perfect fit. It's actually possible to wear a strapless gown that doesn't require being pulled up all night. Your gown also doesn't have to be so tight that you feel like you can't breathe in it.
Your dress should be gorgeous, but it shouldn't be at the forefront of your mind all day. You should be able to forget about it, relax and enjoy yourself.
Select Supportive Attendants
When picking your bridal party, opt for people who will reduce your stress level, not add to it. Don't feel obligated to pick anyone. If you know your cousin will drag her feet ordering her dress or say something wildly inappropriate at your rehearsal dinner, ask her to hand out ceremony programs instead of being a bridesmaid. If you know that your guy's frat brother will complain about taking pictures, make him an usher instead of a groomsman. And just because you were in a friend's wedding doesn't automatically mean she has to be in yours. Some friends might even be relieved to be "just guests."

More often than not, smaller is better when it comes to bridal parties. The people you choose to surround you on your wedding day should be your very favorite people in the world. They should make your day easier, not harder.

Hire Vendors You Trust
Early in your planning process, you will conduct many job interviews with the vendors you're considering hiring for your wedding. Be just as picky as you would be if you were a hiring manager at a business. You wouldn't just hire the person who agreed to the lowest salary. You'd want the person with the best resume, solid experience, and stellar references. Most importantly, you'd want someone you'd feel comfortable working along side. Would you want the same thing from the people you're hiring to work on such an important event in your life?
Only hire vendors for your wedding that you feel you can trust explicitly. Why? Because when your wedding day finally arrives, you don't want have to even think about them. You want them to show up, do their job and do it well. If you feel like you have to micromanage your vendors, you either hired the wrong ones or you're creating unnecessary stress for yourself.
Your DJ doesn't need a song-by-song play list. Don't give him one. Tell him the important songs you want him to play (first dance, parent dances, introductions) then leave the night in his hands. If you've seen him pack the dance floor at other weddings, he'll do the same for you. Giving him a list of which songs to play in which order undermines his expertise and ties his hands.
Your photographer doesn't need a three-page shot list. Lengthy shot lists like the ones sometimes found on planning websites usually include moments that photographers shoot anyway. You should be confident that your photographer would capture you walking down the aisle without you having to tell her to (if you're not sure, hire someone else ASAP). Make a list of the family/group shots you would like and then let her do what you hired her to do. You want your photographer's eye behind the camera, not on a list.
Have A Realistic Timeline
Wedding days have a lot of moving parts -- lots of people involved, lots of things to fall into place. Any wedding professional will tell you it's rare that weddings run on time. Making a schedule that relies on everything happening exactly when you think it should is a recipe for disaster.
Ask your vendors (stylists, planner, photographer etc.) for suggestions. Then trust them, even if you think there would be too much time between events (i.e. time between ceremony and reception). Then, pad your schedule with extra time.
Believe me, you will never regret that you made your day last longer. Because you know all those people who keep telling you the day is going to fly by? They're right.
Forget the Stuff that Doesn't Matter
Your bridesmaids want to wear different shoes? Your friend is going to have the same favors as you a month before your wedding? The train of your dress got dirty before the ceremony?
What do all of those things have in common? They don't really matter. No one will notice (or care) what your bridesmaids have on their feet. The few people who attend both your wedding and your friend's will barely notice the favors at all, let alone that they're the same.
And your dress? It's going to get dirty. And that's okay. You shopped for it for months. You spent a lot on it. It's probably the single, most expensive clothing item you will ever wear. Do you really want to spend the only day you wear it afraid of getting it dirty? Of course you don't.
So enjoy every minute you wear your gown because when the day is over it gets packed away. But the pictures of you wearing it, the memories of dancing in it? You'll have those forever.
Remember, there's only one thing that matters on your wedding day: you are marrying the person of your dreams. Hold hands. Look around the room at all the people gathered together to celebrate the fact that you found each other. It's a rare occurrence to have all the people you love in one room. You might never get to experience that again. Savor each and every minute, stress free.