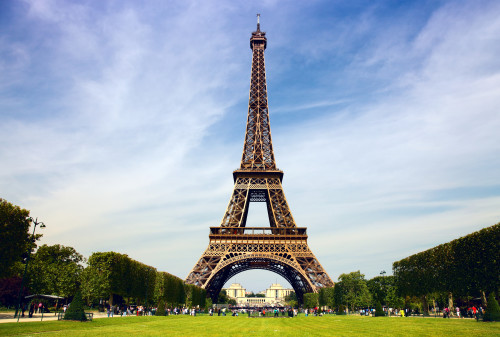 Are you planning to take your lady love on a date and then proposing marriage? If yes, you must be planning to surprise her in such a way that she'll remember throughout her life. Well, how about taking her to some of the most romantic places in Paris and expressing your love so as to sweep her off her feet? Paris is undoubtedly the most romantic place in the world and it is the ultimate destination for newlywed couples and their honeymoon trips. Paris is indeed a city that inspires love and there are numerous ways in which you can inspire your beloved when you're in this city.
For the food lovers, history lovers, beauty lovers, art lovers or just those who love to hang around and soak the ambience of love, Paris can shower you with some sparkling sides, as many as that diamond engagement ring in your pocket. But when it finally comes down to the popping question of where to propose your lady love, you need to do extensive planning. You may find websites like MakeMyTrip or specific sites like PARISCityVISION which offers travel ideas and services through which you can explore this wonderful city with the love of your life. But if you are not looking for those kind of ideas, here's a guide for those extremely romantic people who love to plan something romantic for their life partner. I am showing a list of some romantic places in Paris where you can propose your ladylove to marry you.
1. Pont des Arts - The most picturesque place for a romantic proposal
Paris is home to some of the most beautiful bridges and it is really tough to select the most romantic one. While some may say that the Alexandre III Bridge is one of the best places for a romantic proposal due to its splendid streetlamps, experts think that Pont des Arts is the most picturesque place for proposing. This is a passage for pedestrians with an extremely charming tradition for lovers. The barriers of this bridge used to be filled with padlocks which the couples had attached to the fencing and then kissed and tossed their key to the Seine. Though this romantic tradition has been put to an end after a railing collapsed under the weight of so many locks, yet you can still choose only the beauty of this place for proposing.
2. Eiffel Tower - The signature landmark that will stand a witness to your love
It is needless to say that the Eiffel Tower is a signature landmark in Paris and is unarguably the most romantic place which you shouldn't miss if you're going to France. You can plan to start with asking her out to a dinner when the lights of the city come to life, thereby making the experience of your dinner more romantic. You can then stroll around in the park which lies next to the tower and watch the dazzling City of Lights while talking about marriage. Spring would be the best season for offering your proposal.
3. Montmartre - If you're looking for a secluded place with historical relevance
This is indeed a great place overlooking Paris and is situated on a hill top so that you can get a full view of the city. If you're looking for a secluded place to propose in Paris, this can be one of the best ones as the surroundings are quiet and serene. If you wish to propose, you may start it off with a cup of hot coffee and then browse through French artworks which you'll find along the streets. And in case you're wondering about the perfect time to propose, dusk can be the ideal time. Make sure you visit this place during summer as that is the best time.
4. On the Seine - Because River Boats and Cruise dinners will add to your thrill
Did you notice that the Seine River proposes some of the best picturesque views of entire Paris? Proposing to your lady love on the Seine River can be a good idea, irrespective of what your budget can be. If you don't have financial limits for this day, you can hire a River boat which is full of macaroons and champagne and sit back and enjoy the river tour as the boat's captain gives you a private space. You may even try out those elegant cruise dinners and enjoy the night sights.
5. Fontaine de Medicis - Toss your coin in front of the famous love stories
This is indeed a favorite spot for most lovers and it is said that the Renaissance fountain was the home of the widow of Henry IV, Marie de Medicis. You will also see some stone carvings which will read out some famous love stories to you. The gardens are a favorite spot for rendezvous for some well-known sweethearts have made it famous. You can also toss a coin into the fountain and make a wish before you think of proposing to your lady love and giving her the diamond ring.
After going through the list of places, you must have been definitely intrigued by the romantic places to visit.