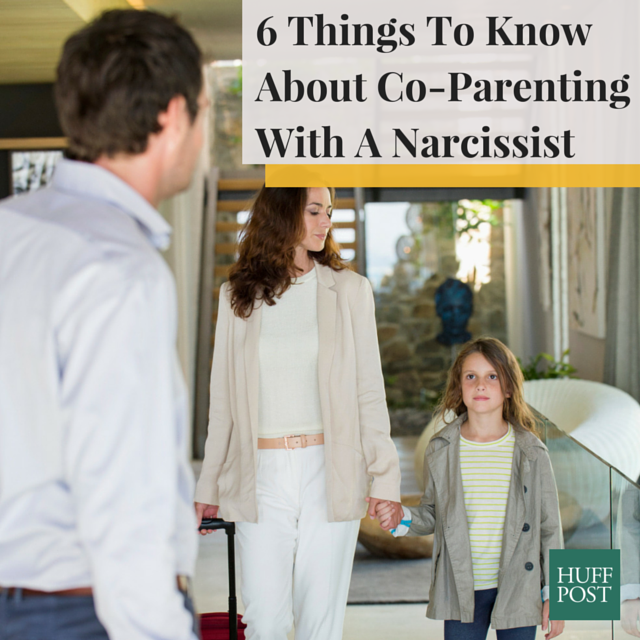 There's nothing more emotionally draining than co-parenting with a high-conflict ex. The divorce docs may be signed, sealed and delivered but you're still forced to deal with your ex's antics.
It's certainly not easy, but if you're armed with the right communication tools, you can get through it for your kids' sake. We asked expert to weigh in with their most fool-proof advice for parenting with a narcissist. See what they had to say below, then add your best advice in the comments.
The problem: Your ex can't accept boundaries.
He comes to pick up the kids and shouts a barrage of curse words in front of them and your clearly embarrassed next-door neighbors. You may be divorced but you feel as defenselessness to the outbursts as ever.
The fix: Establish your own set of boundaries -- and stick to them.
Make it apparent that behavior like that won't fly on your turf, said Karyl McBride, a licensed marriage and family therapist and author of Will I Ever Be Free of You? How to Navigate a High-Conflict Divorce from a Narcissist and Heal Your Family.
"Narcissists don't usually like having others set boundaries on them but this is a must as you co-parent to protect yourself and the kids," she said. "The key to making boundaries work is to stick to them. It may mean hanging up the phone, walking away, closing doors or driving away to enforce your limits. Setting boundaries does not have to be done in a hostile manner; with practice, patience, and restraint it can be done with courtesy."
The problem: Your ex tries to turn the kids against you.
You get wind that your ex is badmouthing you to the kids and telling them lies about the end of your marriage.
The fix: Talk to your kids about what was said and consider therapy.
If your children are old enough to understand, sit them down and talk them through why mom and dad can't seem to see eye-to-eye, said Margaret Rutherford, a clinical psychologist and the author of Seven Commandments of Good Therapy.
"It's OK to tell them, 'You may be hearing things from me and things from dad that are different. And I am sure that's confusing for you. I am sorry for that and sadly, that's part of two people getting divorced. You can always talk to me about it,'" Rutherford said, adding that therapy -- for younger kids, play therapy -- is a great way to support your kids.
The problem: Communicating is beyond challenging.
Just like when you were married, your ex thrives on keeping you engaged, for better or worse. (Usually for worse -- angry tirades over something as small as being five minutes late picking up the kids are par for the course.)
The fix: Limit your communication to email, if at all possible.
Unless it's an emergency, condition yourself to only use email to contact your ex, said Tina Swithin, author of Divorcing a Narcissist: Advice from the Battlefield and a high-conflict divorce coach.
"Create a separate email account for communication with your ex," she said. "Better yet, Our Family Wizard or Talking Parents are both programs designed specifically for couples in high-conflict custody battles or shared parenting situations. Just know that the narcissist's emails will still generally be chock full of projection and just enough lies to make your head spin. Learning to understand the communication style of the narcissist is similar to learning a foreign language but once you understand it, you will experience greater peace and sometimes, even a good laugh."
The problem: Co-parenting just isn't working.
Forget conscious uncoupling or even co-parenting: You and your ex are the anti-Gwyneth. As hard as you try to establish a united parenting front, your ex is having none of it.
The fix: Stop trying to co-parent and try parallel parenting instead.
"You can't collaborate with someone who refuses to collaborate," said Virginia Gilbert, a marriage and family therapist who specializes in high-conflict divorce. "Start parallel parenting: Keep strict boundaries, communicate only over big-ticket items such as medical care and education, and interact minimally, even if that means having separate birthday parties."
Look at it this way, Gilbert said: "You and your ex are like two kids playing next to each other in the sandbox. Try to get as little sand on each other as possible."
The problem: Your ex still knows how push your buttons.
Being married to you all those years taught your ex quite a bit about how to rile you up. When she rants about how you left your daughter's ballet shoes at your place, you can't help but respond in an emotional way.
The fix: Develop a calm, cool and collected approach to communicating.
"Your communication should be short, monotonous, business-like and boring," said Swithin. "When communicating with a narcissist, less is always more. Your goal is for the narcissist to begin looking elsewhere to receive their narcissistic feed. Sift through the email communication and only respond to the items that are relevant to co-parenting. Save your anger over the emails for when you tell your mom or best friend about it. Implementing strategies like this allows you to take your power back."
The problem: The kids are on to your ex's selfish ways.
You've known for years how selfish your ex can be and how difficult it is for him to relate to people. You've tried to shield your kids from his ego, but now that they're older, they're starting to catch on.
The fix: Be there for them always.
Watching this happen can be both gratifying and heartbreaking all at the same time, but your way of approaching the issue needs to be level-headed, said Rutherford.
"Before, you kept it from your kids if your ex wouldn't pay for activities or make extra vacation time. Now that they're gettng older, they're start to experience the self-centeredness themselves," she said. "It breaks your heart -- but what you need to remember is simple: you need to be there for them again, no matter how old they are."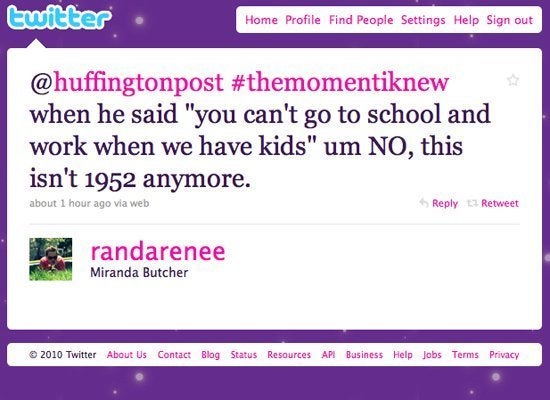 The Moment I Knew
Keep in touch! Check out HuffPost Divorce on Facebook.
Related