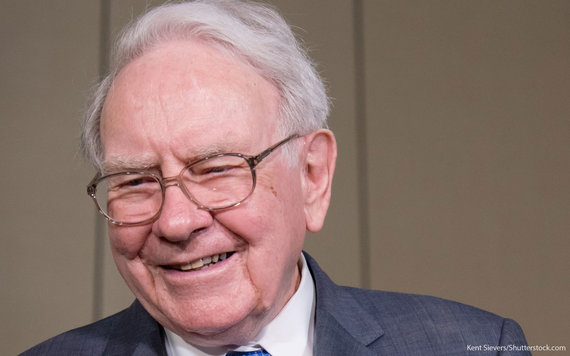 By Morgan Quinn, Contributor
This was a big week for Warren Buffett. At what is known as the "Woodstock for capitalists," nearly 40,000 Berkshire Hathaway stakeholders and tens of thousands of investors gathered for the company's annual shareholder meeting in Omaha, Neb. During this three-day event celebrating "business, investing, innovation and entrepreneurship," as described by the New York Times, Buffett fielded questions from reporters, analysts and shareholders. He also appeared on several talk shows to discuss the event.
Never one to shy away from expressing his opinions, The Oracle of Omaha weighed in on everything from the global bank to overcoming income inequality to the upcoming presidential election. Here are six things Buffett said this week that you should know.
1. Buffett might just keep his money under his mattress.
"There could be a point where you'd really want to start withdrawing currency. If currency in a bank is worth less than currency in your hands or in a mattress, that could produce something in the way of behavior that nobody's ever anticipated ... If the deposits aren't doing anything there and they charge you for having them there, I might contemplate taking them out."
Buffett talked to the hosts of CNBC's "Squawk Box" about the global economy's continual struggle and falling interest rates, with some dipping below zero. In an economy where a central bank charges negative interest, customers can effectively be charged to keep their money in a bank. In that scenario, Buffett said he'd likely withdrawal all his money. Considering the Oracle of Omaha ranks No. 2 on Forbes richest list, we're talking about $67 billion in cash.
2. Buffett doesn't want to get rid of capitalism, but create a better version of it.
"We have a golden goose that's laid progressively more golden eggs ever since the country was started. I don't believe in throwing out the baby with the bath water."
In this heated political season, Hilary Clinton supporter Buffett had a lot to say about the distribution of wealth. In an interview with CNBC's "Squawk Box," Buffett said he understands why young Bernie Sanders supporters are skeptical of capitalism and big business. This point of view might not be supported by some of Buffett's fellow billionaires and big business comrades, but the underlying message is that large businesses, like Berkshire Hathaway, power a huge portion of the economy and fuel employment. In Buffett's world, perhaps it's less about the total destruction of capitalism, but creating a better and fairer version of it, according to The New York Times.
3. Buffett thinks we shouldn't raise interest rates too soon.
"Very few people would have dreamt in 2009 that we would have this duration of low rates and have people still expecting low rates after the seven years or so were up."
On Monday, May 2, Buffett told CNBC's "Squawk Box" that he thinks the Federal Reserve and other policymakers are doing a good job, but that no one can know what will happen if interest rates stay low for a long time. While keeping rates low has undoubtedly helped the U.S. economy recover from the depths of the 2008 recession, this is the longest interest rates have ever remained so low which instills some uncertainty about what would happen if we raised them too quickly.
4. Buffett doesn't think the presidential election can damage the U.S. economy.
"If you ask me whether electing the wrong president can permanently damage the U.S. economy, the answer is no ... We've had 44 presidents so far and they haven't all been gems. But this country will move forward regardless."
Buffett might be a conservative investor, but he's a liberal Democrat. Often described as a "compassionate capitalist," he's not afraid to criticize Wall Street firms. He also supports raising taxes on the super wealthy and promotes the benefits of the earned-income tax credit. So does the tumultuous political climate and upcoming presidential election worry him? Not one bit. The U.S. will continue to be great, Buffett told CNBC's "Squawk Box."
5. Buffett thinks hedge funds and investment consultants aren't worth it.
"For the population as a whole, American business has done wonderfully. And the net result of hiring professional management is a huge minus."
During the Berkshire Hathaway annual shareholder's meeting, Buffett unleashed a tirade against hedge funds and investment consultants, according to the Wall Street Journal's MoneyBeat. During what he called a "sermon," The Oracle of Omaha called hedge funds and investment consultants a "huge minus." Infamous for his conservative approach to investing, Buffett has continually suggested hat investors put their money in low-fee S&P index funds over hiring "professionals" who claim they can beat the market
Since 2006, Buffett and hedge fund Protégé Partners have had a bet that over a decade, the cumulative returns of five fund-of-funds picked by Protégé would outperform a Vanguard S7P 500 index fund, including fees. Buffett revealed a chart measuring the status of this bet and as of the end of 2015, the S&P 500 index fund had a cumulative return of 65.7 percent, while Protégé's picks had just a 21.9 percent return. Buffett also noted that the S&P has outperformed Protégé's picks in six of the last eight years. Boom.
6. Buffett doesn't think anyone should play the IPO game.
"You don't have to really worry about what's really going on in IPOs. People win lotteries every day, but there's not reason to let that affect [your investing strategy] at all."
Given Buffett's aversion to hedge funds and investment consultants, it's so surprise he doesn't think IPOs are very good investments either. At the Berkshire Hathaway meeting, he warned against the IPO game, according to Yahoo Finance. Despite all the investors who have struck it rich investing in IPOs, Buffett maintains their success comes down to pure luck.
From the annual Berkshire Hathaway shareholder meeting to the many interviews he did in the days following, Buffett never fails to speak his mind. This billionaire investor is always full of wise financial advice and commentary, and this week was no exception.
Jamie Young contributed to the reporting of this article.
More from GOBankingRates:
Calling all HuffPost superfans!
Sign up for membership to become a founding member and help shape HuffPost's next chapter