It hurts to move, breathe and generally exist when your skin feels like lava. It also makes you molt like a caterpillar, but instead of becoming a butterfly, you just become patchy.
So, what do you do when your face is doing that super fun peeling thing and you'd like it to stop?
Put the exfoliator down and sit on your hands. You need to moisturize, moisturize, moisturize!
We've rounded up some of our fave post-sunburn treatments.
1. First Aid Beauty, Ultra Repair Instant Oatmeal Mask ($9 - $24)
The most important ingredient in this mask is probably the strangest sounding: oats. A combo of colloidal oatmeal and avena sativa oat bran helps sooth your angry face and turn the redness down a notch. Wear the mask for about 10 minutes and the result is soft skin with a natural glow. Also, the smell? AMAZING.
2. belif, The True Cream Aqua Bomb ($22 - 38)
This stuff feels like you splashed your face with water ― it's that hydrating. The texture is almost gel-like, but the best word for it is: bouncy. We'd recommend using a heavy-handed coat of this before bed. We did (after a really bad sunburn) and it cut down the days/severity of peeling substantially.
3. e.l.f. Daily Hydration Moisturizer ($8)
This is a moisturizer that has all the ingredients of a highbrow product with the price point of a drugstore one. It's got jojoba, aloe, vitamin E, cucumber, shea butter, grape and orange, and the packaging makes it extremely easy to use. Where you'd likely use the True Cream Aqua Bomb before bed, this is great for use during the day. It's light and layer-able without being oily.
4. Glossier Moisturizing Moon Mask ($22)
Those with extra sensitive skin: This is your saving grace. Thick like a lotion, this mask feels like you just globbed on moisturizer ― in a good way. It's fragrance free and paraben free, and (as it says in the above caption) it feels incredible if you put it in the fridge before you use it. Leave on for 20 minutes, rinse off, and find skin supple and dewy.
5. Aquaphor Lip Repair ($3.99)
We wish they sold this lip balm in bulk because we go through it like crazy, especially when our lips are puffy from the sun. You might think this is just like Vaseline, but you'd be wrong. This stuff conditions, protects and provides relief (yay chamomile essence!). Bonus: It's also great to keep with you when wearing matte lipstick ― it'll even out your lips where the color has cracked and let you spread the color out again without reapplication.
6. Neutrogena Clear Face Sunscreen SPF 55 ($8.88)
You already know you're supposed to use sunscreen, but with your current peeling face, the damage has already been done. So ... let's prep for next time! This baby is great for sensitive skin types who are susceptible to sunscreen-inspired breakouts. It's also a higher SPF, which your face needs after the beating its already taken.
Got your own tip for battling sunburn peel? Tell us in the comments!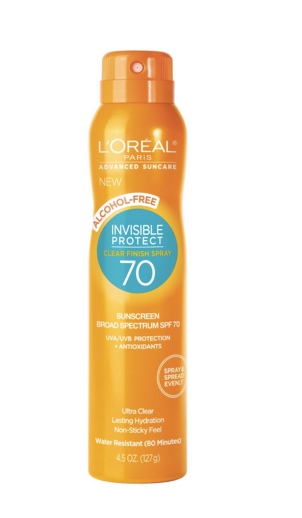 Our Favorite Sunscrees
Popular in the Community