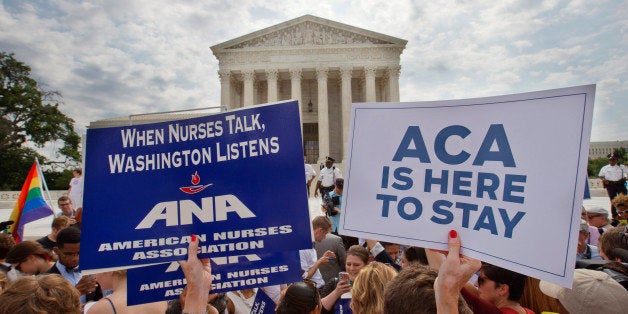 The decision is in! The Supreme Court has ruled on the landmark Affordable Care Act (ACA) case. Now what?
1. In the case of King v. Burwell, the Supreme Court has ruled in favor of Burwell, that is, the Obama administration.
2. Because of this decision, nothing changes.
3. Subsidies, also called premium tax credits, will continue to be available to individuals living in the 34 states with public health insurance exchanges run by the federal government as well as those living in the 16 states with state-run exchanges and the District of Columbia.
4. Generally, subsidies are available to exchange enrollees who are not offered health coverage through an employer or government plan and whose household income falls between 100 percent and 400 percent of the federal poverty level.
5. Other provisions of the ACA are still in effect, including rules requiring:
Individuals to obtain qualifying health insurance coverage (the individual mandate)
Employers with 50 or more employees to offer affordable, minimum-value health coverage to full-time employees and dependents (the employer mandate)
Coverage for dependents up to the age of 26
Prohibitions against preexisting conditions, rescissions, annual limits and lifetime maximums
PCORI and transitional reinsurance fees
Reporting and disclosure (e.g., the summary of benefits and coverage and health coverage information on Forms 1094 and 1095)
Waiting period limits
An excise "Cadillac" tax on high-value health plans starting in 2018.
6. Congress will continue introducing legislation aimed at amending ACA.
A recent International Foundation of Employee Benefit Plans survey found that nine in ten organizations were closely following the discussion surrounding the case. Today's highly anticipated ruling brings some certainty to employers so they can move out of "wait-and-see mode" and continue with their ongoing ACA compliance requirements.
REAL LIFE. REAL NEWS. REAL VOICES.
Help us tell more of the stories that matter from voices that too often remain unheard.