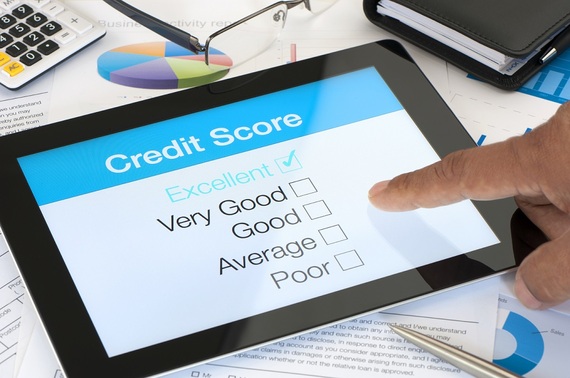 Your credit score affects your financial life in many ways. Car insurance premiums and your interest rate on home and auto loans are determined, in part, by your credit report, and plenty of employers actually check it when deciding whether or not to hire a candidate for employment. With that in mind, it's in your best interest to not only know your credit score, but to improve it.
Here are six tips for improving your credit score for a fresh financial start in 2016.
1. Pay Your Monthly Bills on Time
Paying monthly bills is a necessary chore that has a definite effect on your credit score. According to the FICO scoring model, your payments account for as much as 35 percent of your total score. Create reminders for due dates or establish a calendar for yourself to ensure you get everything paid on time.
2. Reduce Your Debts
Got credit card debt? Start paying it off now. Part of your credit score is based on the amount of available credit you have, known as your credit utilization ratio. So if you're carrying high balances, you'll want to lower them as soon as possible. Create a personal budget with a goal of reducing your spending so that it's lower than your income. Then, use any monthly surplus for your credit card debts until they're gone for good.
3. Limit Credit Inquiries
Looking for a new apartment? What about a mortgage? In either situation, try and group your applications together as much as possible. Applications for new lines of credit will generate a "hard pull" on your credit, and having too many of them in a short period of time can lower your score. However, credit reporting agencies usually consider a group of applications within a short period of time as one pull, as long as they're in the same category.
Similarly, limit yourself to opening up no more than one or two credit cards per year, which also generate hard pulls. Even if you get a ton of offers in the mail for stellar sign-up bonuses, they're likely to be offset by the damage to your credit. FICO reports that new credit and credit inquiries account for 10 percent of your total score.
4. Don't Cancel Old Cards
Have a card you don't use anymore? Don't close it. This can negatively affect your score as it lowers your amount of available credit. Instead, use it about once per month and don't forget to pay the bills in full, and on time.
5. Request Credit Limit Increase
If you only have one card and you're constantly approaching your spending limit, call the bank and ask for an increase in your credit line. This will raise the amount of available credit, which will eventually improve your score.
6. Take Care of Late Payments Before They Hit Your Score
If you do happen to miss a payment, contact the card issuer immediately. If you have good history built up, the company may agree to not report your late payment. Even if you can't avoid a late-payment fee, be sure to get your account up to date as soon as possible so you can limit the damage.
Your credit score is yours to own. It reflects your financial history and helps lenders predict how you will manage your finances in the future. Due to the lingering effects of credit, you don't want to waste any time to improve your credit.
* Editorial Note: This content is not provided or commissioned by the credit card issuer. Any opinions, analyses, reviews or recommendations expressed in this article are those of the author's alone, and have not been reviewed, approved or otherwise endorsed by the credit card issuer. This site may be compensated through the credit card issuer Affiliate Program.
*The content in this article is accurate at the publishing date, and may be subject to changes per the card issuer.
Calling all HuffPost superfans!
Sign up for membership to become a founding member and help shape HuffPost's next chapter