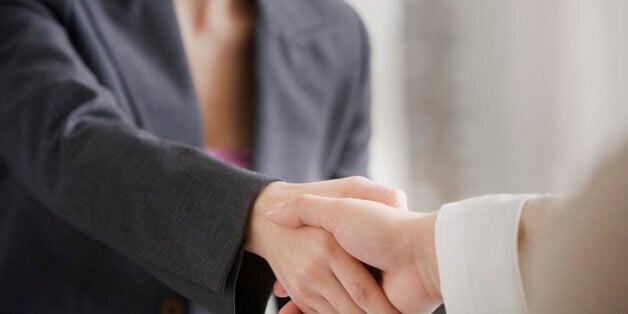 Many people believe that their first meeting is the start of a business relationship, I'm letting you in on the fact that it actually begins with the first sale. Sure, you might be able to get a customer to buy something from you the first time, but you'll need to keep them buying from you in order to stay in business. A recent experience I had with a vendor has shown me that many people don't fully grasp this concept. My vendor -- we'll call him Hank -- gets paid on a retainer. So, when I purchase a block of services, I get them at a set price and I pay in advance. Yes, this means I am paying for services before they're completed, but because of the relationship that we have established, I trust that he will come through. When the retainer is used up, I renew by purchasing another block of services, and so on.
Recently, he sent me an email telling me that in order to prioritize my work, he wanted me to pay him a monthly retainer, and increase his fee by 25%. He no longer wanted to keep our current deal. As a customer, I was taken aback by this, but my first question was, "Have I exhausted my retainer?" He said, "No." Apparently, only half had been used. So now, I am trying to understand what he was thinking. He did a few things wrong. It's fine to renegotiate, but not while you have a contract in place. And if you do want to raise the topic of renegotiation, you don't start off by telling your client that you don't prioritize their work. In the end, not only is he not going to get an increase in fee, but we may not do any more work and I certainly wouldn't refer any clients to him. The most important thing you have in your business is keep your word, do what you say you are going to do, and do it on-time and on-budget. Sometimes, you will agree to a price that you later regret, but you have to live with it, if that's what you sold your customer. Here are 6 more tips for building better business relationships.
Never Solve a Customer Issue With Email. Never be afraid of an angry customer; give them a call to find out what the issue is and put yourself in charge of solving it. People appreciate a personal contact, especially when something has gone wrong.
Contact Your Customers. You should be using a recency strategy in your business. Meaning, you should call or contact your customers within 7-10 days of them receiving your product or service to make sure everything is going well. This is also a great opportunity to ask for a Yelp review or recommendation on LinkedIn if the customer is happy with your product or service.
Nurture the Relationship. My best customers consider me a friend. Think of yourself as a farmer. Farmers tend to the soil, plant the seeds and water the plants to watch them grow. Farmers know how to nurture relationships.
Do a Needs Recheck, Before You Try to Upsell.Make sure you know what is going on with you customers before you hit them with an upsell. Remember, Serve, Serve, Serve, SELL!
Remember Your Role in Customer Service.If you sold it, when there is a problem, the customer is going to come back to you to fix it. Are you going to give them customer service or lip service? Don't pass the buck. Own the issue and fix it.
Look for Ways to Leverage the Relationship. You should always be thinking how I can help my customer more.
Are you ready to increase the sales of your small business in 2015? I created this amazing 5 part series for you, How to REALLY Make Sales, with one of my favorite small business experts, Jeffrey Gitomer, who you might recognize as the NY Times best-selling author of The Little Red Book of Selling. You can get your copy at www.getsales14.com
And as a bonus, I'm including the slide decks Jeffrey and I prepared for the webinars. www.getsales14.com
Melinda F. Emerson, SmallBizLady is America's #1 small business expert. She is an author, speaker and small business coach whose areas of expertise include small business start-up, business development and social media marketing. She writes a weekly column for the New York Times, publishes a resource blog, www.succeedasyourownboss.com which is syndicated through the Huffington Post. She also hosts a weekly talk show on Twitter called #SmallBizChat for small business owners. As a brand, she reaches 1.5 million entrepreneurs a week on the internet. As CEO of Quintessence Multimedia, Melinda develops audio, video and written content to fulfill her mission to end small business failure. Forbes Magazine named Melinda Emerson one of the #1 Woman for Entrepreneurs to follow on Twitter. Melinda has been featured on MSNBC, Fox News, NBC Nightly News, and in Fortune, The Washington Post, USA Today, Wall Street Journal and Black Enterprise. She is the bestselling author of "Become Your Own Boss in 12 months; A Month-by-Month Guide to a Business That Works," and the ebook How to Become a Social Media Ninja; 101 Ways to Dominate Your Competition Online.
Related