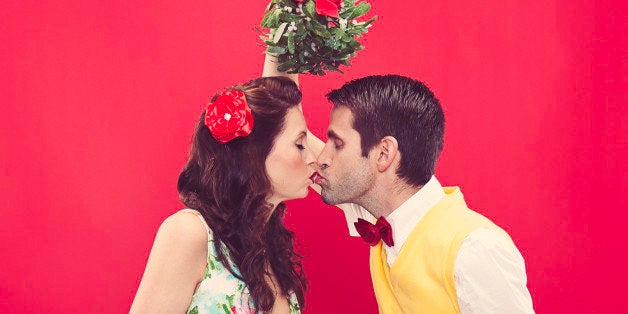 The tree is up, and the decorations are out. Gifts have been purchased for all 27 family members, not 28 because your husband took care of that one...phew. The kid's Christmas recitals and classroom parties are coming to a close. Presents still need to be wrapped and cookies need to be decorated. The to-do list never ends, but forget that! Decorate yo' self! Sugar and spice and everything nice, such as concealer, blush, a good waxing, etc. You make everything else fancy this time of year, now it's your turn! Time is of the essence and I know there's a sale on holiday ham at Costco, so I'll make it short.
Here are the six tips to getting yourself fancy this holiday:
1. Get your nails done or at least painted. It absolutely gives the illusion that you have your sh*t together for this festive and overwhelming time of year. Talk with your hands! Grab that deviled egg with some pizzazz and show off your dazzling digits. It's Christmas!
2. Do your makeup. Somewhere between plain jane and crazy clown hooker. No offense to hookers of course. That profession takes a lot of balls, and I mean that literally. Twenty to 30 pair a week at least? But I digress. Cover those exhausted December eye bags with some concealer... Please. Mascara and eyeliner... together! Wear some red lipstick or sexy gloss. If you choose to showcase a sultry porn pout but once a year, why not let it be at Christmastime? My point is to find your balance.
3. Forget your feet and don't stress. I'm not saying to let them go completely, so that you have one giant callous attached to your ankle and a set of talons that would make a turkey vulture jealous, but you've spent all summer and fall giving yourself happy hooves. News flash! It's winter! Wear boots. Problem solved.
4. Moisturize! You do realize that the air outside has become an intolerable arid tundra right? Skin resembling the dry and cracking exterior of a Saltwater Crocodile is not in style this year. Take the time to hydrate so you can look fresh to death at the Christmas Eve party.
5. Get something waxed. Our true skin tone has revealed itself now that the warm weather and sun have left us. The freakishly long Foo Man Choo protruding from your chin showcases itself, as does your Tom Selleck mustache that glistens in the light of the winter's day...always when out in public, in the presence of other judgmental human beings. Clean it up! Smooth and silky. You can even get the nether regions waxed if you want to exude some real unspoken confidence...and have a high threshold for pain, specifically that which involves follicular torture.
6. The hair! Wear it down. Curl it, straighten it, grab that hair product collecting dust under the bathroom sink and apply it. Flaunt those lovely locks and show off the smooth sheen in the glow of the holiday lights. Bounce those brilliant curls right under the mistletoe for some fancy, hair entranced smooching. You get my point.
There you have it. 6 simple ways to get yourself on fleek. Whether gathered around the Christmas tree at the ugly sweater soiree or throwing back copious amounts of bourbon eggnog at the family's gift exchange party that you sincerely did not want to attend, I got you covered. Now go get yourself fancy.