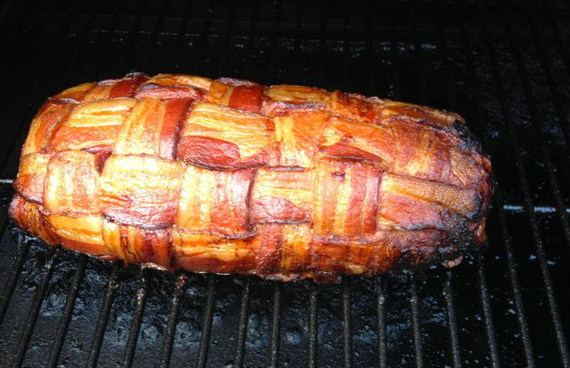 Who first had the idea to apply the classic over-and-under weaving technique to strips of cured pork belly, aka bacon? I wish I knew (if you do, please let us know). But the technique went viral in December 2008, when Kansas City, Missouri, competition barbecuers Jason Day and Aaron Chronister began promoting their now famous trademarked "Bacon Explosion." The men are quick to admit, however, that they didn't invent the bacon weave.
Here are 6 tips for making a better bacon weave:
Buy the best bacon you can afford. Farmers' markets are a good place to look for artisanal smokehouse bacon--and support your local farmers in the process.
If buying bacon at the supermarket, look for bacon that's been smoked naturally (many brands are injected with "smoke flavor," not smoked with actual wood). Turn the package over to check the meat versus fat ratio. Most brands have a clear plastic window on the backside, or a perforated rectangular cutout you can fold back to reveal what's inside. You want as much meat as possible.
Start with well-chilled bacon for easier handling.
Buy more bacon than you think you'll need. Thin-cut bacon is especially prone to tearing.
Use thick-cut bacon for weaves that will cover meats cooked "low and slow" (more than 2 hours) such as smoked meatloaf or "fatties", smoked whole chickens, smoked whole turkeys or turkey breasts, beef brisket, etc. Thick-cut bacon will render its fat more slowly, whereas thin-cut bacon can burn during long cooks. Use thin-cut bacon for weaves that will cover direct grilled, faster cooking foods such as chicken breasts or thighs, whole fish or fish fillets, whole baking potatoes, etc.
Build the weave on a large sheet of parchment paper, heavy-duty foil, or food service-quality plastic wrap. (The latter is much more substantial than supermarket brands and comes in 18-inch rolls. It can be purchased at restaurant supply houses or online through Amazon.)
SIGN UP for Steven Raichlen's UP IN SMOKE newsletter to learn more about barbecue!
Steven Raichlen is the author of the Barbecue! Bible cookbook series and the host of Primal Grill on PBS. His web site is BarbecueBible.com.
Support HuffPost
A No-B.S. Guide To Life
Related
Popular in the Community