The role of sales is experiencing a renaissance. Everything that is old is having a "rebirth." And everything that is new is happening at such a rapid pace, it is hard to keep up. The way customers buy is changing more than ever before, and because of that we must evolve our approach to sales .
After more than 25 years as a sales and marketing leader and a researcher studying the future of sales, I see one important truth: Regardless of industry, sales as we know it will never be the same. Given this new reality, sales reps need to adapt and embrace some new ways of doing their job. Here are my six tips for meeting the demands of the modern buyer and becoming more customer-centric.
Whether you're in the early part of your sales career, you're maturing and increasing the sphere of your responsibility, or you have been selling for a long time, you can always strive to be better. If you're not investing in yourself every single day, why would you expect anyone else to do so? You must assume your competition faces the same challenges you have, and if they continue to develop as salespeople, there is a risk they are going to beat you. You always have to think about how you can be better, smarter, and faster than the competition. Make sure you engage with your customers in new ways, keep up with the latest industry trends, and learn how best to use all the new technologies at your disposal. If you do this, you have a much greater likelihood of having a successful, financially rewarding career in sales.
Investing in yourself can come in many different forms. It could mean attending specific industry events, taking a class on public speaking or writing, or participating in additional training. Be proactive when it comes to the development of your career and skills. High-performing sales teams are 2.5x more likely than underperformers to rate their sales training processes/effectiveness as "outstanding or very good" (80% of high performers vs. 33% of underperformers; "State of Sales," Salesforce Research, November 2016). Start by asking your sales managers what additional training is available to you, or what they would recommend you participate in externally. Discuss your career aspirations, and tie those goals to strategies for getting there. Have a plan. Work the plan. Commit to it.
2. Become customer-driven.
Predictions of the salesperson's doom aren't new. In the early 20th century, many thought the advent of major advertising and mass media would replace the traveling salesman. And, of course, the early days of the internet and ecommerce seemingly didn't bode well for sales either. But even with all the continued tech advancements, customers still value human connections and still want to do business with people — and sales jobs are still at the top of many hiring trends. What is different is how customers engage with sales, and when and how they decide to reach out to a company's salespeople. In a recent study, two-thirds of consumers said they're likely to switch brands if they're treated like a number instead of an individual. Customers are far more educated and hold much more buying power than ever before. In my 15 years of selling, I knew more than my customers on the other side of the table. I knew more about my technology, more about the challenges their industry faced, and who else was using our solutions. Now customers often arrive with much more knowledge than we have. They have done their own research as they progress through their buying journey. They have connected with their peer network to get an unbiased perspective on your company and solution. And they have developed a point of view that influences what they may need from you during the remainder of the sales cycle.

Because of all of these changes, you must think differently. You must shift your perspective from inside out (starting with the sales process and metrics) toward outside in (a customer-first perspective). Business buyers choose vendors now who understand their unique needs and provide value with each interaction.
How do you become more customer-driven? Start by asking a key question before you meet with a customer: How can your product or service help your customer be more successful in his or her business? If you start there, you will find the initial conversation will be much more value-based than product-driven. As a salesperson, you can no longer act like what is happening in the customer environment doesn't have an impact on the way you sell. It affects how you prepare, how you engage, and how you add value. Customers are voting with more than their wallet today — they are also voting with their loyalty.
3. Make B2B sales more like B2C.
We have more capabilities in the palm of our hands today than we did on our desktop just a few years ago. Cloud, social, mobile, the Internet of Things, and big data are all driving new customer behaviors. Customers can buy almost anything at any time, 24/7, and they not only want, but also demand an incredible experience when they do so.
For those in the B2B world, you must start to compete with the experience people have in their B2C lives. Think about it from your own perspective as a consumer. How often do you buy something online? Is it daily or weekly? Is it easy and seamless? Are you able to do it on your mobile device or via your favorite social channel? Yet when you show up to work, it's a completely different experience. Less than half (47%) of business buyers strongly agree they would do business with the company they work for (State of the Connected Customer)
Why can't it be frictionless, like it is for you in your consumer life? Many in B2B sales are trying to replicate a consumer's buying experience in the business context to make the transaction much more engaging and seamless. The ability to improve current performance includes technology, people, and internal processes. Within the volumes of data being produced online and on social networks, there is a treasure trove of insights ripe for " "exploration ". Think about how you can use that data to be smarter in all your customer interactions, not just in managing your sales team's productivity and performance.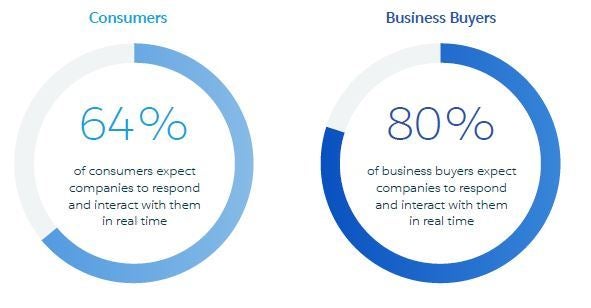 Where to begin? Buy something from your own company. How was the experience? Was it intuitive? Was it compelling? Was it easy to navigate? Compare that to another brand you may enjoy purchasing from, and identify the gaps. Adjust what you can with processes, reconsider the way in which technology supports the sales cycle, and use customer experience as a competitive weapon, not something you measure in customer-satisfaction scores.
4. Keep sales in context.
More than anything, the future of selling will be contextual. What do customers need when they reach out, what do they know, and how did they find you?
With all the investments in digital marketing, social listening, and journey mapping, we now have more contextual information about our customers than ever before, including what may make our solution compelling for them. Sixty-eight percent of sales pros say it's very important to have a single view of the customer across departments/roles, but only 17% rate their single view of the customer capabilities as outstanding (State of Sales). Without tight collaboration between sales and marketing, the flow of these insights may get lost along the way. Sales teams need to approach every opportunity with an understanding of the customer's buying journey, and not just follow the internal sales processes. Remember, not all opportunities or customers are created equal.
For example, you may have a customer who wants to buy more from you. You may have a customer who is ready to make a decision but has a few last-minute questions that need to get answered. You may have a customer who reaches out to you with a business pain and believes your solution can fix it. Or you may reach out to customers who have yet to conclude they have a problem that needs fixing. These are very different sales scenarios that require very different responses.
If we're not finding the context of our sales using the data at our fingertips, then we're not only missing an opportunity, we're also failing to provide a compelling customer experience.
The hardest part of most sales today is that we are rarely just selling a "product." More often than not, we are asking our customers to change their status quo — to move from on-premises solutions to the cloud; from a spreadsheet to a CRM system; from the old reliable machine to a brand new model; or from the supplier they've always used to you. This isn't easy. Change in our personal lives is hard, but getting people to change within a business environment adds another layer of challenges. It is especially hard to change when customers think what they have been doing will continue to work for them into the future.
The burden is on the sales rep to sell this change and have the customer go on this journey with you. To position change and transformation, you need the ability to tell the story in a compelling way. This is where the investment in yourself and knowledge of the industry and market and your customer will help differentiate you. By adopting a customer-centric mindset and showing customers you are invested in their success, you give them the assurance they need to embrace change.
6. Adjust the expectations.
With all these changes in customer buying behavior, technology, and expectations, sales managers must be willing to rethink what key performance indicators (KPI) are measured and rewarded. According to Salesforce's second annual "State of Sales" research report surveying more than 3,100 sales professionals across the globe, customer experience overtook process and is now ranked the top KPI used by sales organizations to measure success.
I don't recommend getting rid of all the performance metrics we have today but we must begin to introduce new metrics that are more customer-centered, not rep-performance-oriented. If we don't start thinking about new KPIs to manage the sales team, we will get stuck in the old behaviors — the "muscle memory" and the DNA — that have always been around to measure salespeople.
How do you really know who's performing well and not performing well? Sales performance has historically been measured strictly by quota attainment. However, with these new customer demands, there are other metrics that can offer insight into sales team performance. To become customer-driven, the sales organization must begin to measure customer-based metrics such as satisfaction, net-promoter score (NPS), customer experience, and ease of interaction, to name a few. When these key performance indicators are combined with standard sales metrics, companies can gain a much greater understanding of the health of the business. (Example)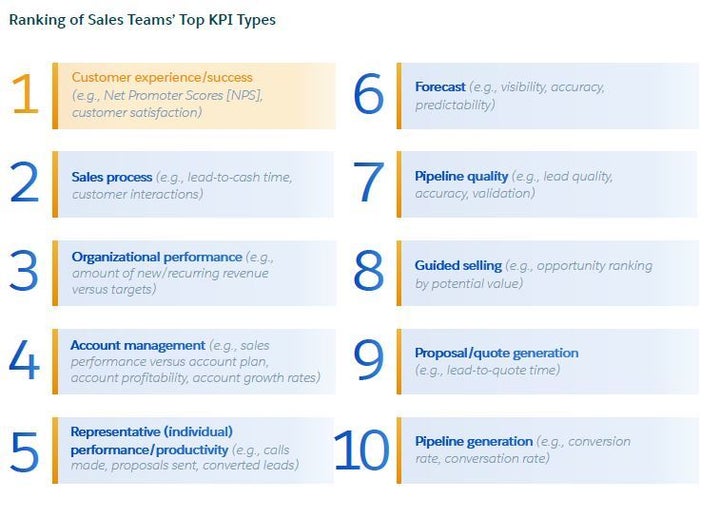 Poor customer metrics can be early indicators of dissatisfaction which can lead to unnecessary churn for recurring revenue businesses. It is the responsibility of sales leadership to expand sales metrics and KPIs to make them more customer-focused. If you are successful at doing this, you will have effectively married the science and art of customer relationships, and will be able to reward customer success, not just sales success.
By embracing not only consumer change, but your approach to the sales process, you will soon find more customer engagement, advocacy, and loyalty in this ever-changing environment.
Related
Popular in the Community