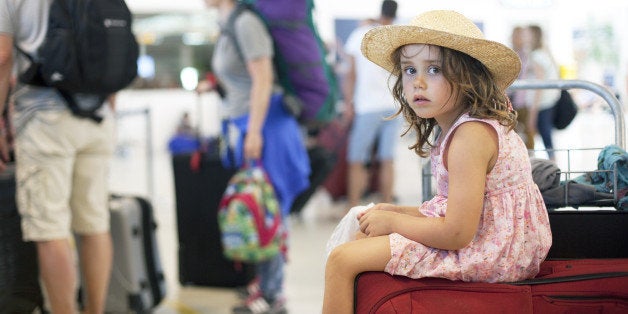 Traveling with young kids can be exhausting, stressful and, let's face it, not always fun for the parent. Instead of cultural treats, daytime activities typically involve excursions to the zoo, children's museums, nearby amusement parks or a trip to the nearest outdoor playground. And traveling light? Forget about it. Even if you are lucky enough to have ditched the diaper bag, chances are there are still sippy cups, snacks, extra clothes and strollers to contend with.
But not all kiddie-related travel is doom and gloom. If you are fortunate enough to be traveling with a kindergartner, you may be surprised by what kind of trip you can actually experience. Sight-seeing trips and historical-themed adventures are within your grasp if you travel prepared.
Here are the key lessons learned from a recent trip to Paris and London with my 6-year-old:
1. Get Some Wheels - the Razor Kind
Six-year-olds are a pretty independent bunch. They crave to be treated like big kids and that typically means no strollers. But the reality is your mini me only has little legs, and those legs will get tired after a mile or so of walking. So if you have a lot of ground that you want to cover, and more importantly you want to avoid having to carry 50 lbs. in your arms, you may want to invest in a Razor kick scooter and carry bag. For $30 (or in my case £19.99), this gift is one that will keep on giving. On his first day in Paris, my son easily handled a three-mile scoot from our hotel to Notre Dame, followed by yet more scooting to dinner and between Metro stations afterward. Best of all, he is still enjoying the scooter back at home.
2. Build in Play Time
If you are planning to do a lot of walking and/or sightseeing, make sure you build in some play time to break up the day and allow your child to let off some steam. Online satellite map tools are an easy way to identify playgrounds close to your chosen point of interest. For instance, there is an amazing ecological playground just down the road from the London Eye (you can actually see it from inside the Ferris wheel) and, in Paris, you can find play areas along the river Seine and even next to attractions like Notre Dame.
3. Factor in Refueling Pit Stops
It may cost a little extra, but instead of stuffing a packet of Pepperidge Farms goldfish into your handbag, why not try and soak up some local culinary treats for snack time. Not only is it a cultural experience in and of itself, but it will give your child some extra energy so that they can keep on seeing the sights. The many street cafés of Paris are perfect for hot chocolate pit stops (not to mention a welcome refuge from the chilly winter air), and the local boulangeries offer treats galore. Also consider traditional local cuisines for your other meals. Your child may be a picky eater back home, but you may be surprised by a willingness to be more adventurous when traveling.
4. Research Ahead of Time
Sure, every 6-year-old is going to enjoy an elevator ride up the Eiffel Tower. But what about Tower Bridge in London? Did you know that, while the Tower Bridge does a great job of including kids through passport books and sticker stations, it does not provide the necessary foot stools needed for your child to see out of the walkway windows? This can make it a little boring for younger visitors and, reciprocally, means you may have limited time to read the exhibits along the way. (However, it has to be said that the interactive science displays in the Engine Room are great.)
Ultimately, it is important to do your research. Find out about the attraction before you buy your ticket. It may be that your child will have more fun playing chase in the Tuileries gardens bordering Le Louvre than walking through the art galleries themselves.
5. Use Multiple Forms of Transportation
Just like the refueling pit stops, how you get somewhere can be just as unique an experience as the attraction itself. Catch a train, take a bus, ride a cable car, or even climb aboard a boat. My own two-day trip to Paris included taking the London Underground, the Eurostar, as well as countless Metro trains, and even the Batobus -- much to my 6-year-old's delight.
6. Create a Big Moment
Build up anticipation before your visit. Find out what attractions most interest your child and talk about them before you even catch your plane. And, if there is another attraction you want to see, schedule that visit first. It will encourage good behavior in the lead-up to the main event.
- - Michelle Erickson is the director of public relations at Fly.com and is based in California. A British native, Michelle has lived on three continents and is an avid traveler.