The 34th America's Cup Finals began last weekend, with the U.S. and New Zealand teams still in it to win it. Although riddled with drama, it is the first time the elite sailing race has returned to U.S. shores in nearly 20 years. In its 162-year old history, it's also the first time to race catamarans with a looming, 12-story high sail.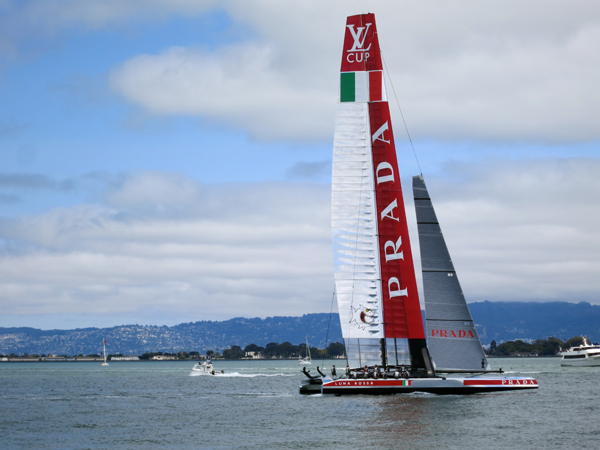 Since I'm not particularly into the art of sailing, when I went during the Louis Vuitton's Cup (preliminary races), I discovered plenty of other entertaining aspects. Here are six quirky reasons to head to San Francisco to watch an America's Cup race:
1. Witness World's First 'Flying' Boats & Most Dangerous
It's truly mind-blowing to watch as the wind lifts the vessel off the water - literally flying nearly 5-feet above. With speeds up to 40 mph, this is no leisurely weekend sailing excursion. It requires a team of 11 racing back and forth across the boat to maneuver the turns of the race course and manage the changing weather patterns - all while avoiding capsizing (these specific boats, because of the 12-story sail are particularly prone to capsize).
It fact, the physical challenges and dangers racing in this year's America's Cup, are "like climbing Mount Everest" says Jimmy Spithill, skipper of Team Oracle USA.
To illustrate just how precarious it is, the athletes' uniforms consist of a crash helmet, knives, an impact vest/life preserver and an emergency oxygen canister.
2. Get Your Grind On

No, this is not some kind of freak dancing. Grinders have the most physically demanding job on a racing boat, changing the direction of the sails by pure manpower. Try your hand at 'grinding' on an actual America's Cup racing yacht, utilized by the U.S. team in 2003, with ACSailingSF. The three-hour sailing excursion out on the San Francisco Bay is hands-on, offering a glimpse of what it's like to be a crew member, minus the hardcore uniform. It includes a jaunt under the Golden Gate, and if you've never seen the underbelly of the bridge, she's just as majestic below as she is from above.

3. Unusually Posh Sporting Event Shopping
Souvenirs at most sporting events include classy things like logo emblazoned t-shirts, key rings and foam fingers (now forever tainted due to a former Disney star's recent performance). At America's Cup, it's more like souvenir shopping Monte Carlo-style. Stock up on the special edition Louis Vuitton San Francisco Neverfull Tote Bag (available only at America's Cup until Sept. 21), oil paintings of America's Cup vessels with the city's skyline in the background or Alexander McQueen high top sneakers by Puma's Black Label.
For three more reasons to check out America's Cup, head HERE.
More San Francisco/America's Cup Travel Resources