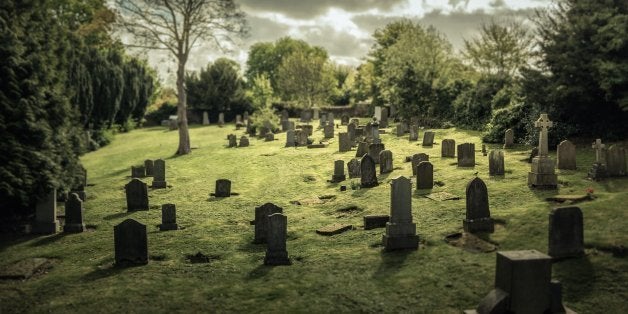 Alright, so funerals and death aren't always a preferred topic of conversation. However, what communities do with their deceased has a lot to say for their culture. The topic may be morbid but digging into the unusual death and funeral traditions of different countries can be enlightening, educational and just plain interesting. For those of you who are brave and curious enough to read on, here are 6 of the most unusual death and funeral traditional from places around the world.

Burial Beads: South Korea
Due to limited burial space in South Korea, an actual law was passed that requires families to remove anyone that they have buried after 60 years. While many choose to get their bodies cremated after removing them from the earth, others are picking a more unique option. Companies have started offering services that take the remains and actually compress them into beads that resemble gems and come in colors like black, pink and turquoise. Once the beads are made, families hang them in their homes.
The Heart in Diamond: U.S.A
Diamonds last forever and so do memories of a loved one passed. The leading company in the industry, Heart in Diamond, has come out with an innovative alternative to burials. By setting the ashes or even hair of a loved one within a diamond, families can now take their deceased members home with them while displaying the remains in a beautiful way. Families can choose the diamond based on weight, cut and color and can also choose a band to keep it as a ring.
People in this country have a tradition that lets them give their loved ones a little break from the grave. Called the "turning of the bones," families take their loved ones from their graves and re-wrap them in fresh cloth, dance with them to live music and then bury them back down again. This tradition is looked at as a way to remember and honor the dead.
This burial practice comes from the ancient days but many of these coffins can still be seen today. During this practice, families would display the coffins of the deceased by hanging them high from mountain faces or in mountain crevasses. The idea was to make sure the coffins were near to the sky so that those inside of them could be close to heaven.
A rather morbid tradition of the this South Pacific Island involves strangulation. When a person died, it was tradition to kill someone who was a close family member or friend to them. The reasoning was that the community didn't want people to face death alone, thus making it mandatory that someone else had to go along with them.
Continuing to look for more innovative and "green" ways to bury the dead, the U.S has come up with yet another interesting idea. A company named Eternal Reefs has been offering their services which include compressing the remains of the dead into a sphere that is then attached to a reef under the sea. It contributes to the sea life habitat which is perfect for those people who loved the ocean while they were alive.