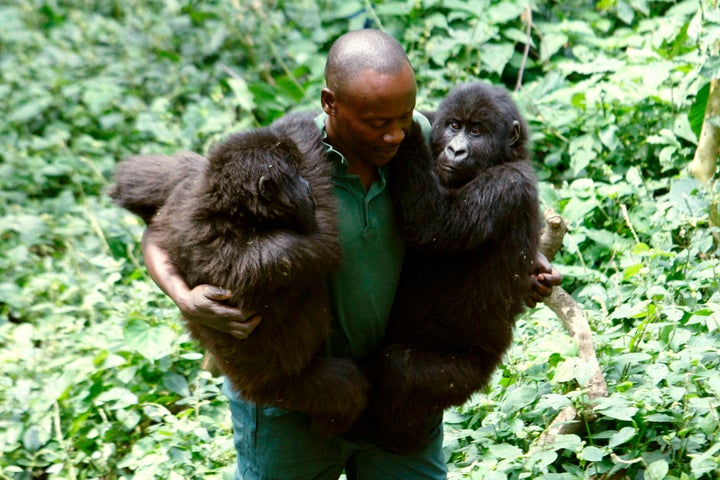 Five wildlife rangers and a driver were killed in a militant attack on the Congo's Virunga National Park this week as they guarded the region's critically endangered mountain gorillas.
The park employees, aged 22 to 30, were ambushed and killed in what wildlife officials said was the deadliest such attack in recent history. Another ranger was injured. At least 170 rangers have been killed in the past two decades.
"We are profoundly saddened by the loss of our colleagues yesterday," Emmanuel de Merode, Virunga's chief warden, said in a statement. "Virunga has lost some extraordinarily brave rangers who were deeply committed to working in service of their communities. It is unacceptable that Virunga's rangers continue to pay the highest price in defense of our common heritage and we are devastated that their lives have been cut short in this way."
Officials blamed a militant group known as the Mai Mai.
Virunga, Africa's oldest national park, is home to about half of the world's critically endangered mountain gorillas. Park rangers are tasked with defending the great apes and hundreds of other species from habitat destruction and bushmeat poachers, often working for about $250 a month and with limited supplies.
Rangers are routinely injured or killed during confrontations with armed locals attempting to loot trees for charcoal or hunt wildlife. De Merode himself was shot by unknown attackers in a 2014 ambush, but survived.
"People who wear a uniform get injured all the time," de Merode told The New York Times last year. "This is part of my job. I would regret it terribly if I gave up."
The sprawling park is protected by more than 700 rangers, many recruited from local villages. Their struggle against poachers and commercial oil exploration was chronicled in the Netflix documentary, "Virunga," in 2014.
De Merode has long touted plans to develop several hydropower projects in the park to bolster the local economy, helping to deter poor residents from illegal moneymaking schemes. Officials also have tried to increase park tourism during breaks in violence, and said visitors have been returning in "significant numbers."
Related
Popular in the Community