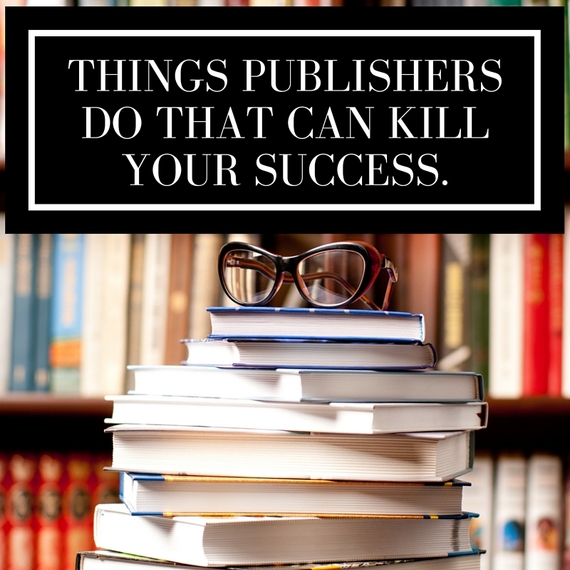 Recently, we've worked with several authors who have been bogged down by stumbling blocks from their publishers. These stumbling blocks include everything from not having access or control over their eBook, to being forced to buy marketing programs that not only don't move the needle, but can also negatively impact your book.
It's important to recognize that in today's publishing climate, authors have several different options at their disposal to share their story. And for those who choose to go down the self-publishing path, it's important to understand that when you chose to self-publish, you retain all control over the book (creative, digital, and international), whether or not you choose to use an ISBN from a self-publishing house. It's also important to note, that some publishers have created self-publishing systems which can hamper indie authors' efforts to sell their books.
When you're looking at your publishing options, how can you avoid these pitfalls? Below I've created a list of things which I believe are crucial to a book's success:
Financials: Let's talk about money -- there are a few financial aspects which are crucial to a book's success:
Pricing: First and foremost, you must always be able to control the pricing of your book AND eBook. Now, your publisher may tell you that you need to price your book at X because of their print costs, and that is perfectly reasonable, however, you should know those internal costs before you make your decision. Before signing with a publisher, ask how their pricing is determined. While it is typical for most publishers to offer guidance with relation to pricing your book, publishers who insist on a certain price or, even worse, set it for you, could really negatively impact your books success.
Author example: we had an author who was recently who was told by her publisher that she had to price her eBook at20. In most cases a digital book will sell better than the print book, but at20, you'll be lucky to get one sale.
Publisher Discounts: Before you sign with a publisher, be sure to ask them how much author copies will cost you. Most reputable self-publishing companies have this outlined so there is no guessing and those that don't have this at the ready are questionable.
eBook Promotions: We'll discuss eBooks further below, however, from a financial standpoint it is worth mentioning that some publishers will not let you do discounts or freebie book promotions on Amazon. Trust me when I say you will want to do this, so ask them what their policy is in regards to this and get it in writing.
eBook Flexibility: If your publisher is creating your eBook file for you, it's always good to have a copy of it. You'll want to ask for it in different formats (ePub, Mobi) and if they won't release it to you, ask them why.
Author example: In one case we had an author who had an eBook that she had no access to. She could not gift the eBook file to give it away to reviewers (which would save her a lot of money instead of shipping books each time). They also didn't allow her to change her eBook pricing which is a big part of a successful launch strategy. eBook price points, sales and free days are fantastic ways to gain more traction for your book, so you need to have access to and control over your eBook file.
Book Updates: If you need to update your book, what happens? While this may not apply to every author, it's important to understand this process if it does apply to you. My books Red Hot Internet Publicity and How to Sell Books by the Truckload need constant updates. Do you know how your publisher handles this?
Author example: We had an author who had actually updated her book, sent it to the publisher with an updated copyright date. They loaded it onto Amazon with the old date and when she asked why, she was told that they could not update the Amazon information to match the new book copyright date until she sold X number of books. I was floored and told her it was a scam and to contact Amazon and tell them what was happening. If you have a book that requires frequent updates, ask them what their policy is regarding updates before you sign and get it in writing.
Amazon Listing: Who has access to your Amazon listing? Unless you're with a traditional publishing house you should have access to this, bottom line. Not having access to this listing can be really problematic if you're trying to update your book description with a blurb, or change it up somehow.
Marketing: If you're going to outsource your marketing to anyone, make sure that you thoroughly examine the value of the marketing programs that an indie publisher is offering you. Some can be effective, but many are not. Don't fall for the hype - ask for details.
Author example: We recently had an author who bought15,000 worth of social media marketing which amounted to a few Facebook updates, a Twitter background and a few tweets and that was about it. I've also encountered the promise that scores of journalists and bloggers that would get "blasted with your message" -- so they promised 250,000 journalists and 500 bloggers. Sounds impressive, right? From that round of pitching, which was essentially just bcc'ing everyone on an email -- meaning there was no custom pitch or email personalization -- guess what kind of response she got. Yes, crickets.
Websites: Many publishers will offer to do websites for you and while you can find great deals, you want to be sure that you can actually access these sites after they are done. Often the publisher retains all control over these websites and has to do all of your updates so while the site itself may have only cost you300, the updates are very costly.
Author example: We actually had an author who walked away from her site because the publisher never kept it up to date and never returned her calls. If you're going to do this, find out what their cost is for updates and what your access is to the website. You'll need access to the control panel at a minimum.
So, what is the moral of these real-life examples? Unfortunately, caveat emptor (buyer beware); part of the responsibility of finding a good publisher is on you, the author, to ask good questions. Using these guidelines above, you should be able to find a legitimate publisher who will be able to support your publishing goals, and not one who will tie your hands, or hamper your sales efforts.
As an author, you've worked hard to create a manuscript that you can be proud of. It's crucial that you put as much time and effort into ensuring that you are selecting a publisher who can support your future success.
Related
Popular in the Community