Wearing the busy hat of an entrepreneur can sometimes take a toll on the way you dress. For tech gurus like Mark Zuckerberg, who literally wears the same t-shirt every single day; it's not about the designer brands or fashion trends, but more geared towards comfort and personal style.
While wearing professional shoes definitely works wonders, allow me to reintroduce you to an entrepreneur's best friend- the comfy sneakers.
Sneakers are comfy, cool, smart and simply fun to wear. In fact, they are unbeatable because they can be worn in different ways- with denim jeans, skirts and gowns for the ladies and also on some business casual outfits.
In fact, most designers have adopted these trends for their runway looks and we can see evidence on fashion shows. The trends on the runway continue to serve as inspiration for other connected parties- from stylists, celebrities and others who incorporate them into their daily looks and of course as upgrades for their products.
In recent times, the sporty look has captured the eyes of busy entrepreneurs and has become a staple, kicking out the cliché that sneakers are just for the gym.
You don't need to look so far for inspiration on how to rock those sneakers. Social media feeds us daily with some of these fashionable trends as we learn from fellow entrepreneurs, bloggers and celebrities.
From office wears, networking events, grocery shopping to your home offices; sneakers can be worn stylishly for various occasions.
Here are some smart ways entrepreneurs can stylishly rock sneakers:
1. Sneakers with Denim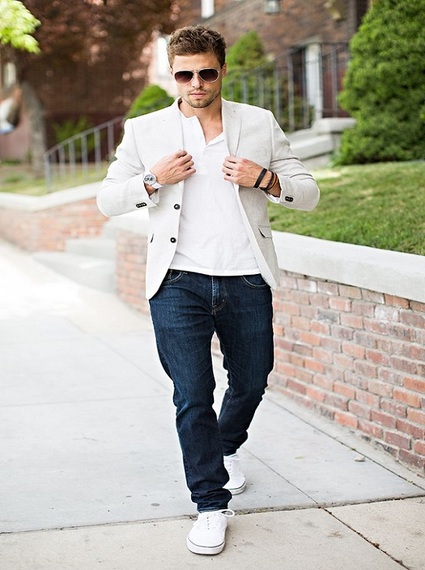 Credit
You can't go wrong with denim when paired with sneakers. They're perfect for a day of running errands around town or going for meetings with vendors. Don't forget to add a jacket for the chilly days and an aviator for those sunny afternoons.
When pairing sneakers with denim jeans, it's important to know your size in order not avoid the baggy themed look. As an entrepreneur, you should look smart and exude confidence in while wearing casual outfits.
2. The Neutral Vibe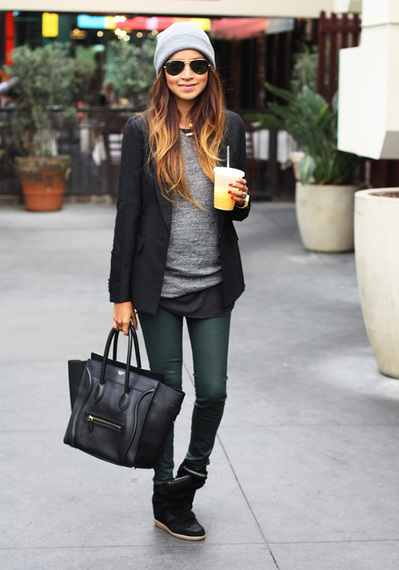 Credit
For those entrepreneurs who just prefer to go neutral with their outfits, there are sneakers that work perfectly for any neutral look. Add a blazer to look more polished and professional, depending on your work events for the day.
Fashion blogger and entrepreneur Julie of Sincerely Jules brand, shows us how she rocks her neutral and minimal looks.
For those yearning to wear sneakers to the office, this will take some practice and should be accompanied with finesse. These are definitely best during casual Fridays as you consider your work policies.
4. The Stylish Boss Look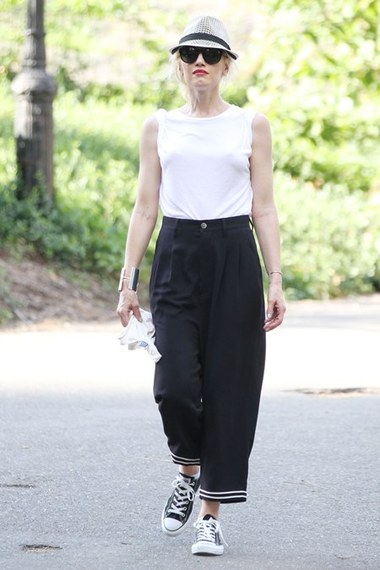 Credit
For outfits that go beyond the normal professional pants, consider rocking them with neutral sneakers. Gwen Stefani is known for some of her street style looks on fashionable Supergas. As a musician and founder of the L.A.M.B fashion brand, she sure knows how to incorporate the athleisure trend on those super busy days.
5. The Pop of Color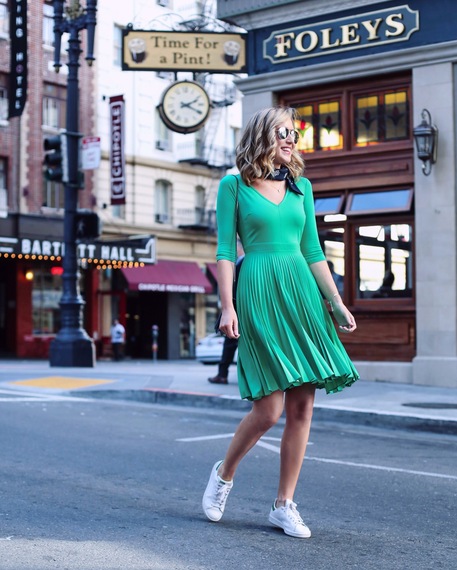 Credit
Most creative entrepreneurs can afford to add a pop of color to their looks and sneakers definitely go a long way in helping to complete your look. Fashion blogger and creative entrepreneur, Mary Orton is well known for showcasing some work place outfits for stylish women. On some days, she pairs her office outfits with comfortable sneakers that create an elegant finish to her entire look. Consider wearing dresses that have simple structures and flow perfectly with those sneakers.
Credit
Sneakers can definitely be worn with pencil skirts, especially for the ladies seeking for ways to give their heels a break. When pairing sneakers with a skirt, be sure to wear skirts that aren't tight but elastic enough to work perfectly with the aim of those sneakers.
Despite the busy schedule of most entrepreneurs, it's important to stick with comfort without compromising on a good first impression. For creative entrepreneurs, wearing sneakers often might work, depending on their schedules, industry and also personal style.
What works everyday for a fashion entrepreneur might not work for a tech entrepreneur going on regular meetings with investors. However, in order to win in any work environment, it's important to understand your market, consider certain policies and also create your own unique personal style.