Weddings look so easy on television, don't they? (Well, depending on what program you watch). The bride's hair and makeup is flawless. The groom is calm, cool and collected. The wedding party glides wistfully down the aisle to beautiful music, perfectly queued to witness the couple exchange their personalized vows. The reception dinner service is right on time, and the photographer and videographer effortlessly capture every moment. Sounds ideal, right?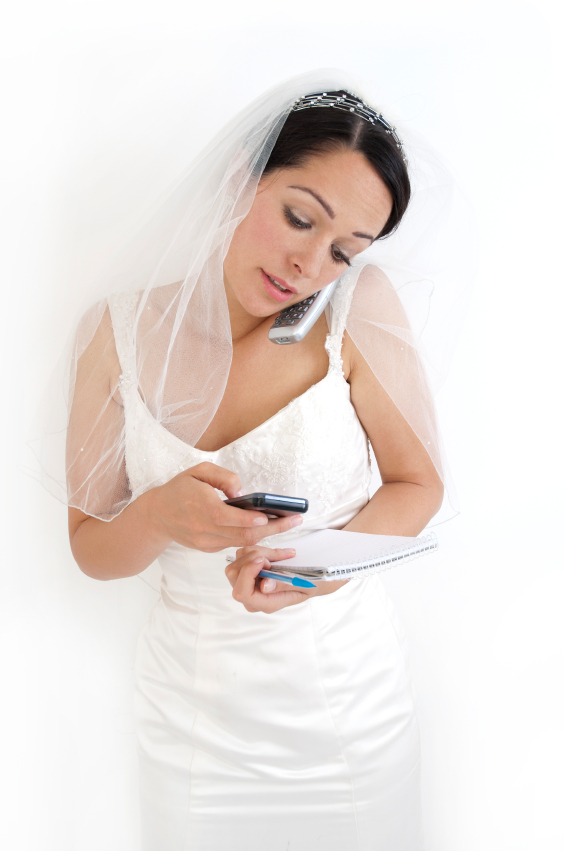 Well, if you want to experience that kind of wedding bliss, you either need to hire a writer, director and stage manager, or get organized now! Organizing your wedding well in advance will help keep you sane and having fun rather than running around barking orders at people on the big day. My team at Just Marry! offer these six favorite organizational tips:
1. Get organized on day one. Use a three-ring binder or, if you are paperless, a wedding folder on your computer or smart phone. Put every email and note in the binder so you can easily reference it. Here are other items that should go in your organizer:
a. Checklist/Calendar
b. Budget
c. Receipts
d. Fabric Swatches
e. Contracts
f. Contact List
2. One month prior to the wedding, get information on the following items and start creating an agenda for the day:
a. Setup times for vendors
b. Getting ready times for the wedding party
c. Photo start times with people who are needed for the photos
d. Ceremony start time
e. Cocktail hour start time
f. Reception start time
g. Meal service time
h. Reception event time estimates
i. Event ending time
j. Breakdown time
k. Instructions on where things go during and after the wedding
3. Three weeks prior, organize your guests.
a. Group guests together in tables as soon as your RSVP cards arrive
b. Number your tables on your room diagram, doing so in an organized fashion
c. List the number of chairs needed at each table on the diagram
d. Create an alphabetical listing of each guest followed by the table number
e. Print place cards and put them in alphabetical order

4. Two weeks prior, organize the ceremony and reception.
a. Review all contracts and check for changes
b. Call vendors and review changes, confirming setup and start times, cell phone numbers and final payments
c. Add setup, start times and cell phone numbers to the agenda
d. Distribute agenda and ask for feedback from vendors
e. Give final count to florist and linen company and get final bill
5. One week prior, turn over all of your information to someone else so that he or she can be in charge on your wedding day.
a. Distribute the final agenda and give vendors a contact person for the wedding day
b. One week to 72 hours prior (as specified in your contract), give final count to catering manager and pay final bill

6. Take the following items with you on the wedding day:
a. Important photo list - A professional photographer will know the standard photos to take, but if you have a special photograph you want, like you and your best friend from kindergarten, you must let your photographer know.
b. Inventory list - Are you using a family cake knife and server? Are you bringing special photographs or other keepsakes to display? Make sure the person in charge knows so you get the items back.
c. Copies of agenda
d. Where things go - If you have items you want displayed in a particular way, the person in charge needs to know.
e. Wedding party list
f. Announcements for the DJ or band
Your wedding day should be a fun celebration for everyone, including you. Stay organized or hire a professional wedding planner to do it for you. Then you'll be sure to enjoy every moment of your big day!