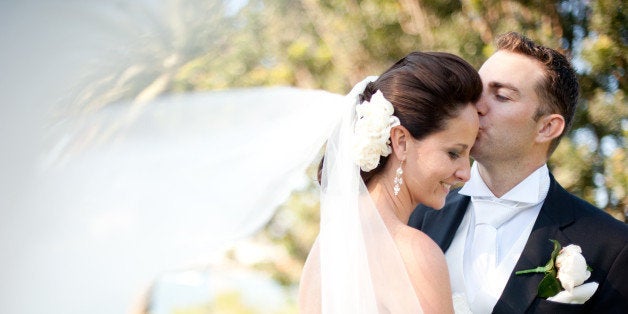 Every engaged gal fears being called the B-word. You know which one I'm talking about. When you're planning your wedding and things aren't going quite as you thought they would, it's actually not all that difficult to slip into the role of a bridezilla. We've all been there a time or two and it's not pretty. I get that planning a wedding can be incredibly stressful. Really, I do! But that doesn't give you the right to be a crazy person. Instead, try doing these 6 things to be a kind, gracious, glowing bride who is beautiful both inside and out.
Say "thank you." A lot. Be grateful. To your fiance, your bridal party, your family, and your vendors. They are helping you; don't forget that. Acknowledge the time, money, or effort that someone has given up all in the name of your big day. So overuse the words "thank you." They're simple, they're free, but they go a really long way.
Be nice to your vendors. I can't stress this one enough. You will totally reap what you sow when it comes to relationships with your vendors. If you're kind and gracious to them, I guarantee they'll work extra hard to make your day spectacular. Be considerate of the fact that your wedding likely isn't the only one they're working on. Cut them some slack when it comes to responding to emails or phone calls. And please, whatever you do, make sure you feed the ones who will be working all day. A real meal. It doesn't need to be the filet and lobster tail your guests will be eating, but something substantial that will keep them fueled and focused. Back in my wedding planner days, I had numerous clients ask if they had to provide meals for their vendors. Yes, yes, yes, 1000% yes. This is not the place to save a few dollars.
Diversify your conversations. By all means, be excited about your wedding! It's an exciting time! But try to not talk about it 24/7. Your friends and family are happy for you, but they don't want to hear about your wedding alllll the time. If someone asks you a question about the wedding, go ahead and answer them. But be sure to follow up with a question about them. Ask about what they've got going on and be genuinely interested in their answers. Take the same approach with your fiance too. Make a rule to routinely do non-wedding related activities together and have a weekly "Absolutely No Wedding Talk Allowed" evening.
Remember it's not just "your" day. As a matter of fact, vow to never let the words "It's my wedding!" cross your lips. Sure, you're the bride and you'll undoubtedly be the center of attention, both during planning and on the big day. But the celebration belongs to other people besides yourself, such as your fiance and your parents. Let them share the excitement and joy with you. Involve them, take their opinions into thoughtful consideration, and pick and choose your battles wisely. Often it's better to concede on something small than it is to deal with the hurt feelings later.
Don't expect too much from your bridesmaids. They are not your actual maids. Don't treat them as such. You want to be friends with these girls after the wedding is over. So don't make demands on their time; ask for their help instead. And if they can't help with or attend something, be understanding. Keep them involved but don't expect them to run errands or do things that aren't wedding related. Also, be thoughtful of how much money you are asking them to spend. A dress, shoes, jewelry, bridal shower, bachelorette party, gifts...the costs add up quickly and can be exorbitant. Have an honest discussion with them early in the planning process to get an idea of how much they are comfortable spending and then try your best to stick to that.
Roll with the punches. Some things will go wrong, both during the planning process and on your wedding day. It's just Murphy's law. Maybe your favorite photographer will already be booked, maybe the flowers you were dying to have are just too expensive, maybe it will rain on your wedding day, or maybe the DJ will play the wrong intro music. Whatever it is, in the grand scheme of things, are any of those really a big deal? You'll still be married to your sweetheart at the end of it all. Have a Plan B for everything. Accept that minor mishaps will happen, let them roll off your back, and move on. When it comes to snafus on the big day, keep in mind that you are likely the only one who knows how things were "supposed to" be or go. Guests are typically none the wiser when something goes awry. I guarantee they won't even notice. Don't stress about it too much and get back to partying.
Related