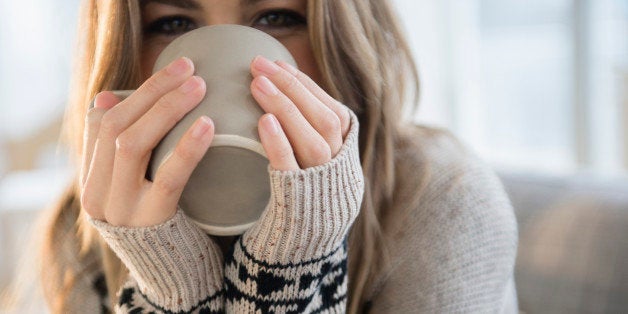 Winter.. that dreaded word. For many, it's viewed as the dark period of the whole year. Let's face it, winter lasts a long time and it sure can linger, especially if you despise it. This year I encourage you to change your outlook and embrace it as you would any other season!
Don't call it a night as soon as you get home from work. It's so tempting to hop on the couch as soon as you get home and make it a Netflix night. It's dark out, it's cold, and your body is thinking it's time for bed. The last thing you want to do is make dinner, clean the house, or anything else on your to-do list. I assure you that if you power through and start moving, you will feel a lot better.
Remember that it's all uphill from here. From the moment winter gets here, the days start getting longer! Each day it gets lighter a little earlier. Keep that in mind when the darkness feels endless.
Take a winter walk and appreciate your neighbor's quirky decorations. A few nights ago I was walking through my neighborhood, enjoying the crisp fresh air and the peace and quiet. I took notice of every person's holiday decorations and how they complemented each individual house. I saw some fantastic little touches and some wonderfully quirky embellishments, such as lights that coordinated with music and a snowman that actually shivered. Adorable! I got so much joy just walking around the block.
Plan a cold weather activity.. Believe it or not, there are a LOT of things you can do in winter that you just can't do in summer! You can have the beach all to yourself. You can go skiing and snow tubing. You can bundle up in colorful sweaters and drink hot beverages. You can read by the fireplace and have your friends over for movie nights. You can have snow days and be a kid again.
..And if you can, a warm weather one. As much as I try to embrace the beauty of winter, I know it can eventually wear you down. If your schedule and budget permits, try to plan a warm weather getaway in February or March. Even if it's only for a few days, having a break to look forward to can make the cold a bit easier to deal with.
Just roll with it. Once in a while, you have to recognize that if all your body really wants is a nap, you have to give it just that. A long winter nap can be incredibly luxurious and sometimes exactly what your body needs to recharge its batteries.
Winter is beautiful for its own reasons. The sounds of holiday music, the smell of cranberries, vanilla and gingerbread, and the love in the air is unmatched by any other season. That joy can quickly go south when the seemingly pretty snow gives way to icy roads, slush, and bone-chilling cold. When you start feeling down, look to one of the tips above to shift your outlook and appreciate the many gifts winter has to offer.
What do you love about winter?