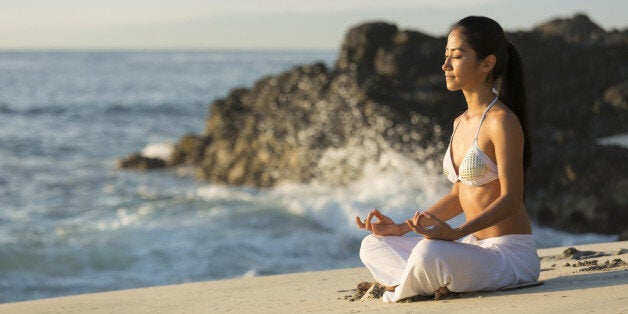 By Ed Hewitt, Features Editor of IndependentTraveler.com
The expanding concept of "wellness travel" has come to include not only incorporating (or just keeping up with) fitness goals in your travel, but also things like healthy eating habits, learning wholesome cooking methods, slowing down, and participating in other potentially enriching activities such as art classes or meditation.
If you don't want to book a spa, it isn't that hard to put together a DIY wellness trip, or simply to incorporate some elements of wellness into your own independent style of travel. Here are some ideas to get you started.
The DIY Approach to Fitness
1. Get a mileage tracker.
Travel often involves a lot of footsteps that you might never count as a "workout" per se -- but if you were to measure them, you might think differently. Even a morning sprint through an airport could add up to a half mile or more, most of it with bags. Add to that another half-mile upon arrival, and you already have a mile notched just by booking your flight. One note: Standing on moving walkways does not count, sorry.
Over the course of a day of typical sightseeing, you can cover quite a bit of ground; for example, folks who measured miles walked at Disney World -- hardly a wellness haven -- were logging six to 11 miles daily. Just goes to show you that wellness doesn't happen only at spas.
There are countless ways to track your mileage, from smartphone apps and GPS-enabled watches to dedicated products that are designed specifically for the task, such as those offered by Fitbit.
Especially in Europe, renting a bike puts you among the locals in a way almost nothing else can. In a city like Amsterdam, for example, almost everyone is on a bike, and it is an easy and accepted way of getting around. The bike option is not limited to Europe, though; locations like San Diego and Miami, towns along the Jersey Shore, and even Montreal (which has North America's largest bike-sharing system), can be very bike-friendly, each in its own way.
Many cities now have government- or corporate-sponsored bike sharing programs; New York's Citi Bike is one well-known example. Granted, some of the programs are controversial, as the return on investment of public dollars is not clear, but the more people who use them, the more efficient the systems become. These programs are offered in countless places around the world; Wikipedia has a pretty solid list of bike-sharing programs that includes a lot of cities in which you might not immediately think of sharing a bike.
3. Attend local yoga/tai chi/other classes.
While many gyms require long-term memberships for you to be able to use facilities, most yoga, tai chi and other similar studios allow drop-in attendance as a routine practice. It's easy to find a yoga studio almost anywhere, as most have websites with calendars, class descriptions, directions and more. These can also be an interesting way to meet local folks.
4. Get a discounted massage.
If you don't want to visit a spa but could still use a good massage that doesn't break the bank, you do have some options. Some massage schools offer free or discounted massages if you are interested in working with a student; try MassageSchool.org in the U.S. or MassageTherapy.co.uk for options in the United Kingdom. You can also inquire with local yoga or massage studios to get a massage without the spa expenses.
5. Turn your hotel room into a gym.
Try this tactic I used on a recent stay in a big-city skyscraper hotel: first, request a room on a high floor or with a decent view of some kind. Next, clear out a spot where you can see out the window but have a little room to move, and then put on some decent music. Finally, devise a short but intense workout that you can do right in your room without any weights or machines, using only your body weight.
6. Find local running trails.
Investigating the local running trails can be a spectacular way to learn about a new location; you can usually find information online at a local running club or store, or try the following websites for some ideas:
Another fun option if you like running or even just goofing off is to find the local high school or college track, and go do a workout outside school hours. If you're not into running laps, do some 100-meter dashes, or try the triple long jump into the sandpit -- fun times.
The DIY Approach to Other Aspects of Wellness
The concept of wellness travel is not limited only to staying in shape, but also includes things like healthy cooking classes, farm-to-table restaurants and programs, and food-based tours. Camille Hoheb, founder of Wellness Tourism Worldwide and editor of the Wellness Travel Journal, includes these options among the Top 10 Wellness Travel Trends for 2014.
"Activities that are very popular are local cooking classes and tours, especially if they are farm-to-table experiences where you learn where the food is grown, or classes are given by a registered dietician with a focus on healthy recipes," Hoheb said.
In addition to local yoga and tai chi classes, Hoheb recommends researching art classes and other self-enrichment offerings at your destination. "For self-enrichment, you can find classes and workshops for life balance, reinventing yourself and happiness, as well classes that are art-based such as one-day watercolor classes, calligraphy, etc."
More options along these lines might be writing, photography or on-location film workshops, or you could incorporate learning with fitness and try out a local dance class. You can find these via the local tourist office site, the hotel front desk, online search engines, through national associations (such as photographic and dance instructor associations) and the like.