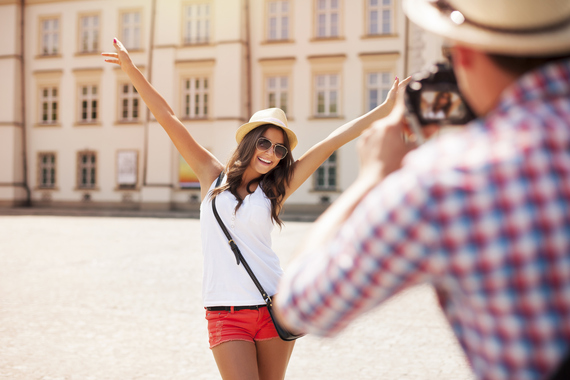 Ladies, are you searching for love online and coming up short? Look, men are visual creatures, and they want to see what kind of woman you are inside and out before they date you. Or maybe your inbox is full of emails, but they're not from the right men. Trust me when I tell you that posting the right kind of profile photos can help you find Prince Charming instead of Prince Alarming. With that in mind, here a few things to remember while you're deciding which photos to post:
1. Nothing older than a year, please! He's got to recognize you on that first date based on the photos you've posted of yourself online, so if you change your hairstyle often or recently switched from glasses to contacts, make sure your photos look like you do today. Love the way you looked at your cousin Sonya's wedding last year, but lost a few pounds since then? Great! Go take a new one (it's OK to put that same outfit on again, even if it's a bridesmaid's dress. Your cousin Sonya said you'd wear it again, didn't she?).
2. You're the star of this show, so leave group photos off of your profile. Look, as soon as he meets your family and all your wonderful friends, he'll know how much everyone else loves you. Do you want to risk him crushing on your sister or coworker while you two are on your first date? Don't worry about him seeing that you're busy all the time and have lots of friends - he should only have eyes for you. No woman wants to be worried about her competition from the jump, so don't take his mind off your beautiful eyes and gorgeous smile.
3. No bathroom selfies. I shouldn't have to tell you this, but if you're new to online dating, you may not have seen all these shirtless men taking selfies in the gym, their own bathrooms or anywhere else they can find a mirror. If it's upsetting to you, guess what? Men aren't excited to see it, either. Don't have any good recent photos to post? Have a girls' night in, put out some good food and drinks, then have your friends take turns photographing you. Let them do your hair, your makeup, pick out your clothes - with friends, even a chore like this can be fun! Be sure to get some full-body shots as well as clear photos of your face; men care about the whole package, and the right man will love every single inch of you from head to toe.
4. Variety adds spice to your photos and keeps your profile looking fresh. If you follow tip #3 above, change outfits and settings to show what you love and who you are to any potential date. Love to cook? Take photos in your kitchen, pouring a glass of wine or picking herbs in your garden. Can't imagine life without your dogs? Have a friend follow you to the dog park for some candid shots with you and your four-legged family. Just make sure that the photos you post show you at your best doing things that you enjoy and wearing flattering clothes. And smile!
5. Switch out your photos every couple of weeks. If you've ever run across somebody's photo only to click through and see that you've actually checked this person out before, then you know why changing them up often matters. You may catch someone's eye that passed you up before, and that man could be THE man you've been waiting for - what have you got to lose? Besides, the more active you are online, the more attention you're going to get. It's just a fact. Yeah, you've got that pic where your eye makeup and smile are both really popping - rotate it in and out with a couple of other photos of yourself that you love, and you're good to go.
6. Absolutely no photos of you with another man, ever! Note that I'm saying "man" and not "boy," because of course you can post pics of you and your adorable nephew hunting Easter eggs or taking him Trick-or-Treating in his costume. I'm talking about photos of you sitting on your ex's lap at the beach or with your cousin's arm around you at the family reunion. Yeah, you can say that it's your brother you're hugging in your profile, but do you want to risk men skimming just your pics and assuming the worst? Men don't like to see someone hugged up on you, even if you haven't "officially" started dating yet. Help him keep his eyes firmly on the prize - which is you.
In addition to being a world-renowned comedian, talk show host, philanthropist, husband and father, Steve Harvey is the Chief Love Officer of online dating site Delightful.com. He draws on his personal experiences and the stories that millions of people have shared with him over the years to help more people find and keep the love they deserve.
Calling all HuffPost superfans!
Sign up for membership to become a founding member and help shape HuffPost's next chapter