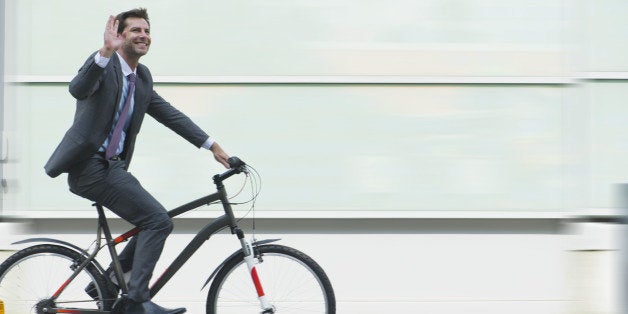 New Yorkers can sleep well again, knowing that a coyote seen roaming the city has been tranquilized and captured. However, I confess that I am not really all that relieved. What I am scared of, terrified, really, is not the wild animals in my city's parks -- possums, raccoons and the occasional outlier coyote -- but rather the other humans.
Here's a list of six things I see people doing nearly every time I am out on my bike:
1. Riding with headphones. Dude, I know you've got some great tunes on your iPod, but when you have both headphones in your ears you can't hear the timid little ring of my bell as I try to pass you. Even when I scream, "ON YOUR LEFT," you don't hear me. Plus having to scream to be heard makes me feel like a jerk.
2. Riding while texting. This has got to be every bit as dangerous as driving while texting. True, I'm a little bit jealous that I lack either the core strength or coordination to ride my bike with no hands on the handlebars, but riding while texting inevitably means riding without looking where you are going. How dumb is that?
3. Riding while talking on the phone. Okay, you can hold the phone with one hand and steer your bike with the other, but if you get a phone call, pull over. Better yet, ignore it and enjoy your ride. How complicated is that?
4. Riding two abreast so you can chat with your friend. Okay, this one I totally get, because when I bike ride with my husband, I'd love to be chatting with him too. But the path is not wide. Add two bikes in one direction, one bike in the other direction, someone trying to pass, and you've got a problem. If you want to chat with your friend, stop for a coffee.
5. Running in lanes marked "For Bikes Only." There is a whole section of the path just north of 57th street where it splits. Runners and walkers get the luxury real estate, right between the water's sparkling edge and a beautifully landscaped linear park with tall waving grasses, trees, and funky art. Bike riders and roller-bladers are relegated to a dungeon-like space underneath the highway, with a view of a perennial construction zone rather than a perennial garden. And yet still you runners are in our lanes. Just so you know, you are much slower than I am, even when I'm not going that fast.
The modest improvements I propose, however, wouldn't even cost much: get some donated paint, and challenge art students or health communication students to see who can come up with the clearest graphics, to be painted directly on the path, that lay out good behavior. This is even more important given the deplorable condition of the bike path itself, pockmarked by potholes, frost heaves, tree roots, low hanging tree branches (yes, really), and other hazards. All we need are just a few rules, implied by the list above:
1. If you must rock out while you ride, please use only one earbud.
2. No riding while texting.
3. In fact, just put the damn phone away altogether; no riding while talking either.
4. Ride single file, staying right, so that others can pass.
5. Just like kindergarten, where we learn to sit criss-cross applesauce, making civilization possible by staying in our own space, no runners or walkers in the bike lane.
6. No combination of the above.

The police responded to last summer's terrible accident in Central Park by ticketing bikers who failed to obey the speed limit or stop at pedestrian cross walks. While there was a certain charm in seeing the police focus their campaign against nuisance crimes on a mostly white, middle-class looking crowd, this is hardly the best use of our police, nor is it good public health. It reminds me of the summer I spent in Brazil. Amidst a cholera outbreak, mounted police on horses rode up and down the beach to keep people from swimming in the ocean, which was contaminated by the raw sewage pouring out of open pipes. Even before I had a PhD in public health, I could see that a better solution might be to fix the sewage system.
I know I sound like your mom -- in fact, I am a mom. But I'm also a professor of public health, and I know that the basic thing that has made great cities possible is infrastructure that keeps us from unintentionally killing each other. Granted, bike path signage is hardly of the same level of importance as clean air and clean water. But we are addressing other nuisance behaviors in our shared space -- and yes, thank you very much for not tweezing your eyebrows on the subway or clocking me with your backpack. So we might as well do what we can so that we can enjoy the warm months ahead -- if they ever come -- a little more safely.
Jennifer S. Hirsch is Professor of Sociomedical Sciences at Columbia's Mailman School of Public Health and an OpEd Project Public Voices Fellow.
Calling all HuffPost superfans!
Sign up for membership to become a founding member and help shape HuffPost's next chapter