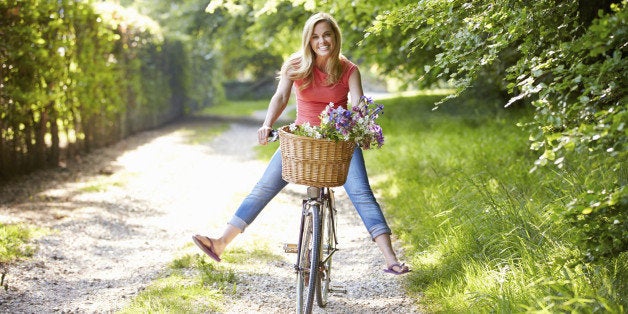 Single and don't want to be? Luckily, summertime can be one of the best times for flying solo. There's plenty to do, and it's hard not to have a positive attitude when the sun is shining and everyone is outside soaking it up.
Here are six key tips for making the most out of single life in the summer. And who knows? You just might meet someone special along the way.
I often hear single people complain that all of their friends are married or that their friends don't like going out, so they have no one to spend time with. If that's true for you, find some new social companions.
Accept that invite to a rooftop party from that former co-worker you always got along with but haven't seen in years. Strike up a conversation with that woman you see at your local farmer's market but have never said more than "hi" to.
Humans are social creatures, and that's even more true than in the summertime when our socializing opportunities are at an all-time high. Take advantage and be open to new people! You'll expand your social circle and you'll have a good time while doing it.
Now, I'm not suggesting anything as daunting as saying yes to every single opportunity that presents itself (you don't have to go shark diving if you really don't want to).
But the next time your neighbor invites you to his BBQ, just go. Nevermind that you might not know anyone there, or that it's Sunday afternoon and you planned to do laundry. Same goes for that play someone suggests you see, or that free concert in the park on a weeknight.
Life will pass you by if you don't take advantage of new opportunities. You never know who you might cross paths with outside of your usual routine. And even if you don't meet your new boyfriend or girlfriend at that concert, at least you will have had a good time!
We have an infinite amount of information constantly at our fingertips: no more excuses for not knowing where to go or what to do. Use social media to keep up with events and parties. Follow local news outlets and event listing sites on Twitter.
Don't ignore those Facebook invites people send you; stop and take a look at what's happening in your city. And do some of the inviting, too! Don't be afraid to spontaneously ask your co-worker to grab a drink with you after work. They call it "happy hour" for a reason!
With all that hot weather and scanty clothing, it's no wonder summer is a great time for hookups. If you're looking for a serious relationship but are willing to temporarily put your life partner search on hold, now is the time!
Have you met someone you're attracted to but not sure they're marriage material? That doesn't mean you can't enjoy their company for a little while.
Having a fling doesn't necessarily mean having sex; sometimes a few fun dates, or a hot make out session are all you need, especially if it's been awhile since you enjoyed some romantic companionship.
Planning any vacations before the summer is out? Traveling is the perfect opportunity for a fling. Thanks to dating apps like Tinder, Happn and Bumble, you can easily find singles just about anywhere in the world. Just be really clear with yourself about what you are comfortable with and whether you can have a rendezvous without getting too attached.
5. Remember: "Perfection" is Not Required
A lot of women (and some men) spend much of the year stressing about their bodies and how they'll look in that bathing suit or short shorts. If you are like most people in this country, you might have fallen short of your fitness goals.
Oh well. Join the club! Summer isn't about having a supermodel body (and neither is any other season). Invest in some flattering seasonal clothes, hold your head high and rock that summer dress or swimsuit. Look and feel your personal best. Remember, confidence is sexy!
See a theme here? This is the single most important way to make the most out of your summer. Sitting inside in the comfort of your A/C won't bring you any lasting memories.
Get out and enjoy yourself. The happier you are and the more joyfully you live your life, the more people are drawn to you. From picnics to beach outings to sitting and enjoying your coffee or dinner at a sidewalk café, the opportunities for fun are endless.
Don't be afraid to go it alone if necessary. Take a book with you to that café, take a leisurely walk downtown, head to that singles mixer solo or strike up a conversation with the stranger buying lunch at the same food truck. You never know where that connection might lead!

Francesca is a love and lifestyle coach for singles. You can catch her as a regular expert guest on NBC's The Today Show, and on The Hoda Show on SiriusXM's Today Show Radio channel. Get more dating advice, and even book a free session at francescahogi.com!