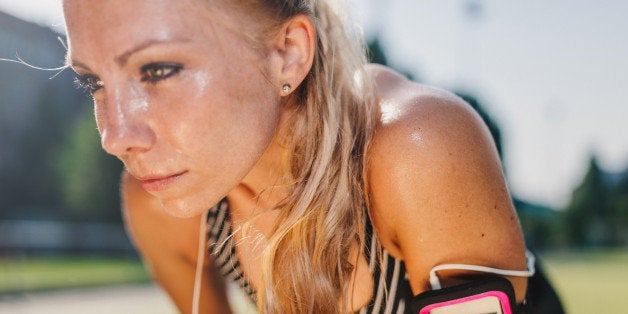 Have you ever started a workout regimen only to get a little bit into it and then suddenly not have time, energy or interest? But at the same time, you really want to improve your health, appearance and fitness. As with most goals, you'll succeed only by persevering when the going gets tough.
Staying on track with fitness goals is frustrating because you're constantly and proactively challenging yourself. Determination and ambition uses up a lot of mental energy before you even face the intensity of your training. It's no wonder that working out is one of the most commonly broken New Year's resolutions. When you're dealing with day-to-day struggles, optional struggles (such as kicking your own butt at the gym) can be a turn off.
Do not throw in the towel though...
In addition to pursuing your physical goals, your workout dedication builds up mental toughness and confidence. You will find that as you transform your body through persistence and commitment, those same strong qualities will convert your attitude, outlook and approach to handle all challenges better.
Staying committed to your fitness and health goals will benefit you on many levels. Here are a few tips to maintain your motivation when the going gets tough:
1.Have a strong 'why.' Plain and simple- what is your reason for working out? What results do you envision? Do you want to improve your appearance, feel healthier, be better at a sport, or another reason? On a scale of 1 to 10 (10 being the strongest), how badly do you want it? If you're not at a solid '10', dig deeper and get to the root of why you want be healthier, fitter, look better and be better. This will be the foundation as you push yourself on your lowest days.
2.The answer is 'Yes.' I'll make this easy for you, when questioning whether you should hit the gym or not, the answer is 'yes'. Working out eases most uncomfortable ailments. Tired? Exercise gives you a boost of energy. Hungover? Sweat it out. No time? 10-minute workouts are effective. Bad mood? Exercise releases endorphins. As a general rule, working out should make you feel better, not worse. Therefore, the answer is 'no' when you're dealing with illness, pain, medical restrictions, doctors orders, or anything that will get worse with exercise.
3.Mix it up. Mix up your workouts to avoid boredom. There are multiple components to physical fitness including strength, cardio, flexibility and more. You might find that you favor spin class over lifting weights, for example, but make it a point to try new workouts at least once a month to benefit your overall fitness and avoid injury.
4.Partner up or join a group. There are many benefits to working out with friends or groups. A driven workout buddy provides built-in accountability, friendly competition to keep you on your toes, and some social stimulation to make time fly by. Joining an exercise group has the same benefits on a larger scale plus the group camaraderie and vibe. Some examples of group workouts that tend to offer a sense of togetherness are boot camps, spin classes, CrossFit, Roadrunners, Meetups, and most scheduled group classes that you can attend regularly.
5.Have a go-to workout. Have at least one workout that you can do at home, quickly and with minimum equipment. When trekking to the gym just isn't an option, you can still keep your regimen going. A quick Google or Pinterest search will turn up a variety of mini workouts for you to choose from if you need suggestions.
6.Reward milestones and success. Hard work always deserves reward. Create an awesome reward for when you hit your goal, and smaller rewards for milestones and PRs along the way. Some non-food reward recommendations include spa treatments, enjoying a night out or day off, buying something for yourself and more.
Related