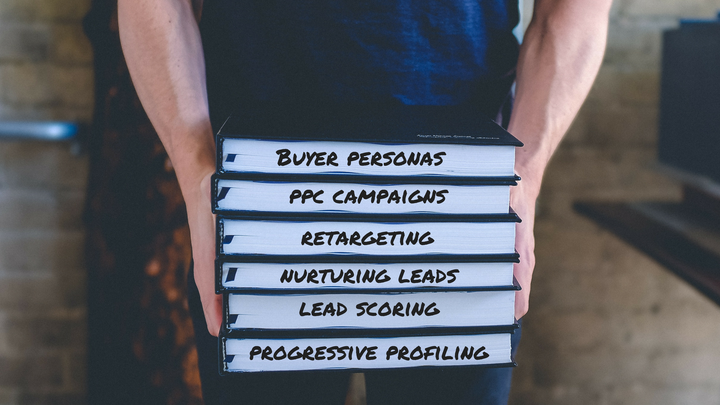 Do you feel like you're doing everything right for your inbound marketing campaigns, but still not seeing the results you'd like? Are you frustrated by the quality of leads you receive?
You might be ready to move on from the basics of inbound marketing to more advanced techniques. Here are six ways to step up your inbound marketing game.
1. Complete buyer personas
Buyer personas are fictional representations of a company's ideal customer. Segmenting your buyers into multiple personas is the first step towards more effective inbound marketing.
The goals and needs of your different customer segments are vastly different, and your marketing should reflect those differences.
To get started creating buyer personas, give them each a real name and define some basic demographics. Next, start thinking about the customer's goals in life. Once you've identified your customer's goals, begin thinking about what they need from you in order to be able to accomplish those goals.
Use your buyer personas to create marketing campaigns centered around these goals and needs. Each step of your marketing funnel should be able to answer the question, "Is this helping the customer we've identified to reach their goals?"
2. Social PPC campaigns
Once you've identified your target customers using buyer personas, you can better target them with paid advertising on social networks like Facebook, Twitter, Instagram and LinkedIn.
You might already be using Facebook advertising to reach your customers, but did you know that Facebook prioritizes video over static images in the news feed? In November 2016, Mark Zuckerberg said, "I want to start by talking about our work around putting video first across our apps."
Create a video showing how you build your product, or giving a tour of your office, all while keeping in mind your buyer persona.
Facebook messenger ads allow a prospect to start a conversation with your company using Facebook messenger, simply by clicking on the ad. You can later retarget that same customer, nudging them further down your sales funnel with relevant offers and information.
3. Offsite Retargeting
Do you ever get the feeling a company is following you around the internet? You visited a website looking for ski boots and now every website you visit has an ad for ski boots!
When you visit the website of a retailer who is using retargeting, a small piece of code called a cookie is left in your browser that adds you to an "audience". Other websites which display advertising then look for that same audience when deciding which ads to show. If they have an ad in their queue which matches the audience you belong to, you'll be shown that company's ad.
Offsite retargeting is a great way to recapture lost leads or to continue nurturing prospects who weren't quite ready to purchase on their first visit to your site.
4. Nurturing leads further down your funnel
While many businesses focus their inbound marketing efforts on converting new customers, it's more profitable to sell to existing customers.
Here are four campaigns that can be executed with social media, pay-per-click advertising, email marketing or direct marketing:
New product launches: Be sure to let existing customers know when you launch a new product or service line.
Upsells/Cross-sells: One of the simplest ways to increase sales is to offer a cross-sell or upsell to existing customers.
Re-engagement campaigns: It's important to make an attempt to re-engage existing customers periodically via email.
Win backs: A win-backs campaign is an aggressive lead capturing strategy designed to gain customers who are currently with another specific company.
5. Use lead scoring to prioritize leads
Lead scoring is an objective system for ranking leads to determine which ones are ready to convert, which ones need further nurturing, and which ones are unlikely to buy. Actions like opening an email, attending a webinar, clicking a specific link all contribute to a lead's score.
Once a lead reaches a specific number of points, they're considered a quality lead.
You can score your leads with:
Negative scoring: The person visiting your Jobs, About or Staff pages is not likely a buyer. That person can be assigned negative points.
Product line: A person inquiring about your enterprise level package will likely be more profitable to your business than someone inquiring about your starter package.
High value pages visited: Pages like Pricing, Contact, or pages describing your process are all high value pages, so be sure to assign them more points.
6. Utilize progressive profiling
Progressive profiling is a method of collecting more information from a prospect during each subsequent interaction the person has with your business.
On the prospect's first visit to your site, you might offer an ebook in exchange for their name and email address. On the second visit, you might offer a webinar in exchange for their industry, job title and number of employees. On the next visit, you could ask for their phone number and company name.
By asking for it piece by piece, visitors are more likely to share their information.
Progressive profiling is easy to do using software like OptinMonster. OptinMonster allows you to create targeted popups and inline optins to capture whatever information you'd like from visitors to your website.
Using OptinMonster's behavioral automation, you can set your first optin to collect only name and email address. A second optin can be configured to display on the next visit, but only if the first optin was completed. The second optin can ask for more detailed information like industry, title and size of company. This progressive chain of optins will increase the quality of leads you receive.
Improving your inbound marketing doesn't have to be difficult. Focus on your customer's goals throughout your sales funnel and you'll be a pro in no time!