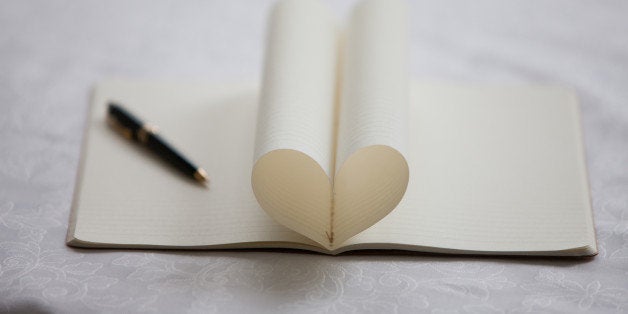 Keeping a journal is such an amazingly simple and powerful practice. It can help with all kinds of challenges and bring clarity, insight and awareness in your everyday life. So, I often recommend starting (or restarting!) a journaling practice to both my friends and clients.
I'm not talking about a place to write down all the fun things your kids do so you won't forget. I'm talking about a place that just for you -- your thoughts, your feelings, your questions and your observations about your life.
Your journal is all about you!
Here are six different ways you can use your journal...
1. To vent so you don't dump all over your support people
Just the process of sitting down, reflecting on what's going on and writing it out is helpful. If you take a few minutes each day to free write or do a brain dump onto your journal pages, it will keep you from dumping all over your partner and your other support people.
I would never suggest withholding from your partner or keeping secrets. But there are things that you need to sort through on your own first, before you decide what's important enough to talk to someone else about. And sometimes, you'll need a safe space to vent about those people, too.
Your partner is not your journal. Your journal is your journal.
2. Record, reflect and remember
Journal about what happened during your day and how it made you feel, then go back to it a day later/a week later/a month later and see how you feel about it then. Have things changed? Have your feelings changed? Is it still a big deal? What (if anything) do you want to do about it now?
Once you've done this a few times, try to look for patterns.
Your reactions to other people are a reflection of what's going on in your relationship with yourself.
Notice if there are common feelings being triggering for you.Notice who supports you and who makes you feel icky. Notice what situations keep coming up over and over again. How do you want to feel instead? Who do you need to keep close and who do you need to distance yourself from? What do you need to do for yourself to keep these situations from happening again, or at least to make them easier when they do?
Then, reread your journal again after you've been doing this for a while so you can remind yourself of where you started and how far you've come.
List three to five things you're grateful for at the end of every day. Not only is this a lovely thing to focus on right before you go to sleep, research shows that this practice actually rewires your beautiful brain to start focusing on what's good first so that you've got things to write about later. How amazing is that?
Each morning, choose a word or phrase or feeling to focus on for that day. Notice how this changes your mood, your reactions and how you're showing up in the world. Then, at the end of the day, write a line or two about what you noticed.
Sometimes we need a little help to let go of the day or transition into another role (example: from working professional to parent). At the end of your day or the end of your work day, write out a few lines about what happened as a really visible, tangible way to "close the book" on that part of your day.
6. Looking for the Lessons
At the end of the day, write what you learned about yourself, your relationships or a situation you faced. Did you hear a great song or read a quote that summed things up perfectly? Write it down! When you're looking for it, there really is a lesson in each and every day.
Over the years, I've used my journal in all of these different ways, depending on what I was going through, how much time I wanted to spend on my practice and what I was trying to focus on. Sometimes I even keep more than one journal at a time (a pocket calendar at work or on the bedside table for daily intentions and life lessons and a notebook for venting, reflecting or gratitude practice). There's no right way to journal, just pick whatever idea stood out for you the most and start there. And the only way to get it wrong is to not try at all.
Christine Marion-Jolicoeur helps busy parents find the joy in everyday moments so they can raise healthy, connected kids. She's an Amazon #1 bestselling author, published in Huffington Post and elephant journal and creator of the Joyful Parenting ecourse. Download fee gifts for parents at ChristineMJ.com/freegift