Thanksgiving weekend is fast approaching and for many of us, this means spending time with family, settling in for a big meal, and taking advantage of Black Friday shopping deals. Of course we all know that this is a holiday for giving thanks, but seldom do we actually pay our gratitude forward for all we have to be thankful for beyond a few words of thanks at the start of our festive meal. Nonetheless, you may want to do more to connect with the deeper meaning of Thanksgiving while creating quality time with your family.
When it comes to looking for ways to give back on Thanksgiving, the lives of celebrities may not be the most obvious place to start. However, when it comes to reasons to feel grateful, who has more in the way of advantages, glamor and excitement? At my company, BidKind, we host online charity auctions featuring once-in-a-lifetime experiences with some of the world's most prominent actors, musicians, athletes, and thought leaders, so we are especially aware of those public figures who take the most care to acknowledge their privilege throughout the year by supporting important causes.
Below are just a few of the ways some of our favorite celebrities and their families give back over the holidays. You can add some of this same star power to your Thanksgiving this year by getting together with your loved ones to help make someone else's Thanksgiving holiday special.
1. Help make Thanksgiving dinner possible for a family in need. It is easy to take for granted our access to nutritious meals. Now imagine not being able to put Thanksgiving dinner on the table for your family. Sadly, food insecurity is a reality for more than 49 million people across the United States. Donating food or your time to a local food bank this Thanksgiving is a great way to help fight hunger. In fact, this is exactly how the President and his family spend part of their Thanksgiving each year.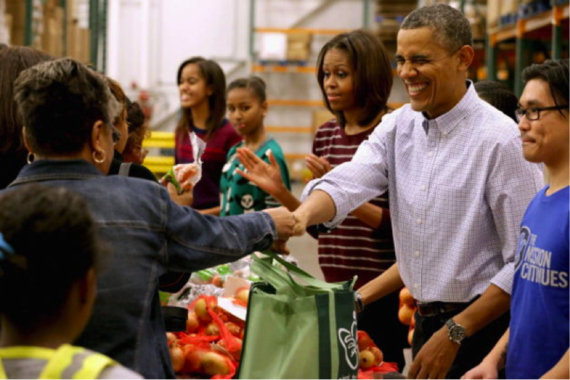 The whole first family gets in on the action last Thanksgiving, handing out healthy ingredients at the Capital Area Food Bank. The Obamas volunteered alongside The Mission Continues, a group of veterans who joined the military after Sept. 11 and who regularly engage in charitable service work.
2. Serve up a meal and a smile. Do you want to put a more personal face on sharing a comforting holiday meal with those in need? Instead of working at a food bank, you can help prepare or serve dinner at homeless shelters, community centers and local places of worship this Thanksgiving. Dozens of celebrities help serve free meals each Thanksgiving - and not just because it's a great photo opportunity! Volunteering directly with those less fortunate is a highly compassionate way to give back, that can not only raise awareness about important causes, but also can help put into perspective all of the privileges many of us take for granted.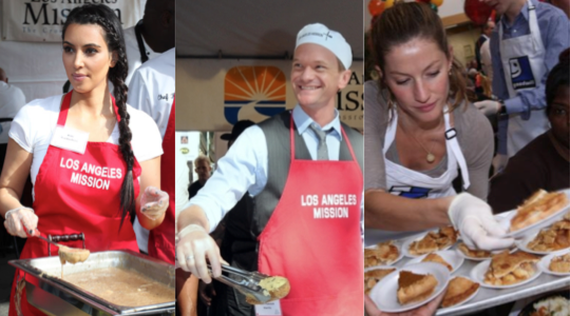 Stars including Kim Kardashian, Neil Patrick Harris, and Gisele Bundchen serve up Thanksgiving meals to the homeless and help to make the holiday a little brighter for people in need.
4. Do the Turkey Trot. This activity isn't just good for the soul - it's also good for the body. Work up an appetite before your holiday meal with a race that benefits a cause. Many running clubs and nonprofits offer walks and runs ranging from 5Ks to marathons, benefitting numerous charities each Thanksgiving. Get your friends and family in on the act by sponsoring your run, or just cheering you on as you cross the finish line to raise awareness of your favorite charity.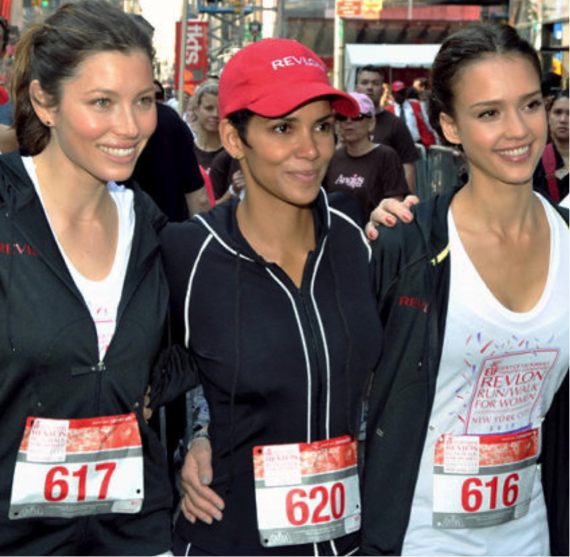 Actresses Jessica Biel, Halle Barry, and Jessica Alba look flawless after finishing the Revlon Run/Walk For Women.
5. If you can swing a hammer, you can change lives. Here's a great way to better appreciate the roof over you head - team up with your family to help build safe, permanent housing for those in need with an organization like Habitat For Humanity. Get out of your house for a bit while helping provide a home for another family in need. You will work up an appetite and possibly even pick up a skill like bending rebar or installing dry wall!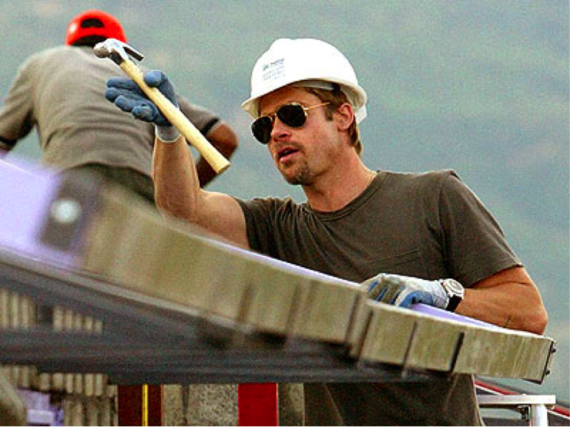 Actor Brad Pitt makes for one handsome construction worker as he helps frame one of the new homes being built in New Orleans for Hurricane Katrina victims by his Make It Right Foundation.
6. Spread joy with a gift. If you are already planning to brave the crowds at the mall on Black Friday, why not also pick up a present for an underprivileged child while you are there? Holiday gift programs such as Toys For Tots make it easy to bring a smile to kids facing poverty and uncertainty. Donate an unwrapped toy at an established drop off site, or organize a toy drive in your own community.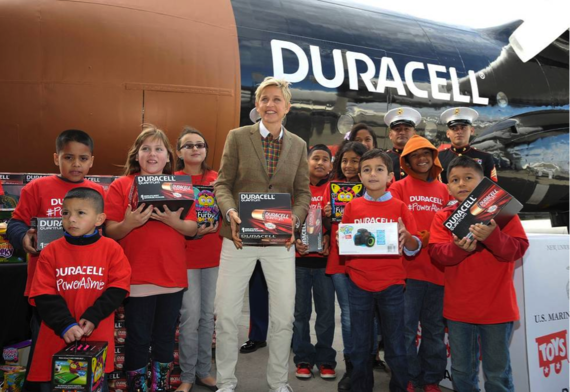 Comedian Ellen DeGeneres distributes toys to children with Toys For Tots.

So this year, whether its sharing the gift of a warm meal, breaking a sweat, or doing some early holiday shopping, why not add a little more meaning to your Thanksgiving by dedicating a few hours with your loved ones by giving back? You'll feel like a star!
BidKind's online charity auctions give access to celebrities, prominent brands and unforgettable experiences. Bid on once-in-a-lifetime prizes while helping important causes at http://www.BidKind.com
Related