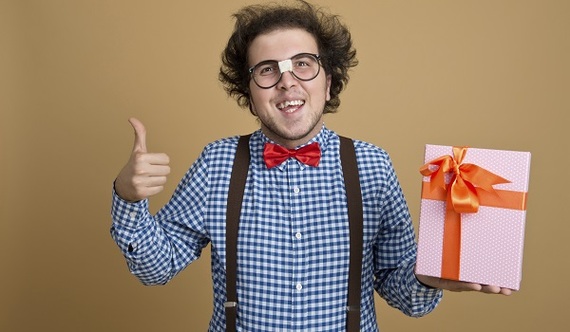 Do you belong to any "of the month" clubs, where a membership or subscription fee entitles you to a monthly supply of that item delivered to your door? Thanks to the ease of establishing such a club through the Internet, there is now a wide -- and weird -- variety of these clubs available. Here are a few of the stranger ones in our opinion... but who are we to judge?
Bows - For only $25 for a three-month subscription, PrincessChloesCloset on Etsy will supply handmade bows of the month to fashion-conscious girls. Among the offerings are a Minion bow and a St. Patrick's Day bow that colored..., well, you know what color it is.
Etsy is full of extremely odd customized "of-the-months" that sell out or are only valid for limited times. Examples include the Squid of the Month Club that supplied stuffed squids, or the Mustache of the Month Club that sent its members "one surprise ceramic mustache jewelry item a month." Just to clarify, that is jewelry items in the shape of mustaches -- not jewelry for mustaches. Now that would be novel!
Bourbon - Why trudge to the liquor store when you can join the Bourbon of the Month Club at mouth.com? A six-month subscription costs $69 per month, or you can sign up for a full year for $59 per month. You can enjoy a variety of interesting bourbons. Unfortunately, if you live in one of the eighteen states that outlaw the direct importation of alcohol, you'll have to satisfy your bourbon curiosity at the liquor store.
Condiments - Enhance your meals, or cover up your culinary shortcomings, with the condiment of the month club. For $124.99 for a six-month subscription, you can have two to three interesting new condiments sent to your home each month. Selections include barbecue sauces, ketchups and mustards, hot wing sauces, olive oils and vinegars, salsas, syrups, and even peanut butters and jellies.
Pot Smoking Supplies - 420 Goody Box promises to supply "a monthly subscription goody box for those who live the Smokin' lifestyle." Each mystery box contains five to eight items in the categories of munchies, smoking accessories, and entertainment items (obviously, the boxes cannot contain marijuana). Each month's box comes with a new theme. Submit your e-mail to "follow their buds."
Fashion - Do you have to have new clothes no matter how many outfits you already own? For $99 per month you can join Rent the Runway and receive three items of your choosing among designer dresses, skirts, blouses, accessories, and other top end clothing items. While you pay by the month, you do not have to return items each month. You can keep the clothing for as short or long of a time as you want.
Tampons - How about a monthly delivery to correlate with a monthly function? That's right, we are talking feminine hygiene. For $15 per month with a six-month subscription, HelloFlo will deliver tampons and other feminine supplies "in a super discreet box that will come five days before you need it." Simply describe your monthly flow (light, medium, or heavy), pick your products (tampons, pads, or both), and your payment method. Packages include "fun and tasty treats as a pick-me-up."
If none of these strikes your fancy, check around for your options online. If you have an interest, there is probably a club of the month for it. If you cannot find one, maybe this is your opportunity to become an entrepreneur and start one of your own.
Photo ©iStock.com/ozgurdonmaz
Calling all HuffPost superfans!
Sign up for membership to become a founding member and help shape HuffPost's next chapter