This year, put your wallet where your values are and check out these holiday gift ideas from MY SISTER, Bulletin, Heritage 1933, Lil' Libros, Hannah Leathers Art, and GRL TRBL.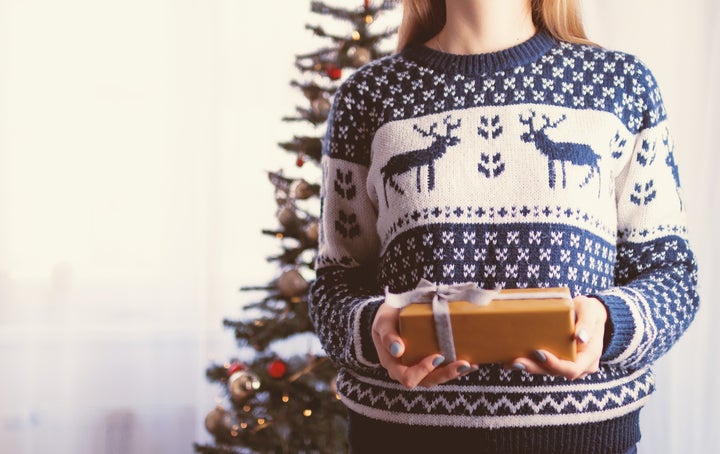 Every year, I try to give meaningful and practical gifts for friends and family. But since 2017 has been such a doozy for women, this holiday season I want my gifts to send a message. I want my gift shopping to represent, empower, and benefit women.
I did some research and came up with a number of gift ideas that I know my other feminist-minded and conscious consumers will feel good about. For starters, the companies all have incredible women at the top, so you can rest easy knowing your hard-earned dollars go towards supporting women entrepreneurs, businesses, and artists. But what's even better is that most of these companies also give back to their communities and support nonprofit organizations that, in some way, benefit women. I mean, does it get any better than that?!? Check out six places where you can shop below (and follow them on Instagram to learn more about what they are all about).

Actress/writer/director/activist/poet, and all-around badass feminist leader Amber Tamblyn has collaborated with a company called MY SISTER to bring her thought-provoking and charged poetry to life through a collection of statement-making clothing and accessories.
Co-Founders Mandy Multerer and Wayne Zink started MY SISTER with the powerful idea that for profit companies can help solve traditionally "nonprofit" problems by donating a portion of the proceeds to nonprofit organizations. MY SISTER partners with nonprofits that focus on preventing sex trafficking, and works to fund and provide employment opportunities for survivors. Since its inception in May 2015, MY SISTER has donated over $111,000 to nonprofit organizations, and funded more than 3,000 hours of survivor employment through its sales of tees, hoodies, and stylish jewelry.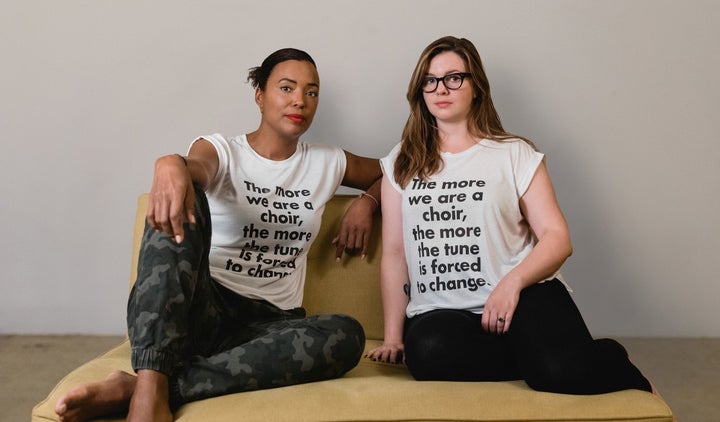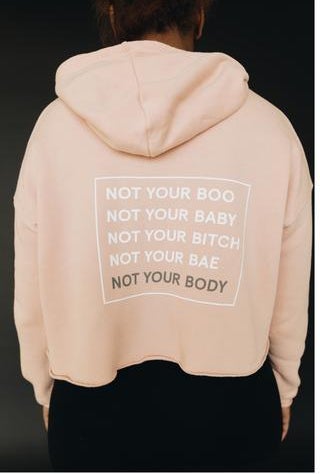 If you regularly read the New York Times, or tune into Forbes' yearly 30 under 30 list, you've probably already heard of the innovative women-owned company, Bulletin, that is changing the future of retail. Founded by COO Ali Kriegsman and CEO Alana Branston, Bulletin's kickass team of women hand-select funky woman-centric art, accessories, and apparel that are traditionally only available online, and then give the female artists and creators a brick and mortar space in which to display and retail their products. The team has curated the ultimate feminist shopping experience, as all of the products are made by and for women, and they donate 10% of their proceeds to Planned Parenthood.
Drop by one of their stores in New York City, or browse their collection online. Either way, you are guaranteed to feel celebrated as a woman while you shop — and better yet, no matter what you buy, you are supporting women.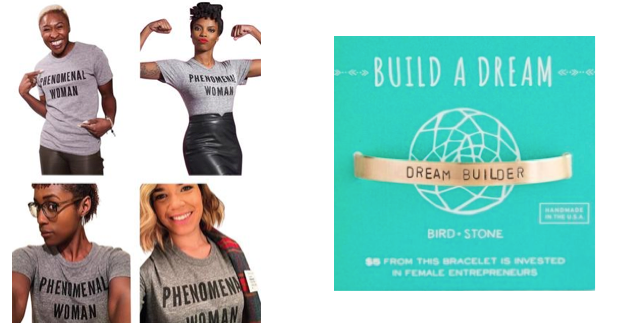 This year, an incredible company called Heritage 1933 has all your feminine stocking stuffer needs—from hair and body butters, to bath salts, to clay face masks. And this amazing woman-run company, founded by CEO Latoya Thompson, gives back in not just one way, but two (!) ways. First, their team packages a number of these beauty and hygiene products in recycled glass bottles, so when you use up all the goodness, you can send the glass bottle back to Heritage 1933 and the team will recycle and reuse them. If you recycle enough bottles, they will give you a discount on your next purchase. How awesome is that?!? Secondly, for every item you purchase, Heritage 1933 donates hygiene and hair care products to women and children living in shelters. Incredible, right?
Founder/CEO Latoya Thompson started Heritage 1933 in 2015 and wanted to adopt a social enterprise business model of taking proceeds and giving back to her community in some way. She and her team talked to several local women's shelters and learned there was a shortage of hygiene product donations suitable for women of color's hair. So, every quarter, based on the number of sales they make, Thompson and her team donate hair care and hygiene products to local women's shelters in the St. Louis area. Shop their full product list, and feel good about protecting the environment and supporting women and children living in shelters.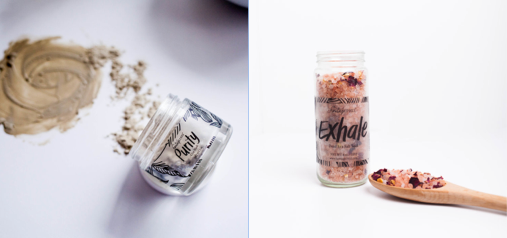 Looking for a meaningful kids gift idea? Check out Lil' Libros, a company with a collection of bilingual children's books that introduce and tell stories about Hispanic culture. Latina businesswomen duo Ariana Stein and Patty Rodriguez are behind the incredible mission to introduce bilingualism and encourage parents to read to their children at early ages. The co-founders have been friends since they were 12 — both raised in California by Mexican immigrants. When they grew up and had children of their own, they wanted their kids to be bilingual — but they realized there was a shortage of bilingual children's books that they could read to them. Wanting to change this, they embarked on a mission to write and publish a series of bilingual children's books that celebrate Hispanic icons and heritage.
Shop the Lil' Libros collection for a book about the revolutionary Mexican artist Frida, the Cuban salsa singer Celia Cruz, and coming in 2018, a book about the iconic Mexican-American singer Selena. For every purchase of the book "The Life Of/La Vida De Selena", a portion of the proceeds will go to an organization that helps children in crises.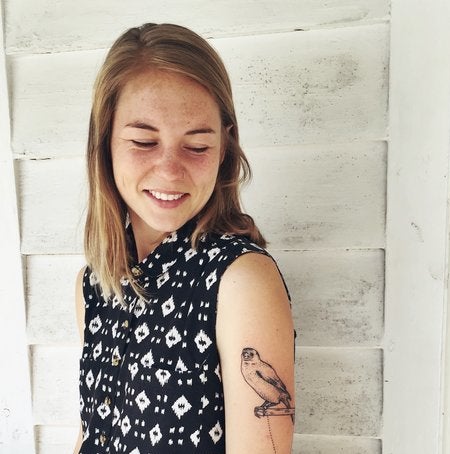 Looking for some original and women-centric artwork to give your friends (or, ask your friends and family to get you), and want to support a burgeoning talented woman artist? Denver-based artist Hannah Leathers creates surrealistic and thought-provoking 2D and 3D pieces that are guaranteed to enlighten and impress your friends and family this holiday season. Using almost melancholic colors and imagery, her collection of paintings and drawings include strange optical features and bold messages — both implicit and explicit. Scroll through her Instagram account, @hannahleathers_studio to see what I'm talking about. You won't be disappointed.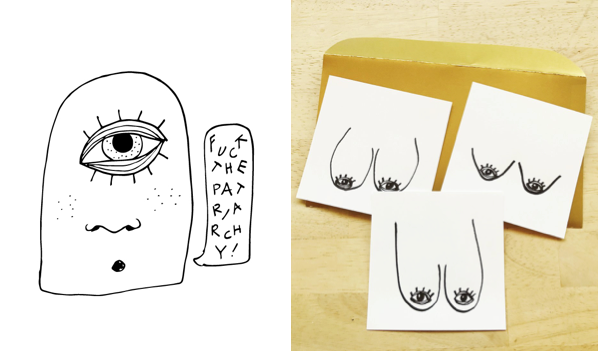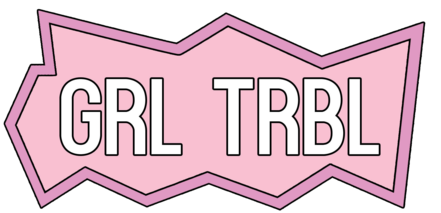 Want to make a bold statement this holiday season? GRL TRBL has the gifts for you. New York City artist Emerald Pellot created GRL TRBL after the election last year to represent the political and social landscape in a visual way. Her classic (and first) pin, the Solidarity Fist, was a huge hit, so she began creating similar pins, tees, totes, and postcards — all aiming to promote inclusivity and intersectionality. Shop her "Good Books Make Bad Girls and Dangerous Women" pin and tote for all your book-obsessed friends, and who wouldn't want her "Slay the Patriarchy" Beyoncé postcard? As an Afro Latinx writer and illustrator, Pellot also boasts a beautiful collection of Latinx Pride items, such as the "Latinx" pin and the "Diablo" tee.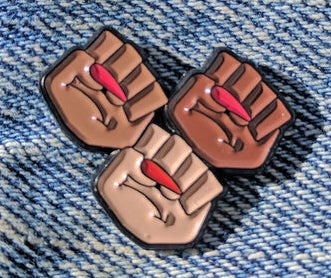 Available online, all her item descriptions come with inspiring and inclusive messages. This is the perfect spot to remind yourself of your worth. Also, don't forget to check out her kickass blog where she writes about incredibly important (and at times, complex) topics.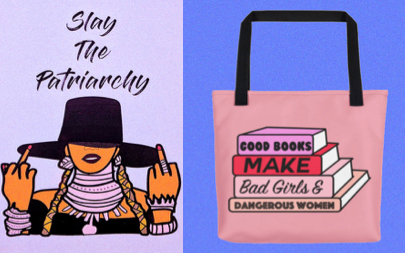 I hope this list of women creators has inspired you to re-think holiday shopping this year. Gone are the days of online Amazon Wish Lists. Conscious consumerism, and purchasing gifts that give back to the community, are so in.
Related
Popular in the Community