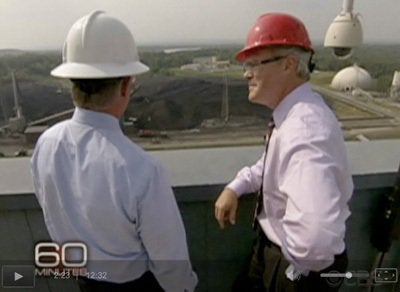 This week's "60 Minutes" had a feature on coal which compares the CEO of Duke Energy "a reformed tobacco executive." Sounds like it has potential, right? It's encouraging that such a large media outlet reports on coal in the context of how dangerous it is to the climate, but the piece still falls short.
Despite consulting Dr. James Hansen, Scott Pelley manages to spit out this gem: "Cleaning up the carbon would solve everything." Then the program goes to a carbon sequestration plant -- the only one in the country, the show says -- which liquefies carbon emissions and pumps them underground. Pelley, narrating, says that everyone agrees that this is the only way to make coal safe for the planet.
While he does say that this South Dakota coal plant cost far too much to be replicated on a large scale, Pelley's reporting omits the first part of the process of using coal for energy -- the part where you gather the coal. If you don't know what that looks like, it looks like this:
I don't get it. As television producers and reporters, how do you cover a story and leave out the big explosions?
Here's the full "60 Minutes" piece.
Popular in the Community