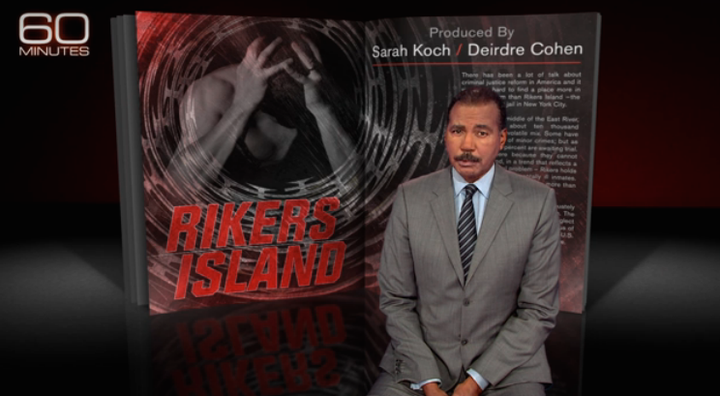 NEW YORK -- Near the end of a "60 Minutes" report Sunday addressing the mistreatment of inmates at Rikers Island, correspondent Bill Whitaker walked along the perimeter of the New York City prison complex and described how Department of Correction staffers stopped the crew from going inside with their cameras. 
"We wanted to talk to the commissioner of the Correction Department about the problems at Rikers," Whitaker said in the report, "but our three scheduled interviews all were postponed."
CBS News President David Rhodes backed up Whitaker's claim of stonewalling in a tweet as the"60 Minutes" episode aired. 
The unflattering "60 Minutes" report, which began with U.S. Attorney Preet Bharara describing "a culture of violence on top of a code of silence" at the prison, left the impression that the officials in charge at Rikers were unwilling to cooperate.
But Whitaker had an interview scheduled for two days later at Rikers with Correction Commissioner Joseph Ponte, according to Karen Hinton, press secretary for New York City Mayor Bill de Blasio.
Hinton tweeted about the scheduled interview as the "60 Minutes" broadcast ended, and suggested CBS rushed its story to air out of fear of being beaten by a competitor. ABC News is nearing completion of a two-year investigation into Rikers, which includes access inside the prison. 
Hinton rebutted Rhodes' tweet about the three postponements:
Television news is a fiercely competitive business, and networks can't be expected to hold a story indefinitely if they think that promised access won't come through and a rival is working on a similar story. 
However, Hinton questioned the urgency of the "60 Minutes" report, tweeting several times Sunday night that it focused heavily on a situation at Rikers that predated the de Blasio's administration's more recent reforms. 
The most devastating example "60 Minutes" highlighted took place in 2013, prior to de Blasio's election. The program aired video Sunday showing the final days of an inmate, Bradley Ballard, who died after languishing for seven days in a cell. The Daily News noted Monday that the footage could "renew debate over whether the troubled institution should be closed for good."
There have been calls over the years to close the notorious prison complex, located on an island in the East River. Several disturbing reports have detailed abuse of prisoners, including the mentally ill. De Blasio has argued for reforming Rikers rather than shutting it down. He wrote in a Monday op-ed that "after decades of neglect, culture change won't happen overnight."
In an interview with The Huffington Post, Hinton said "60 Minutes" producers first approached her office in early December, but they didn't hear again about the story until late January. Hinton said "60 Minutes" was scheduled to meet with Ponte in March, but the sit-down had to be postponed. She said "60 Minutes" was scheduled to speak to Ponte last Thursday, but the interview got pushed to Tuesday. 
So by her account, there were only two postponements, not three. In addition, Hinton said "60 Minutes" neglected to air a statement the office provided regarding de Blasio's reforms.
In a statement, "60 Minutes" stood by the report's claim that there were three postponements. 
"The NYC Dept. of Correction was asked repeatedly for an interview and postponed three scheduled sit downs since we began this investigation five months ago," a "60 Minutes" spokesman said. "Our story was ready for broadcast."
The "60 Minutes" spokesman provided HuffPost with three dates in March and April in which interviews were said to be confirmed. Hinton said she and Department of Correction spokesman Peter Thorne had no record of a confirmed interview on one of those dates.  
Hinton said she learned Friday that "60 Minutes" was going ahead with its story without the Ponte interview, and emailed "60 Minutes" Executive Producer Jeff Fager the following day. Hinton said Fager described her office as being "of so little help" in the process of its reporting, a charge she disputes. She said staffers provided the newsmagazine's team with background information and data throughout the reporting process. 
"We wanted to be as helpful as we could be with '60 Minutes,'" Hinton said regarding access to Rikers. "It is not like dropping by City Hall for an interview. There are issues to negotiate, and that takes time. And they were in a very big hurry."
Hinton said ABC's Diane Sawyer and a team of producers came to them two years ago, and there have been extensive negotiations over access, a process that required significant input from lawyers. 
An ABC spokeswoman confirmed the network is working on a Rikers report and that it is scheduled to air on "Nightline" in the next few weeks. 
REAL LIFE. REAL NEWS. REAL VOICES.
Help us tell more of the stories that matter from voices that too often remain unheard.
BEFORE YOU GO