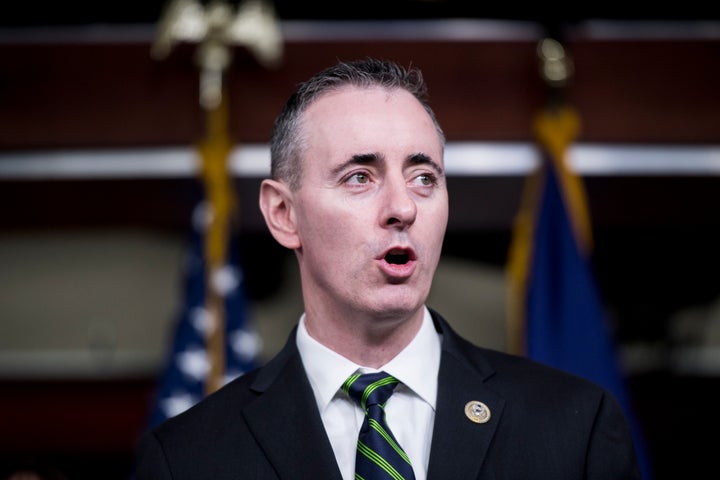 In their quest to take control of the House, Democrats are running as defenders of Social Security and Medicare. They have seized on some Republicans' explicit openness to cutting the benefits and have painted the GOP tax cuts as a stealth attack on the two popular social insurance programs.
Recognizing a potentially damaging talking point, Republicans are increasingly vocal in their pushback; an Ohio Republican enlisted his mother in an ad defending his record on seniors issues.
For example, in a political mailer sent out by his congressional office, Rep. Brian Fitzpatrick, a freshman Republican representing suburban Philadelphia, publicized receiving the 60 Plus Association's "Guardian of Seniors' Rights Award."
The mail item shows Fitzpatrick addressing a roomful of seniors and claims that he is committed to "protecting Social Security," "preserving Medicare and Medicare Advantage" and ensuring "top-notch service for seniors."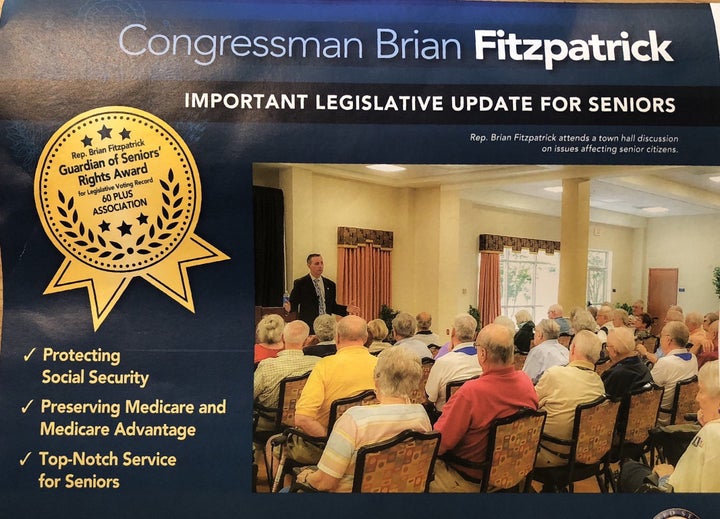 The 60 Plus Association has granted the "Guardian of Seniors' Rights Award" to numerous congressional Republicans, including Iowa Sen. Chuck Grassley and Iowa Rep. Steve King, both of whom co-sponsored bills that would partially privatize Social Security. The group did not respond to HuffPost's multiple requests for comment on what its award means or what its current stances on Social Security and Medicare are.
For years, billionaire brothers Charles and David Koch bankrolled the 60 Plus Association as a kind of conservative alternative to the AARP. In addition to lending a veneer of senior support for George W. Bush's plan to privatize Social Security, the group became a leading opponent of the Affordable Care Act or Obamacare, giving credence to the erroneous claim that the health care law cut seniors' benefits.
In August, the group offered qualified praise for Trump's efforts to chip away at the law, but also demanded that elected officials go further and finally "drive a stake in the heart of Obamacare."
In 2015, the 60 Plus Association mobilized to oppose a possible restructuring of Puerto Rico's debt, claiming that it would hurt seniors living on fixed incomes. The association was hired by a public relations firm that happens to represent a hedge fund that owns a significant chunk of Puerto Rican debt, according to a New York Times report.
Although the Koch brothers apparently broke with the 60 Plus Association in 2016, the group continues to provide cover for conservative ideologues and interest groups on topics that have seemingly nothing to do with seniors. In June, it wrote a letter to the Federal Communications Commission to support loosening television regulations that require stations to broadcast educational programming for kids.
Once again, Brian Fitzpatrick is showing his true colors.

Scott Wallace, Democratic nominee, Pennsylvania's 1st Congressional District
Fitzpatrick's campaign did not address the award from the 60 Plus Association or distance itself from the organization. Campaign spokeswoman Genevieve Melandra instead pointed to the Pennsylvania AFL-CIO's endorsement of Fitzpatrick as evidence of his opposition to benefit cuts.
The statewide federation of labor unions "endorsed Congressman Fitzpatrick because of his 100% opposition to cuts and his superior record on protecting Social Security and Medicare," Melandra said. "The AFL-CIO Working Family Unions stand together with Congressman Fitzpatrick in opposing cuts and protecting our seniors."
But Scott Wallace, a Democrat challenging Fitzpatrick in Pennsylvania's 1st Congressional District, sees the award as confirmation of Fitzpatrick's questionable commitment to programs for seniors.
"Once again, Brian Fitzpatrick is showing his true colors. Touting a legislative award by a group that actively works to privatize and dismantle Social Security begs the question, what is Brian Fitzpatrick doing in Congress to earn this recognition?" Wallace said. "Maybe it was his vote for the tax scam that blew a $2 trillion hole in the deficit and gave [House Speaker] Paul Ryan and Fitzpatrick the perfect excuse to cut Social Security?"
The GOP tax cuts, for which Fitzpatrick indeed voted, are due to add $1.9 trillion to the national debt over the next 10 years. Democrats, citing the candid remarks of top Republicans like Ryan, maintain that Republicans will ultimately try to pay for them with Social Security and Medicare cuts.
Congressional Republican leaders have not always helped their candidates' prospects in this regard. Ohio Rep. Steve Stivers, chairman of the National Republican Congressional Committee, the body devoted to electing Republicans to the House, suggested in a CNBC interview that future cuts to Social Security and Medicare could be used to reduce the national debt.
Other embattled Republicans have tried and failed to use the 60 Plus Association's imprimatur to deflect Democratic broadsides.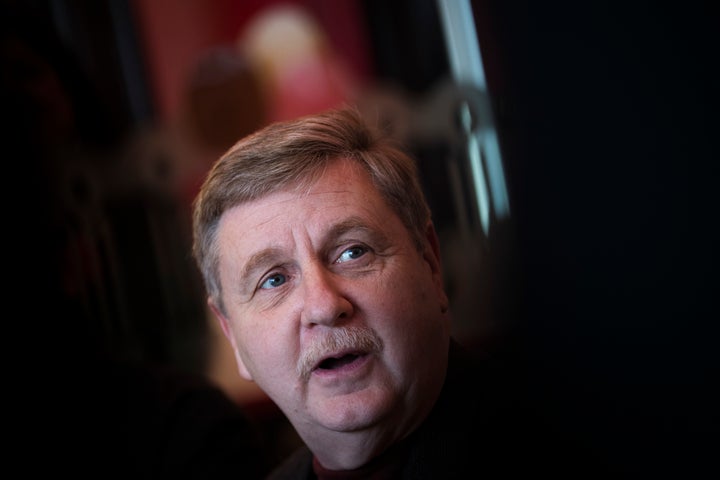 Four days before a March special election in Pennsylvania's 18th Congressional District, Rick Saccone, the Republican nominee, held a campaign event with 60 Plus Association founder James Martin. Martin presented Saccone with the group's "Guardian of Seniors' Rights Award."
Lamb's promises to defend Social Security and Medicare were a central theme of his winning campaign.
"I'll protect Medicare and Social Security ― my opponent will cut them," Lamb said in a 30-second ad.
End Citizens United, a pro-Democratic PAC that supports campaign finance reform, commissioned a post-election poll of district residents who voted for Lamb. A plurality of surveyed voters ― 43 percent of those asked ― said Lamb's promise to "defend Social Security and Medicare" was their "main reason" for voting for him.
Calling all HuffPost superfans!
Sign up for membership to become a founding member and help shape HuffPost's next chapter
BEFORE YOU GO
PHOTO GALLERY
2017 Scenes From Congress & Capitol Hill