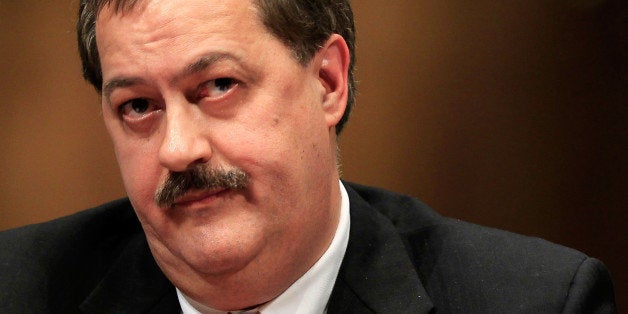 Robert F. Kennedy, Jr. once described Massey Energy, a global coal corporation now part of Alpha Natural Resources, Inc., as a "criminal enterprise." Now, it appears that the United States Attorney and a federal grand jury in West Virginia agree with that assessment. Last month, Massey's former CEO, Don Blankenship, was indicted on federal conspiracy charges for which he could go to prison for 31 years.
This rare moment of CEO accountability is welcome and long overdue. At same time, though, the Massey story illustrates the collapse of corporate accountability and the rule of law, not only in West Virginia, but at the heart of our American corporate legal system.
The federal indictment in West Virginia alleges that Blankenship ruled a criminal enterprise at Massey, knowing and approving of the corporation's "practice of routinely violating" mine safety laws. The grand jury charges that Blankenship and his co-conspirators at Massey "chose to continue that practice ... to maximize profits." As a result of the illegal conspiracy in the corporation, twenty-nine men died in an April 2010 explosion at Massey's Upper Big Branch mine in West Virginia.
The Blankenship indictment alleges a specific "conspiracy to routinely violate mandatory federal mine safety and health standards to increase Massey's profits, and to enrich" Blankenship himself. Yet, the 835 violations of law identified in the indictment are only the tip of the criminal enterprise at the coal corporation.
A 2011 independent investigation after the Upper Big Branch explosion found a "normalization of deviancy" throughout Massey's operations. Over a decade before the explosion, Massey had committed more than 63,000 violations of the mine safety laws. At the same time, Massey violated the federal Clean Water Act 13,000 times. Scores of mountains in Appalachia and miles of mountain streams were destroyed in Massey's mountaintop removal coal operations.
According to the independent investigation, Massey used "vast amounts of money to influence the political system," and to disable "government regulation regarding safety in the coalmines and environmental safeguards for communities." Massey's immunity from the law provided what the Investigation report called "a graphic illustration of the intertwining of coal and government...."
Massey is incorporated in Delaware, and subject to the requirements of Delaware corporate law. That's true of 64 percent of the Fortune 500 and more than half of the corporations traded on the New York and NASDAQ stock exchanges. In Delaware as in other states, corporate charters give benefits and privileges, such as limited liability, but they are also "subject to dissolution or the revocation or forfeiture of the corporate charter" if those privileges are abused.
Following the release of the investigation report, Free Speech For People, joined by Appalachian Voices, the RainForest Action Network, and West Virginia residents, including family members of some of the men killed at Upper Big Branch mine, formally requested that the Attorney General of Delaware, Beau Biden, comply with the law and bring a corporate charter revocation action against Massey.
Three years later, Delaware has done nothing.
Some might say that charter revocation for Massey is complicated by the fact that after the explosion, Alpha Natural Resources, Inc. acquired Massey, and so Alpha now is responsible for its operations. That may be, but that is no excuse for ignoring the public accountability and judicial oversight that Delaware and other corporate law is intended to bring through the charter revocation process.
The Delaware Constitution insists on a corporate charter revocation process so that the privileges of corporate law are accompanied by the "check and balance" of a duty to the public and a process for public accountability and oversight. Rather than face accountability, Massey's shareholders received $7.1 billion when Alpha acquired Massey. And Don Blankenship, the CEO, retired with an $86 million package.
Neither the Alpha-Massey merger nor the indictment of Blankenship is an excuse for ignoring Delaware corporate law. Indeed, Alpha itself is a Delaware corporation. If Attorney General Biden and Delaware corporate law are no longer capable of oversight because corporations such as Massey or Alpha are too big or too global, than we should not continue to allow Delaware to write the corporate law rules for the whole country. If a well-documented, decade-long criminal conspiracy that killed 29 people, and destroyed countless Appalachian mountains and streams, cannot move Delaware to take oversight of its creations, then there is something rotten at the core of American corporate law.
Popular in the Community