We all have habits we prefer to keep classified but as people prepare to leave on summer vacations, a new global survey released by Travelzoo, one of the largest publisher of travel deals, reveals the dirty little secrets of travelers across North America, Europe and Asia Pacific.
The data indicates that close to 70 percent of Americans snag hotel toiletries and a whopping 64 percent said they have tinkled in the pool while on vacation! What's worse is that 10 percent Germans said they have cheated on their partner while on vacation -- thankfully only 3 percent of Americans admitted to doing so.
Here are all of the recent travel secrets findings:
Taking Hotel Toiletries
Grabbing extra hotel toiletries ranks as the most common travel secret for Americans (69 percent) followed by Canadians (63 percent), Chinese (61 percent) and Britons (45 percent). Germans (20 percent) were the least likely to snag the mini bottles of shampoo, conditioner and lotion.

Tinkle in the Pool or Ocean
Almost two-thirds of Americans (64 percent) confessed to tinkling in the pool or ocean. The survey revealed 58 percent of Canadians, 46 percent of Britons and 44 percent of Germans admitted to the using the pool or ocean to relieve themselves. The Chinese (41 percent) were the least likely to skip the restroom.
Cheating on Your Partner
While many travelers snag the hotel goodies or skip the restroom, the majority of jetsetters remain faithful to their partners while vacationing. Germans (10 percent) were most likely to have a wandering eye followed by the Chinese (5 percent), Britons (4 percent), Americans (3 percent) and Canadians (2 percent).
Sneaking Goods through Customs
Americans might take the lead on snagging hotel goodies but when it comes to sneaking goods through customs, the Chinese lead the pack with 32 percent admitting they haven't declared all merchandise at customs. 23 percent of Canadians admitted to the secret, followed by 22 percent of Americans and 19 percent of Britons.
Vacation Planning During Work
When it comes to vacation planning, the survey revealed the Chinese (70 percent) and Americans (67 percent) are the biggest offenders for doing vacation research during work hours. Canadians came in third with 64 percent secretly booking vacations during work, followed by Britons (40 percent) and Germans (38 percent).
Playing Hooky to Extend Your Vacation
Playing hooky isn't just for Ferris Bueller. Almost one-quarter of Americans (24 percent) admitted to calling in sick to work to extend their vacation. Canadians and the Chinese tied for second place at 16 percent followed by 15 percent of Britons admitting to calling in sick. Germans (10 percent) were the least likely to use a sick day over a vacation day.
Skipping on a Bill
When it comes to paying the bill, most travelers settle it fair and square. Only 13 percent of Americans have skipped out on the check and less than 10 percent of Canadians (9 percent), Britons (8 percent), Germans (7 percent) and Chinese (6 percent) have left a restaurant without paying the tab.
Reserving a Lounge Chair with Your Towel
While not a terrible habit, it is frowned upon to reserve a lounge chair with your towel early in the morning, when you're not at the beach or pool. Almost two-thirds of Canadians (64 percent) admitted to the crime followed by 59 percent of Americans, 40 percent of Chinese, 33 percent of Britons and 33 percent of Germans.
For more information about Travelzoo and to see the full results of the survey, visit the Travelzoo blog.
Source: 9,577 adults in U.S., Canada, United Kingdom, Germany and China, age 18+ surveyed online between May 11, 2015 and June 8, 2015.
Megan Mitchell is a Deal Expert based in Chicago. She's a traveling mom who thinks kids make pretty great travel companions (most of the time) and Bloody Mary's help most situations. Travelzoo has 250 deal experts from around the world who rigorously research, evaluate and test thousands of deals to find those with true value.
Related
Before You Go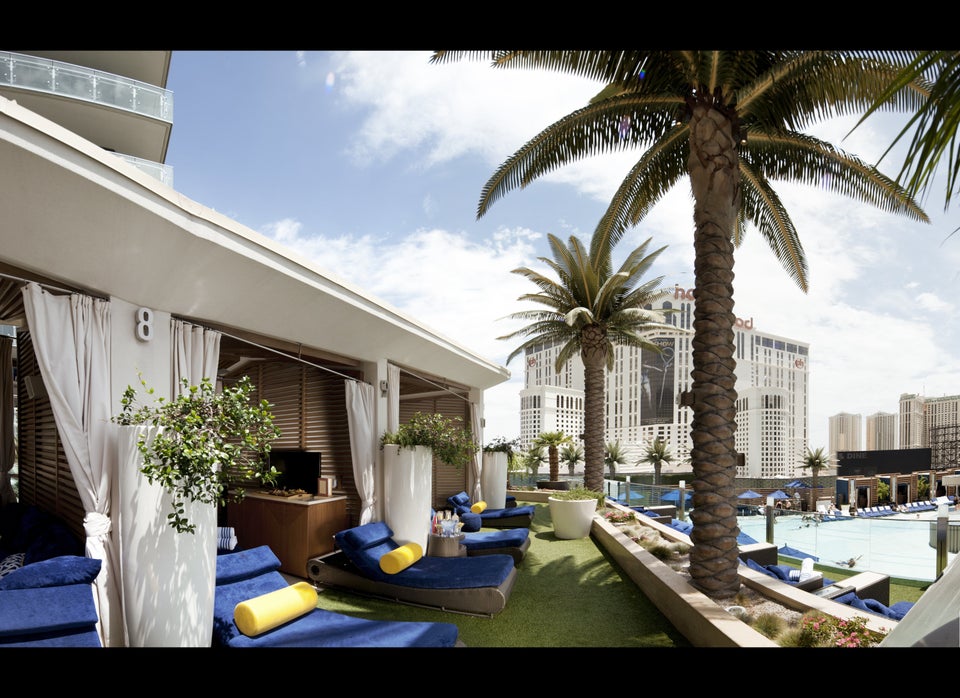 Best Pools in Las Vegas (PHOTOS)