HONOLULU -- Clyde Aikau took some very deep breaths before heading down to the water, his extra-long, single-fin surf board in tow.
The 66-year-old Hawaiian is no stranger to the waves at Waimea Bay, on Oahu's North Shore, but Thursday was a bit different.
Dressed in a yellow rashguard, his bulky life vest protruding underneath, Aikau, who has announced his retirement from big wave surfing after this season, paused at the shore break for a moment, looking nervous, but also completely ready with his board tucked comfortably beneath his arm.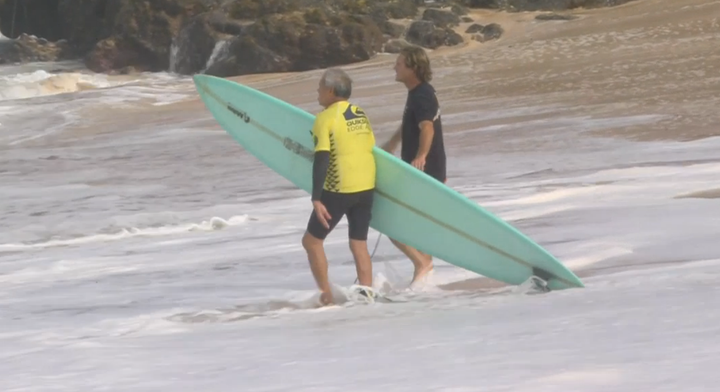 "The Eddie," as it's known, is especially important to Aikau because it commemorates the life of his brother, a legendary Hawaiian surfer and lifeguard, who died in 1978 after the Polynesian vessel Hokulea capsized during a storm. Eddie Aikau set off paddling on a surfboard to get help for his fellow crew members and was never seen again.
Clyde Aikau has been a sort of Godfather of big wave surfing since, winning the second-ever Eddie competition in 1986 and serving as a spokesman for both the spirit of surfing and of Hawaii.
And as the third heat got started on Thursday, all eyes were on him. Riding a board that looked even longer than everyone else's, Aikau paddled out to join young guns like Mark Healey, 31, and John John Florence, 23.
The clear crowd favorite wasn't shy about charging waves, riding down with a wide stance, his knees bowing out and his hands reaching to the sides to steady himself -- a "typical" Hawaiian style, according to the WSL announcers, who admitted they weren't alive in the 70s to witness when that style really made its mark.
"For me personally, it is fun," Aikau recently told Urban Surf 4 Kids. "I mean, the last time we had the event in 2009, I look on my left there was Andy Irons and on my right was Kelly Slater, and me surfing with these guys at 60-years-old was a privilege, and an honor, and great fun."
Aikau didn't win it all on Thursday (John John Florence did). But with a 16th out of 28th place showing, the veteran had a very impressive day.
How's that for a swan song?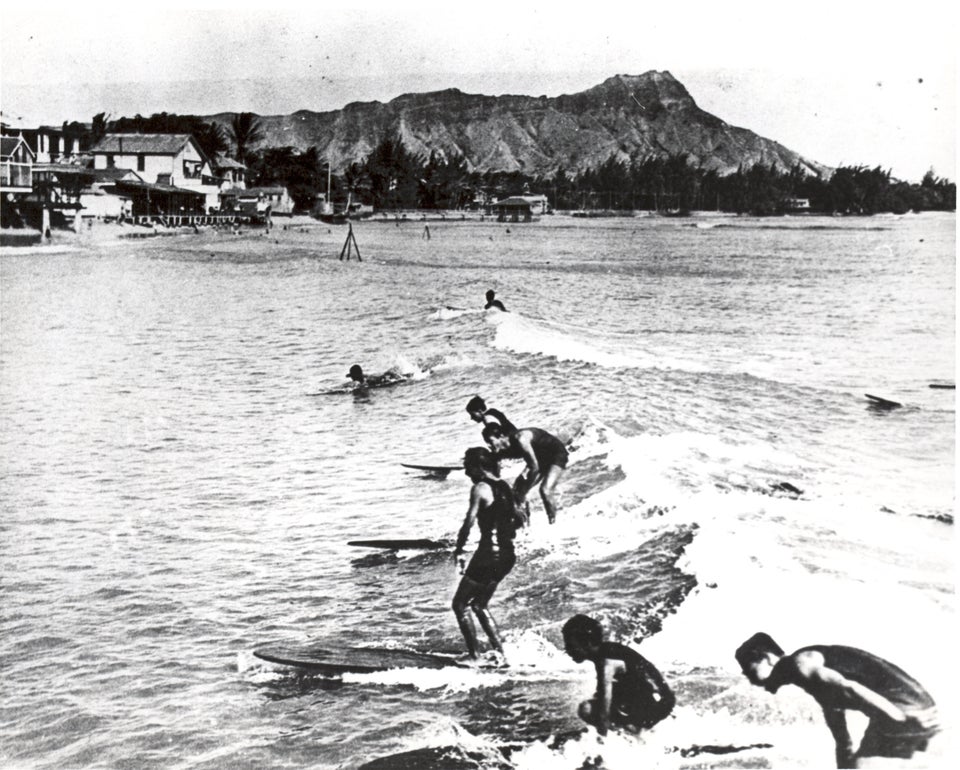 Vintage Hawaii Photos
Popular in the Community