When planning our honeymoon, Mike and I knew that ten days by the hotel pool wasn't going to cut it. This was our chance to explore, share new experiences and celebrate our life together so we quit our jobs, rented out our house, and set out on HoneyTrek: Our 675-day honeymoon around the world. Six continents, 33 countries, 302 places, 140 hikes, 72 bottles of champagne, 64 luxury hotels, 46 jars of peanut butter, 41 safaris, 39 scuba dives, 20 Couchsurfs, 12 extreme sports and countless memories later, we've returned to the States with so much to share.
How It All Began
It all started at Oktoberfest in Munich when a couple told us they had just completed a 12-month journey around the world, spending $34k for their entire trip. The idea of two people circumnavigating the world for less than the cost of a mid-sized sedan seemed unfathomable, yet it affixed itself to our brains. Then about six months before our wedding, we started seriously talking out the possibility of our own round-the-world trip. "We've got some money saved, we don't have kids, there's a lot of world to see and we're only young once. Will there ever be a better time to travel than now?" That night we decided to turn our honeymoon into the adventure of a lifetime.
Our Route
Our travel philosophy has always been to go places too far to visit while we have jobs and too rugged to tackle when we're old. That meant skipping Central America and most of Europe and focusing on all the places we'd dreamed of visiting in South America, Africa, Asia and Oceania.
Here is the country by country breakdown (live blogs are linked, the rest are on the way!)
Oceania: Australia and New Zealand
Europe: Scotland, Ireland, Northern Ireland, Wales, England, Norway and Turkey
Our Favorite Place
We have loved every country we have visited for different reasons. Philippines (islands), Mountains (Nepal), Thailand (food), Cambodia (temples), Zambia (wildlife), Indonesia (scuba), Brazil (parties), Japan (culture), and China (for the sheer challenge). Though if you forced us to pick one favorite, it would probably be Myanmar (formerly Burma). We have never met friendlier people any place in the world. Plus Myanmar's placement in the Golden Triangle and as a former British colony make it a fascinating blend of styles and cultures.
The Low Point
Impending darkness on the side of the road at a small junction in northern Mozambique waiting for a hitchhike with zero rides in sight. Adding to the uneasiness, an incredibly drunk man kept blabbering at us in Portuguese while a crazy dude encircled us with flailing dance moves. Finally, a driver stops and says he could take us as far as his cousin's house. It seemed like things were looking up, until we attempted to sleep on the floor of this mud hut and the mice started running the rafters, kicking dirt chunks on us with each scurry. If wasn't for fits of delirious laughter, we may not have made it through the night.
The High Point
Teaching English in a Red Dao tribal village outside of Sa Pa, Vietnam during the week of Tet New Year. The students thanked us with invitations to pre-Tet dinners, sacrificial rituals, and a very exclusive New Year's spirit cleansing ceremony. To be accepted into this community during one of the most familial and celebrated times of year was unforgettable.
The Budget
We did our 675-day trip around the world for just under $40 per person per day, including flights, food, lodging, activities...the works. This is an average of the pricier countries like Japan, Australia, and Norway ($75+ pppd) with the less expensive places like Bolivia and Southeast Asia (under $20 pppd). We learned all sorts of ways to save money with mileage hacking, homestays, and other little tricks to to keep our budget low and fun levels high. You'd think we'd be millionaires but traveling around the world turned out to be less expensive than the mortgage on our apartment.
Not Killing Each Other
Spending so much time together, you really learn to communicate. If there is ever an issue, there is no escape -- you simply have to address it. This is not to say we didn't have moments of bickering in the heat of a 110-degree day or while running late for a bus, but on the road we've learned to let the petty crap go -- if you don't, you'll miss out on the beauty right under your nose.
Starting a Life Together
Exploring the world, seeing awe-inspiring sights, discovering other cultures and trying new things has given us memories and learning experiences for 10 lifetimes together. Going through the extreme highs and lows, we have become so in tune with each other's needs and desires that we've become an unshakable team.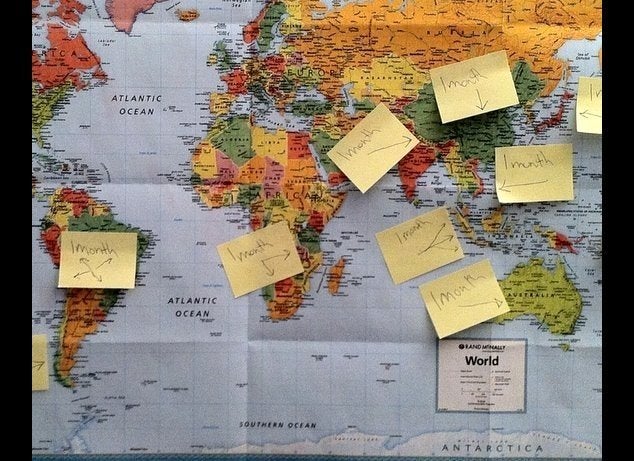 HoneyTrek: A 675-Day Honeymoon