One of the coolest places we visited in Port au Prince was an indoor market filled with artists and their wares. Todd immediately found one woman, Yvette, chatted her up, and talked her into letting him pay way less than her asking price for some Haitian toys for his kiddos. Sadly, I'm not quite as good looking as Todd, and I ended up bartering with a dude...but that's for another blog.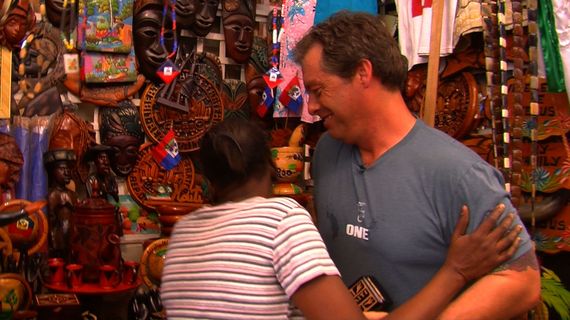 In the market, though, we met up with an amazing group of people. Soles4Souls sponsored these Eco-tourist trips to some of the countries where they brought shoes. One of those trips coincided with our video shoot. Not only was this group of Americans here to help make the lives of these folks a little better, but they did it on their own dime. I was so utterly impressed, to say the least.
I learned that we would be visiting an orphanage that afternoon, and that these missionaries had brought surprises for the children who lived there. I could tell how excited they were, and I couldn't wait to see what was in store.
But first, we had to eat.
Believe it or not, one of the best fast-food meals I've ever eaten was in Port au Prince. The restaurant is called Épi d'Or, and they have exceptional hamburgers. But where this place really shines is with its pastries. They're amazing...as the entire restaurant was about to find out.
Wayne Elsey likes to play jokes. He prides himself on it. Sadly for his friend, Sammy, he does it often. As we were finishing our meals, this massive birthday cake with tons of candles was delivered to Sammy. Wayne had everyone sing Happy Birthday. Sammy dropped his head and slowly shook it back and forth. Wayne was grinning like a Cheshire cat. "Happy birthday buddy!" he said.
Sammy said some sort of expletive back. Had Dodgers broadcaster Vin Scully tried to read his lips, he may have thought they were talking about eating at Fuddruckers.
When I made my way over to Sammy to give him my own well-wishes, he simply looked up at me and said in his Alabama drawl, "This is my third damn birthday since Christmas." I looked at Wayne who was now crying laughing.
We ended up donating the rest of the cake to the rest of the restaurant. Who knew that Wayne and Marie Antoinette had so much in common? (In fairness, there is no record that Marie ever uttered those words.)
After lunch, we hopped into the truck and drove toward the orphanage on the outskirts of Port au Prince. It's just one countless orphanages in Haiti. The numbers are pretty shocking. According to the Haiti Orphan Project, there were approximately 380,000 orphans...before the 2010 7.0 magnitude earthquake. Many experts say that after the quake, that number could easily be double. In a country of less than ten million people, that's a pretty staggering number any way you look at it.
Wayne told us that this one had no concrete buildings. Instead, large UNICEF tents provided refuge. Some were used for a housing, and another was used for a school. This orphanage was run by teachers, many of whom were orphans, themselves.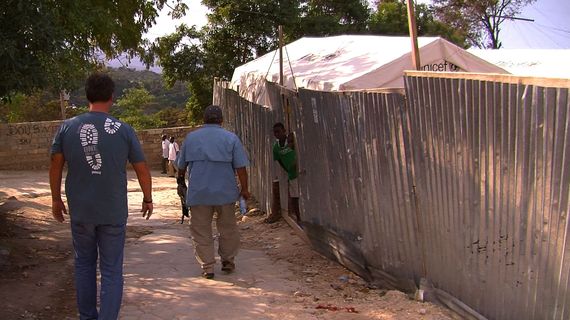 As we pulled into the parking area near the orphanage and got out of the truck, I noticed the air was noticeably fresher outside the city. It smelled of dust, fire, and earth... actually reminding me a little of how the west coast of Ireland smells on any given day. As I got my gear ready to film, I glanced over at the travel group and immediately saw their surprise for the kids.
Soccer balls. Dozens of them.
After we entered and exchanged pleasantries with the staff through Annie, our guide extraordinaire and speaker of five languages, the children were jumping out of their skin waiting to play with their new toys. Ranging anywhere from three to about twelve years old, they looked just like my own boys do on Christmas morning. They were screaming and yelling and were so over-the-moon excited. Their genuine happiness was infectious.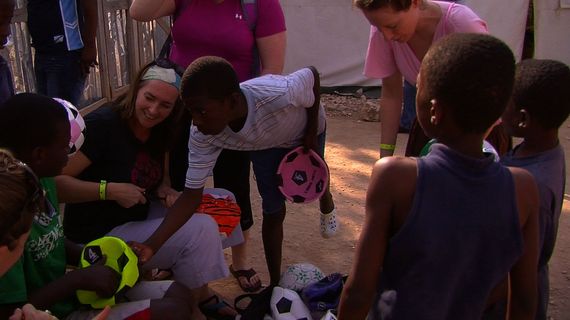 And God help a couple of the missionaries. The only way to bring all of these balls was if they were flattened. Now, they had to hand-pump dozens of them in eighty-five degree weather with minimal shade. One poor guy was sweating like Ted Stryker trying to land a plane.
Soon after the pumping was over, this 50X150 patch of land, surrounded by a corrugated metal fence, became a sea of dozens of children chasing balls all over the place. They flew through the air like they'd been shot out of a cannon...no one knowing the direction they came from, nor where they were going. Some would bounce off of the long-broken swings. Others almost knocked over the rickety slide. The rocky, grassless, dusty ground was not the normal soccer pitch that many of us are used to, and it didn't matter. The smiles told the story. The smiles intoxicated all of us.
After a few minutes of manic play, I walked around the yard with my camera still rolling. I saw Todd holding court with a bunch of kids. He was showing them pictures of his own children on his iPhone. As he leaned down to give the boys a better look, his tricep left the cover of his t-shirt, revealing a huge tattoo of a flower.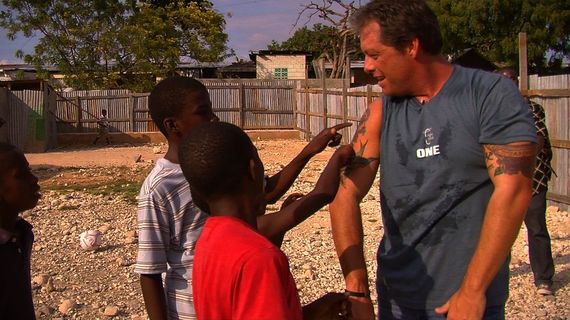 At that point, the iPhone might as well have been a brick phone. Todd told them, in English, what the tattoos meant, with Annie helping to translate. At one point, one kid tried to rub one of them off of his arm, not quite realizing that it was permanent. He started laughing. "They won't come off." It was at that moment when Todd showed me who he really is: the exact guy you see on TV.
When hosting Family Game Night, Whammy!, or Monopoly Millionaires Club, he always looks like he's having the time of his life. In fact, it would be easy to think that no one enjoys life that much; it has to be some sort of act. Yet here he was, a million miles away from the Academy Awards Red Carpet Show, playing soccer with these kids, sweating his ass off, proudly showing them his own children, and telling these kids what each of his tattoos meant.
I've seen Todd do some crazy things, but he also cares deeply about everything he puts his heart into. We had both come a long way from our days as young kids in radio together almost twenty years earlier, and I was honored that he was the one who was responsible for my current geography.
"Danny, we're goin' to Haiti."
I could have spent hours there, and in fact, was shocked when it was actually time to leave. I walked out of the gate and up the hill back towards the truck. I stopped on the hill and turned back to take one last shot of these children, still wound like tops over their good fortune.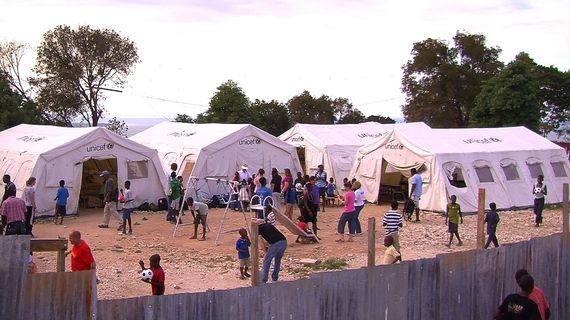 It was Friday night, and I thought about what I would be doing in my own life on a Friday night. Maybe my wife Stephanie and I would make popcorn and watch a movie with our boys, Sam and Ben. Maybe we'd go on a hot date. Wine would definitely be involved.
But here were these kids...all of whom lost their parents, all of whom would sleep in a tent that night and for countless nights after, through the heat, the rain, or the thunder and lightning. Many would spend their whole lives in this 50X150 patch of land, not knowing the adventure of the rest of the world.
As I looked down at my camera, tears fell onto the viewfinder. I sobbed like I'd never sobbed in my life. I felt so much pain for their situation, and so much frustration that there was nothing more I could do for them.
But the compounding sadness was also for everyone that I knew back home. We all have lives and jobs and responsibilities, and very rarely do any of us exhibit the level of joy that exuded from these children. In fact, many people that I know are so caught up with the day-to-day that they forget what a gift life truly is, and I include myself in that condemnation. These kids did not take life for granted.
I was helpless, powerless, and I simultaneously thanked and cursed God for all that I had. It was one of the lowest moments of my life.
As I sat in the back of the truck bouncing over the terrain, I asked Wayne, "How do you do it? How do you see such devastation and still hope to make a dent?"
He closed his eyes. "I get some sleep. And then if I wake up, I've lived to fight another day."
Calling all HuffPost superfans!
Sign up for membership to become a founding member and help shape HuffPost's next chapter