We had to look at this a few times to be sure it was real. Turns out, it is.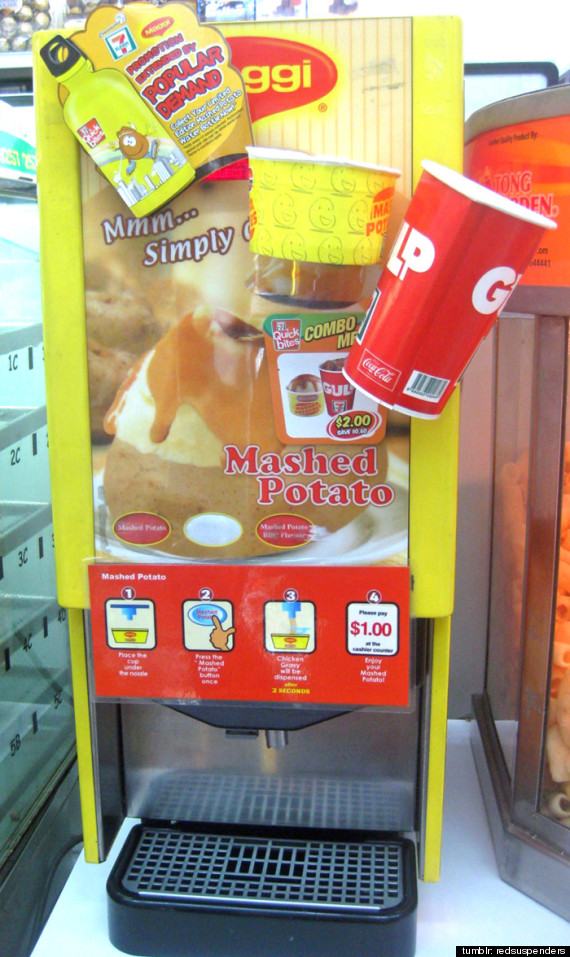 In addition to Maggi's famous seasoning sauce, they also make powdered mashed potatoes and soups. On the off-chance that you don't have any hot water to mix with your mashed potato powder, these machines make it one step easier for you.
How does this possibly work, you ask? Simply pop your mashed potato cup under the spout (although, it seems pretty tempting to go for a Big Gulp in this case?), press the 'Mashed Potato' button and wait for hot, instant mashed potato delivery, with a bath of gravy in the near future. There appears to be a 'BBQ Mashed Potato' button on this machine as well. We can't even begin to imagine what that must mean.
Still can't believe it's real? Here is proof, thanks to YouTube user kkua1973.
Tecca got in touch with a 7-11 rep who told them that while these machines are quite popular -- particularly in Singapore -- they're not sure whether the US will see these machines in their locations any time soon. The representative did note, however that "each 7-Eleven owner is responsible for requesting such hardware for their specific locations."
Thank you for bringing this to our attention, 7-Eleven Singapore, what would we do without you?
Related