Mobile apps have fundamentally changed the way we communicate and stay in touch with our professional and personal networks. Here are seven relatively new apps that are pushing the next wave of communicating through our mobile phones.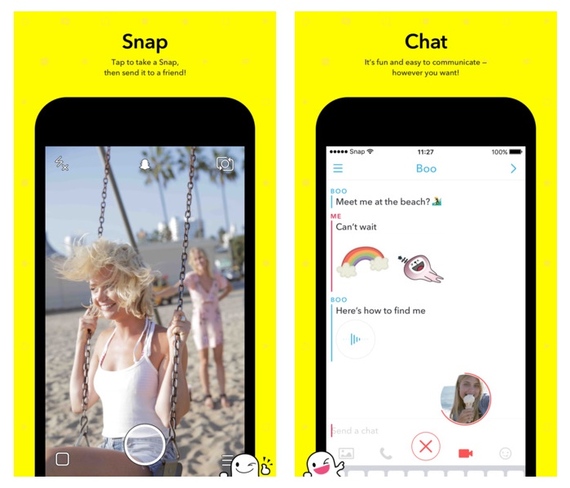 Snapchat is known for sharing photos and videos which self-destruct after a few seconds, hence the tag line, "Life's more fun when you live in the moment". With the recent upgrades in this mobile app, Snapchat goes beyond this core feature and is out to stump other social media apps. To name a few, Snapchat 2.0 now features regular video and audio calls, video and audio notes providing more options for you to react to something, over 200 new stickers in case the current emoji library won't do, and sending multiple copies of those fun photos you edited using Snapchat filters all at once.
Snapchat has combined all the modern communication needs in a single, seamless interface taking engagement to the next level.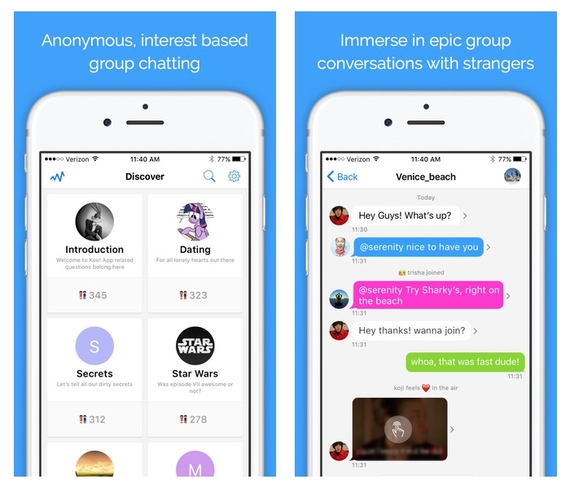 A great way to connect with people in real time through a secure and anonymously connection is Koo. You can express freely and communicate with people with the same interests, within your location, or anyone in the globe with no strings attached. Chatrooms spark conversations from sports, music, to dating but you can also create your personalized chatroom for real time group messaging and invite up to 500 users.
The app does not require emails, phone numbers or any personal information for you to get started so it is easy to make friends without the worries of security.
If you need to kill time or air out thoughts, download Koo, type a username and start chatting away.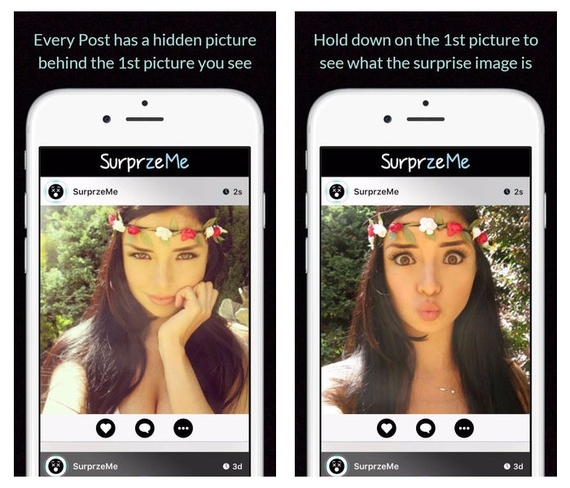 There's more to this photo sharing app than meets the eye. With SurprzeMe, you can send a secret photo underneath a primary photo. Just hold down on the top photo and you will see what the hidden photo is.
Music, sound effects, texts, stickers, filters and drawings are available for your creative minds to play with but the biggest twist of all is the surprise that you can come up with in the hidden photo to brighten your friends' day. The app also has a private feature so you can send those select photos to identified recipients only.
The possibilities are endless so turn boring photos into memorable ones by making that hidden photo a surprising one!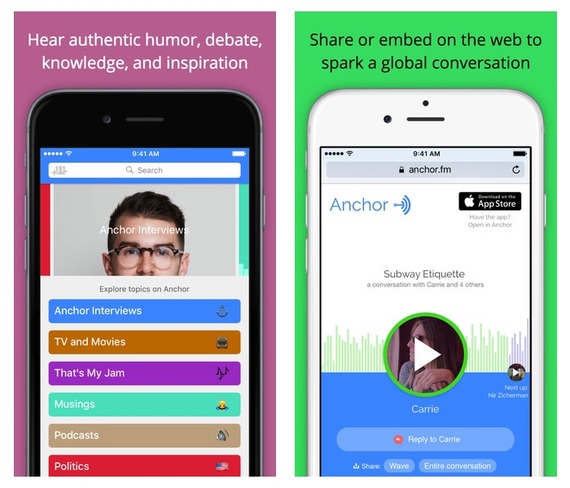 If you want a twist of regular forums where you want to be engaged with the community beyond typing words in your keyboard, Anchor is an app to check out. You can start by recording whatever is on your mind through your phone and Anchor will let you broadcast these 2-minute audio clips to iMessage, Facebook, Twitter, SMS, or email all over the globe.
Your listeners can respond to your 'mini-podcasts' through the same method, thereby creating discussions via audio conversations. You can choose people to follow by checking out their interests or by connecting your contacts and Twitter account and after that, you can listen to others as well the same as listening to the radio, but with the option to talk back.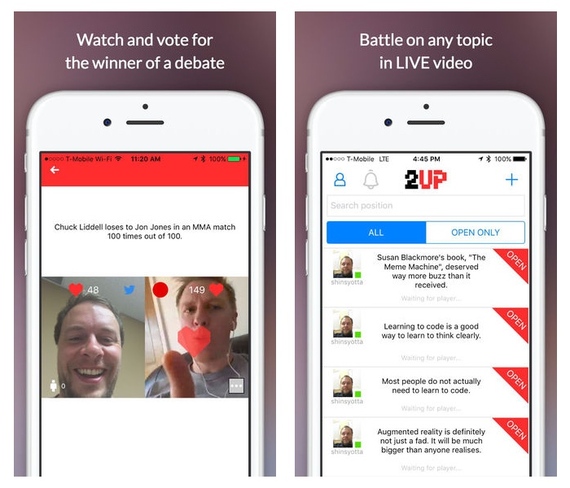 2UP is a great method to share your more serious opinions to others through a form of debate. The app is easy to use, just find a topic that interests you -- politics, sports talk, religion, etc. -- and if you locate one that you feel discussing about, you can challenge that user's position. Once they accept your challenge, you can connect via live video to battle it out in front of an audience. That audience will then determine the victor basing on the outcome of your arguments.
You can also serve as the audience and watch the debates and cast votes to determine winners. Debates can be uploaded in YouTube, social media, or podcast, or you can simply leave it to cyberspace to disappear after your battles.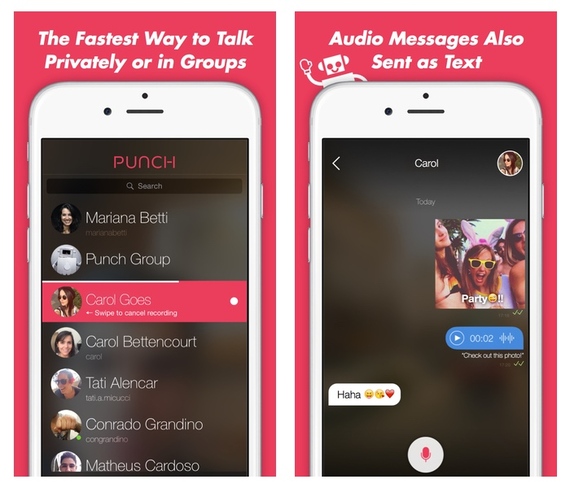 Punch prides itself as the fastest way to talk to your peers and the world's most advanced walkie-talkie for iPhone. Just like a CB radio, messages play handsfree. If you are tied up at the moment, your messages get saved for later and are converted to text.
Punch is also the first app to deliver walkie-talkie messages even when the app is not running in the background and allows you to mute incoming walkie-talkie messages. Punch is also secure as messages are deleted automatically once delivered.
Another fun use of the app is the group chat where you can create groups and use it as an intercom system.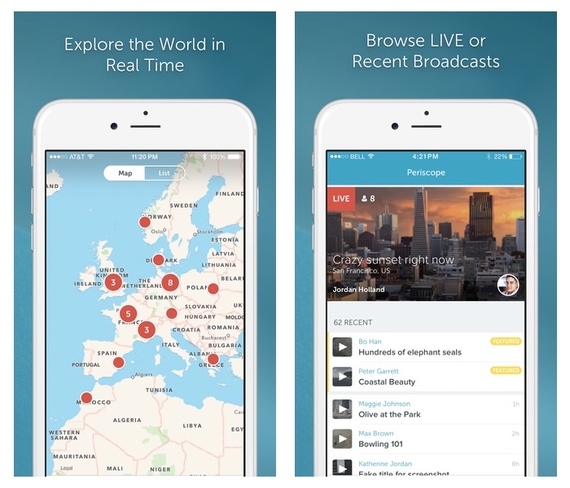 Periscope has gained popularity for allowing users to broadcast live video anywhere in the world. Once you decide to go live, a notification will be sent to your followers who can then join in, comment and send you 'hearts' in real time. You also get the option to make your broadcasts available for replay, make a broadcast private to be seen by a limited group of people and share broadcasts in Twitter.
Periscope is a fun and easy way to communicate. Engage with others by giving them hearts to let them know you are enjoying their broadcast. Spread the love!
Calling all HuffPost superfans!
Sign up for membership to become a founding member and help shape HuffPost's next chapter