Forget drones and self-driving cars. The latest tech takes itself a little less seriously. We're talking emoji room service, Uber for partiers and even an app that can teach you how to drop the f-bomb in 45 languages.

By Chelsea Bengier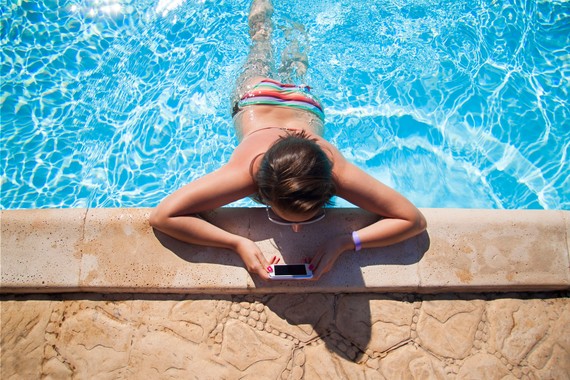 Calling room service is so two years ago. Now there's an app for that - and yes, it involves emojis. Text it, Get it by Aloft Hotels in New York City rolled out last fall, allowing guests to text room service with emojis. Menu items include "the hangover" (water droplet, pill and banana emoji) for vitamin water, advil and bananas, as well as "the munchies" (candy bar, lollipop and chocolate chip cookie emoji) for a Coke, Doritos, Snickers and a chocolate brownie.
Ever wish you could lounge by the pool and have drinks magically appear beside you? Well Corinthia Hotel St. George's Bay in Malta practically does just that. Tweet your cocktail and canapé order to the pool bar with your umbrella number, then your fruity drink will arrive by your plush sunbed without you having to lift a finger.
So, you like to party hardy when you travel? We don't judge, but when shenanigans get out of hand, it's smart to think ahead. That's where the Take Me Home, I'm Wasted app comes in (no, this is not a joke). Enter your hotel address before you go out, and if you find yourself a bit too tipsy, just open the app and it'll provide directions for your cab or Uber driver.
We've all been there: You're having a perfectly good day sightseeing and then at the most inopportune moment nature calls, causing you to frantically dash around to find a public bathroom before your bladder bursts. Enter Charmin's SitorSquat, an app that finds the nearest, cleanest restroom. Users can also review the WC's, so you'll never have to worry about a dingy hole in the ground again.
It's always wise to know a few basic phrases when you're traveling to a foreign country. But it's also fun to learn the more, er, colorful side of a language. Swearport teaches you all the curse words, f-bombs and R-rated expressions your heart desires. Just choose the profanity (or shake your phone for a random, autoselected phrase), and it'll translate it in up to 45 different dialects. The app even gives an "intensity rating," so you know the exact level of the insult.
No matter how old you are, it's difficult to master the art of staying awake on a train. The gentle rocking motion is a natural nap-inducer, so you'll be sleeping like a baby in no time - which often leads to missed stops on the daily commute or while traveling. This helpful app uses your phone's GPS to alert you when you've arrived at your destination. So long, subway snoozers.
Hotel Tonight's chat system, Aces, is like an SOS line to an in-the-know concierge. Guests can talk in real time to the company's team of insiders for anything from local tips to restaurant recommendations to room requests. Kind of like a magic tech fairy.