Our style team dreamed up clever (and totally doable) treatments to help you turn a boring bed into a luxurious haven of self-expression.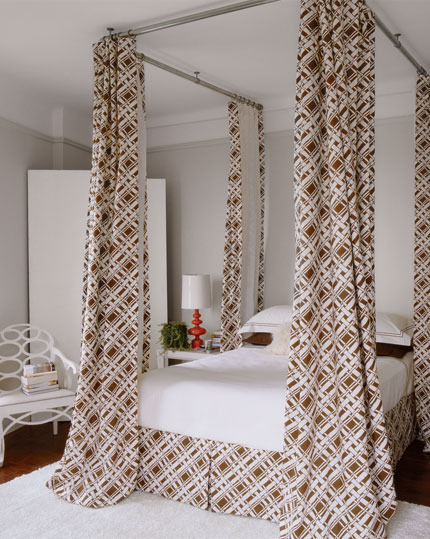 1. faux four-poster
Who hasn't dreamed of drifting off inside one of these grand cocoons? In this simplified (poster-free) version, the effect is achieved with just curtain rods and fabric. Match fabric panels and bed skirt (ask the upholsterer for an inverted pleat on the skirt) for a look that's instantly decorated.
HOW TO DO IT
Using curtain-rod brackets, mount three curtain rods three inches from the ceiling. To conceal edges where rods meet, fit ends into a right-angle ball elbow (if this sounds complicated, call the handyman). Have four lined fabric panels and a bed skirt custom-made. Note: When measuring for the panels, go from the bottom of the rings to the floor, and add five inches if you want fabric to pool at the bottom, as ours does.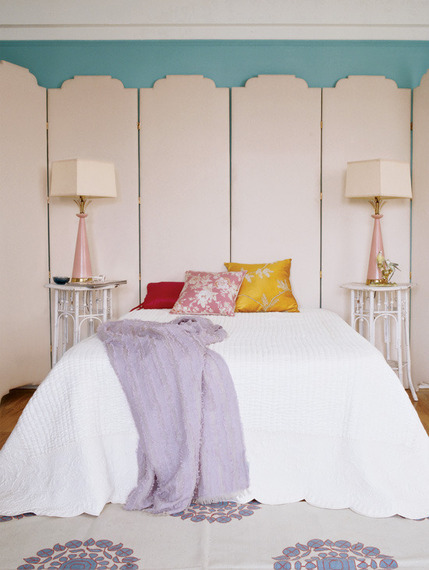 2. folding-screen headboard
Depending on your personal prism, this feels '50s Marilyn or boho granny. Either way, it's an unexpected take on the trad upholstered headboard. Since you can use any inexpensive screens, this is ideal for renters.
HOW TO DO IT
No hard-core installation is required. Position two identical screens (those with hinges that swing both ways and flatten completely are best) side by side, leaving a tiny space between so it appears to be a single unit. Angle in end panels slightly, for a cozy-nook effect.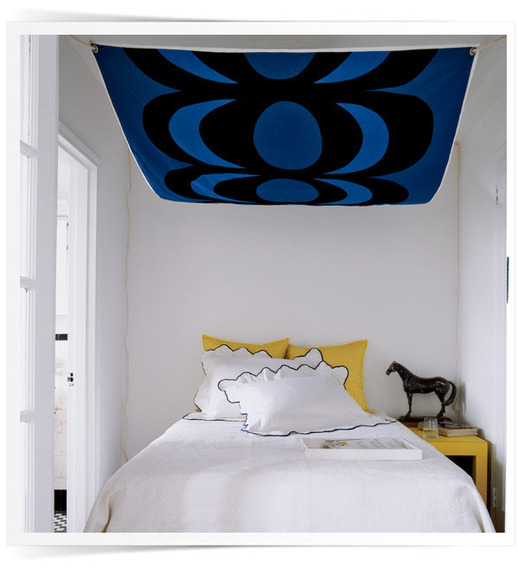 3. floating canopy
This couldn't-be-simpler awning is a striking way to introduce color or pattern without making a huge commitment.
HOW TO DO IT
Buy a piece of fabric that's roughly the same length and widthas your bed. Edges trimmed in a contrasting color (if you don't sew, try your dry cleaner) look crisp. Attach grommets to the corners of the fabric. Thread rope or cord through each grommet, securing to four eye hooks mounted on the ceiling about two feet beyond the sides of the bed. When measuring the rope, make sure it's long enough that the fabric droops a bit in the center.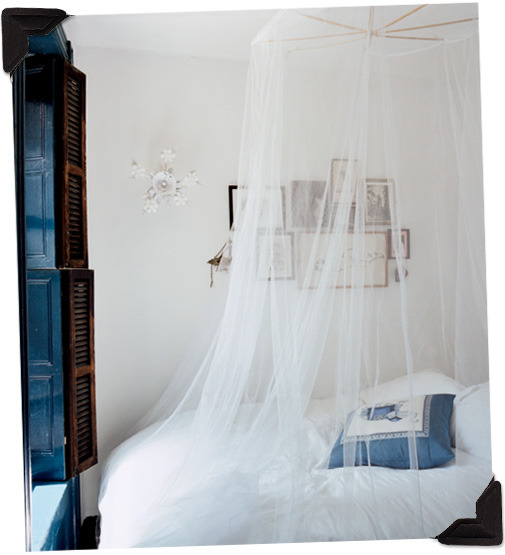 4. mesh safari tent
Feel glamorous and dreamy within this gauzy, utterly sexy screen.
HOW TO DO IT
This seems way more complicated than it is. The net comes ready-made with hardware-- just a single hook that mounts on the ceiling. Instant Out of Africa drama.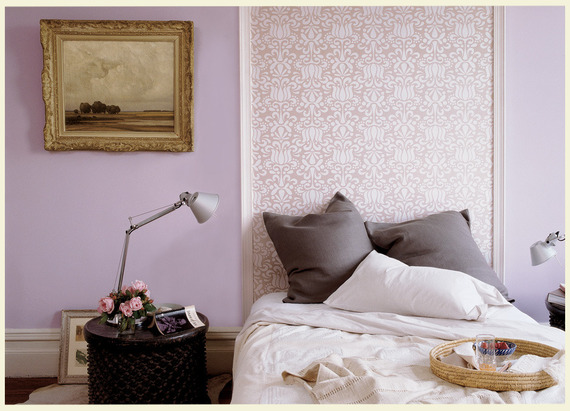 5. wallpaper headboard
Create the illusion of a headboard for a lot less investment with a section of wallpaper, hung right on the wall and enclosed by picture molding. Pattern-wise, anything goes.
HOW TO DO IT
Use enough wallpaper to span the width of your bed--the height is up to you (taller is grander). Buy molding with precut mitered corners to frame the wallpaper. Nail molding to the wall with brads, and paint it a complementary or contrasting color.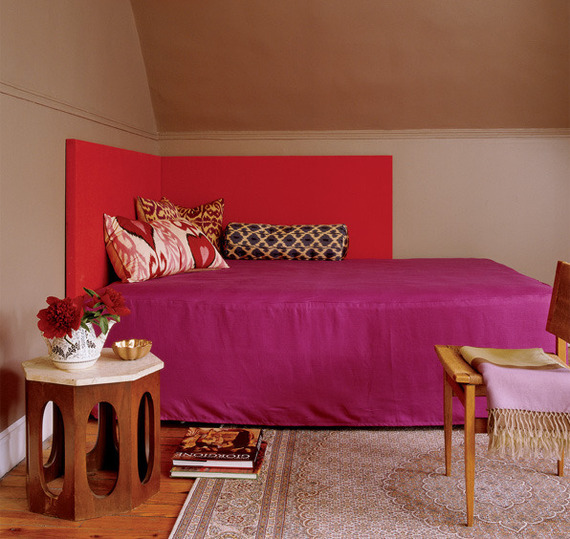 6. mod graphic corner
This au courant play on a traditional chaise longue transforms your Sealy into a tailored European-style daybed. It's a particularly excellent option for rooms in which the bed is part of the common space.
HOW TO DO IT
Cover two plywood panels--one that measures the width of your bed, the other about two-thirds the length--with half-inch batting and fabric (we opted for linen sheets), stapling both to the back of the wood. Join the covered panels from behind with a corner bracket so that they form a tight L, and stand it in the corner (the bed will hold it in place). To keep the look polished, stick with a simple bedcover that reaches the floor.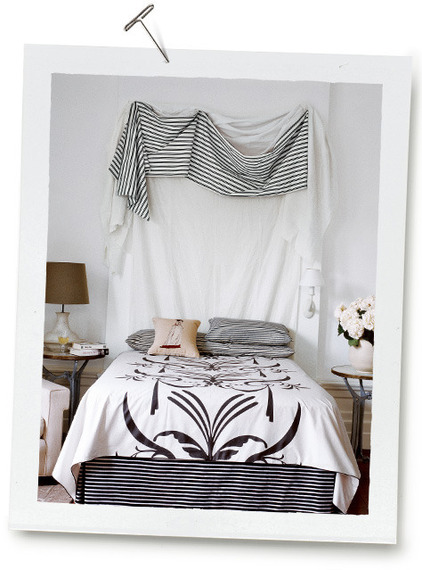 7. offbeat swag
A bohemian tableau--just three pieces of fabric, artfully draped.
HOW TO DO IT
Use solid fabric for the bottom layer (a little wider than the width of the bed), nailed flat to the wall along the top with brads. For the swag, drape and tack a smaller piece of the same fabric at three points along the top. Finish with a contrasting piece nailed at the same points.
Photographs by Simon Upton
Styling by Olga Naiman
Market Editor: Kate Townsend